4 Multi-Unit Myths Dispelled: It's Not What You Thought, Really!
For franchisors and franchisees alike, growing through multi-unit ownership seems like a no-brainer. Today's great operators know how to be successful in the model. Why not expand their reach to more territories and we'll grow together? Franchisees will have to work harder, but they'll make more money and increase their ROI (and we all know that profits are the key to franchise happiness). Franchisors will have fewer people to support, better operators, and fewer headaches. The hardest part is getting the financing in place. Once that's done, the rest falls into line. Right? Wrong on four counts. It's time to bust four great myths of multi-unit franchising.
Myth #1: The hardest part is getting the financing. Clearly you need a business plan that demonstrates where the money will come from and how it will be paid back. It's your road map to building business value. This includes a source of cash flow (cash reserves or a credit line) dedicated for the new territory. Many expansions have failed because owners robbed the cash flow and financial capacity of their first unit to support the second. Getting the necessary financing is essential, but it is not difficult to accomplish with a track record of profitability from Unit 1 and a solid business plan for Units 2+. Getting the financing is not the hardest part--it's giving up control of operations, a necessary step in enterprise development. Micro-managing operations of multiple locations doesn't work, no matter how much financing you have.
Myth #2: Your best operators will make great multi-unit owners. Some people are just great operators. They run a tight ship, pay attention to detail, submit information and respond to requests on time, embrace the ops manual, etc. These habits check most of the boxes of franchisor checklists designed to establish criteria for expansion. Yet, many great operators struggle to be great multi-unit owners. Why? Because to successfully manage multiple locations one must let go of day-to-day operations. For some, this means relinquishing control of the things they like best and trusting others who are not as good at it.
Successful multi-unit operators are great communicators and active listeners. They would rather talk with their franchisor about systems than support. They brainstorm with their business management consultant about achieving targeted metrics and growth, rather than the details of operations. They talk more about people than products. These traits are clues that an individual possesses the enterprise mindset required to lead. If a great operator doesn't have these traits, they can still succeed if they are willing to learn leadership skills and a new way of managing. These things can be learned. Franchisors seeking to grow through multi-unit ownership need a clear strategy for identifying leaders: either target individuals with strong leadership skills or provide leadership training and coaching.
Myth #3: Multi-unit franchisees must work harder than single-unit owners. A good franchise provides systems and structure that promote efficient and consistent results. This includes marketing and operational systems as well as information systems that enable multi-unit operators to manage teams remotely. Cloud-based CRM or POS systems that measure the drivers of success (the key things franchisees must get right) are essential for scalable, remote management. Technology investments can pay huge dividends to franchisors seeking to grow through multi-unit ownership.
The multi-unit owner's most important task is to select, place, nurture, and support their operations teams and ensure the franchise recipe is followed. If it's a good model with good systems for monitoring KPIs, this approach works. No longer is the owner tempted to work into the wee hours to make operational deadlines, because it's not their job. Instead they rely on their mastery of KPIs and communication skills to build a strong team. They define expectations through written, measurable goals and established effective meeting agendas and cadence to monitor results and coach up performance. No more spinning plates, being busy just being busy. Work/life balance is now within reach.
Myth #4: It takes fewer franchisor resources to support a multi-unit six-pack than six single-unit owners. Multi-unit owners are not buying a job, they are investing in a portfolio and expect to earn impressive returns on their investments. While they may have good business savvy, they expect the franchise model to work for them and typically rely heavily on franchise resources (including support teams) to train and support their operations staff. Support teams work with non-owner location managers who are not "invested" and may not be as motivated as single-unit owners doing the same job. And non-owner managers leave. Turnover in operational management requires additional training and support that would not be needed in an owner-operated location.
While we've dispelled four myths, one great truth survives: multi-unit expansion is a "no-brainer" when the franchise model and the franchisee possess the competencies, capacity, and capital to replicate scalable operations, build strong teams, and manage remotely.
My colleagues and I will be presenting a full-day session, Advanced Financial Essentials: Driving Profitable Growth Through Multi-Unit Expansion, at the ICFE special sessions on Saturday, February 8th at the IFA conference in Orlando.
Rod Bristol is the director of business development and a presenter at Profit Soup, a financial education organization specializing in franchised companies. He can be reached at rod.bristol@profitsoup.com or at 206-427-5333. Barbara Nuss is the founder and president of Profit Soup.
Published: March 13th, 2020
Share this Feature
Recommended Reading:
Comments:
comments powered by

Disqus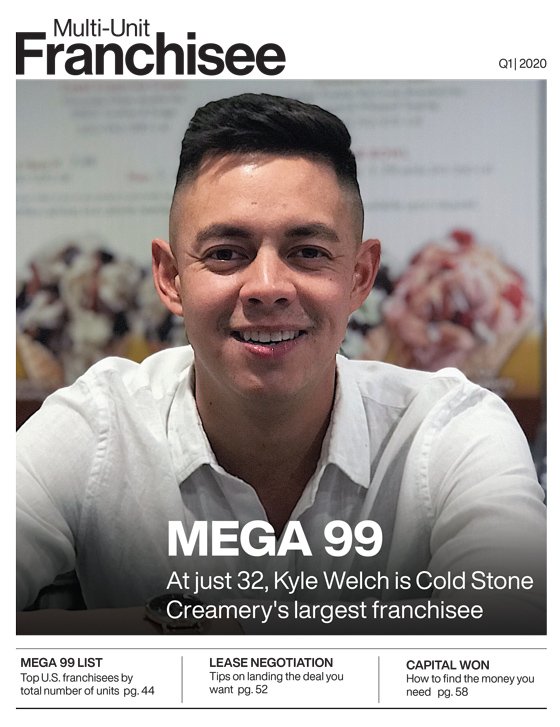 Multi-Unit Franchisee Magazine: Issue 1, 2020
At Radiant Waxing, we make it our mission to help people achieve smooth skin and beautiful brows in mere minutes.
Cash Required:
$100,000
Own a franchise that takes you to the "Bayou" every morning and gets you home for dinner every night! Operating Hours 7 AM – 3 PM!
Cash Required:
$350,000