A Culture of Caring: Dream Vacations "Cares More" at Every Level
In 2017, I read a blog post by marketing guru Seth Godin about how to gain an unfair advantage over the competition: by caring more. He said, "It's easy to promise and difficult to do. But if you did it, it would work. More than any other skill or attitude, this is what keeps me (and people like me) coming back." His message really resonated with me, and when I presented it to my team they more than adopted it--they made it our culture.
We believed that to truly have meaning and to differentiate ourselves from every other company that says "they care," we needed to adapt it and make it not about us, but about our most important stakeholder: our customers, whom we define as our travel agent franchise owners and their clients. Dream Vacations is a low-cost, home-based travel agency franchise. We like to say that our franchise owners create dream vacations, while we make business dreams become reality.
Whether you are a travel agent, a supplier (cruise lines, resorts, and more), or even staff, when you walk into our office you feel like the most important person in the world. And it's not only because the words "We Care More About You" are painted at every entrance. It's because this culture shift is part of our work ethic and ingrained at every level. We have built our organization around Caring More. This belief shines through every aspect of our business operations and trickles down from our leadership team to our support staff to our franchise owners. Our goal is to have a customer-centric focus while fulfilling our mission statement to "Deliver A Remarkable Experience."
We refocused our employee mindset to be wholly customer-centric, creating a cultural shift using "We Care More About You" as the real impetus behind all of our actions. While we always cared more about our customers, we never explicitly expressed it and made it part of our identity, a differentiator from the competition, and key factor in decision-making. Everything stems from Caring More about our customers.
People want to do business with those they trust, and our customer-first mentality is apparent in the honesty and passion we exude at all levels of our business. I see it every day in how my team interacts with our franchisees and prospects, as well as in the patience and professionalism of our franchisees with their clients.
Our leadership team Cares More about our staff--their well-being, happiness, and education. We have an open-door policy, always welcoming feedback from employees and educating them about our business, whether it's industry news or financial updates on how we are performing against our annual goals.
Our staff Cares More about our Dream Vacations franchise owners. They are our customers and their success is our only business. It is important they have a voice and that we listen to their wants and needs. Through committees, we involve them in the development of new technology tools, as well as capture their feedback on marketing initiatives and training opportunities. Our franchisee satisfaction results are off the charts because our franchise owners are not only experiencing financial success, they feel valued.
Our franchisees Care More about their clients and are committed to providing the best vacation experience during all stages of the process. And the way to do so is by listening. They understand we are in a relationship business and our value is the service we provide. Another way our franchisees show they care about their clients is by offering rewards to those who obtain referrals and book their next cruise while currently sailing. What makes us most excited about this cultural shift is hearing from our travel agents how we are helping their business grow by making them vacation heroes to their clients.
As an organization, we Care More about the community. We support our signature charity, Make-A-Wish, at fundraisers throughout the year with our franchisees and donate more than $100,000 each year. On top of that, our headquarters team comes together several times throughout the year and makes a difference in the lives of others, from feeding the homeless at Thanksgiving to building homes with Habitat for Humanity and more. Our South Florida community was rocked to its core the last 2 years with hurricanes and the tragedy at Marjory Stoneman Douglas High School. During our darkest hours, I was comforted when franchisees from all over the country reached out to check in on our team. I am most proud of how we all come together in times of need and act as a family that cares.
Our franchise not only has won many travel industry and franchise awards for our innovations and experienced record-breaking sales these past 2 years since adopting our new culture, we have also seen year-over-year growth. We are selling an unprecedented number of travel franchises because we focus heavily on transparency and relationship-building to determine if joining our franchise is really the best fit for a prospect. As a result, we have one of the highest retention rates in the industry at more than 90 percent. Because we want all of our franchisees to succeed, we do more than sell franchises, we keep the prospect's best interests in mind by Caring More about them.
I can promise you that trust and Caring More are true drivers of company performance.
Debbie Fiorino is senior vice president of Dream Vacations.
Published: July 28th, 2019
Share this Feature
Recommended Reading:
Comments:
comments powered by

Disqus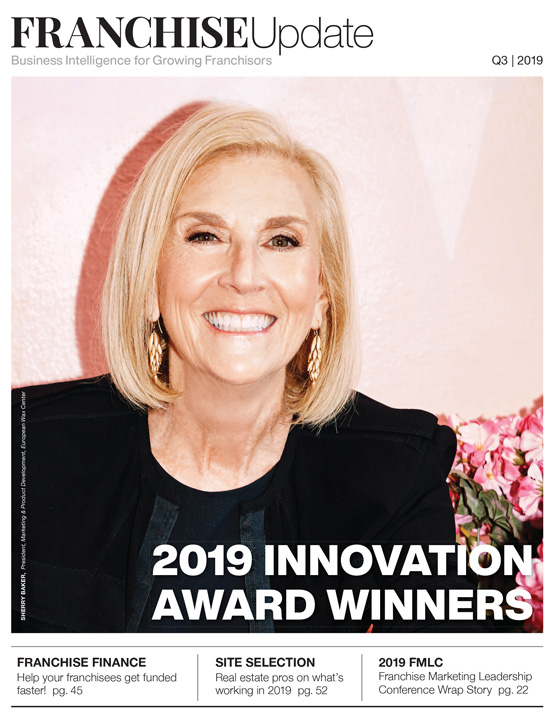 Franchise Update Magazine: Issue 3, 2019
The business messaging platform that lets you text from your office phone number directly on your computer, so you can actually get a response.
ServiceScore helps businesses get the results they want from phone calls.