Bruster's Turns 30: And remains "A Scoop Above"
On July 13, 1989, Bruster's Real Ice Cream founder Bruce Reed opened the doors of his first ice cream shop in Bridgewater, Pennsylvania, just outside of Pittsburgh. Born into the restaurant business, he followed in his family's footsteps, creating a community-centric hub where neighbors, friends, and loved ones could go to try his rich, creamy homemade ice cream. And since that day nearly 30 years ago, the company's commitment to freshness hasn't changed one bit.
Overcoming adversity while maintaining a superior product
When the 2008 recession hit Bruster's, we'd been in business nearly 20 years. We had hundreds of stores across the country, secured dozens of new franchise contracts, and our eye was on the target: continued growth and market penetration. But, much like other companies at that time, we felt the effects. Through it all, we doubled down on our business model. And then something amazing happened: we emerged and turned a corner. We successfully transformed Bruster's from a regional ice cream chain to an international franchise company by opening locations in Guyana and South Korea; increased average unit volume of franchise stores by 44 percent since 2012; and have led the company to six consecutive years of same store sales growth beginning in 2012. Our trials became our triumphs.
Focusing on opening one great store at a time
In 2018 we opened 10 stores. The year before we opened 12. But we're not focused on the number of new stores or franchise contracts. It's about opening one great store at a time. Focusing on the customer experience. Consistently creating a superior product. Building the average store volumes of existing locations. Taking what we learn each day and applying that to our business model to continuously innovate and improve. Focusing on opening and developing successful stores because, ultimately, people want to be part of a winning brand.
This approach has served us well. Our six consecutive years of positive same store sales have been achieved in a relatively flat category. We have the highest average unit volumes in our company's history. We're onboarding more franchisees and opening more stores than ever before. And we've expanded across the country, including westward into California, Arizona, Utah, and Nevada.
As part of our commitment to opening and running great stores, we've also focused on creating new products and limited time offers. Each year we introduce several new products made from our proprietary home-style mix, delivered fresh from our privately owned dairy in Titusville, Pennsylvania. This year, as part of our 30th anniversary celebration, we're taking our efforts up a notch. Throughout the year we'll introduce new specialties, flavors, and unique monthly offerings of our ice cream, frozen yogurt, Italian ice, sherbet, and sorbet.
Rather than mass producing the same set of flavors all year long, we've made a conscious commitment to creating superior new products that are made fresh daily and never deep frozen. On any given day, your local Bruster's shop will have at least 24 premium flavors, all of which are ready to be enjoyed in crunchy, handmade waffle cones, premium sundaes, candy-filled blasts, milkshakes, or customized cakes and pies. And now we'll offer even more choices at all our nearly 200 locations nationwide.
Continuing the celebration
Throughout our nearly three decades of business, we've earned the trust of our franchisees, the respect of our colleagues, and the loyalty of our customers. This ideal combination has enabled Bruster's to remain a scoop above the rest. Whether that's through our partnership with Atlanta United; creating Sweet Rewards, the company's first digital loyalty program, which now has more than 300,000 registered users; developing a world-class leadership team; reinventing our franchise business model; supporting youth through "Mentoring Tomorrow's Leaders Today"; or successfully navigating a highly competitive industry landscape, Bruster's has remained focused on the attributes that make this company great.
The company's values--respect, accountability, involvement, heart, and fun--permeate everything we do. And while our first 30 years have been marked with milestones, memories, and celebrations, we're just getting started. We know the key to our success isn't just great locations, healthy stores, or a superior product. It's about the people. Our customers. Our employees. Our franchisees. Our partners. They're all part of the Bruster's family.
All of us are excited to be part of an award-winning, 30-year-old brand that has remained one of the last independently owned ice cream franchises in the country. We look forward to what the next 30 years will bring!
Jim Sahene is CEO of Bruster's Real Ice Cream.
Published: November 23rd, 2019
Share this Feature
Recommended Reading:
Comments:
comments powered by

Disqus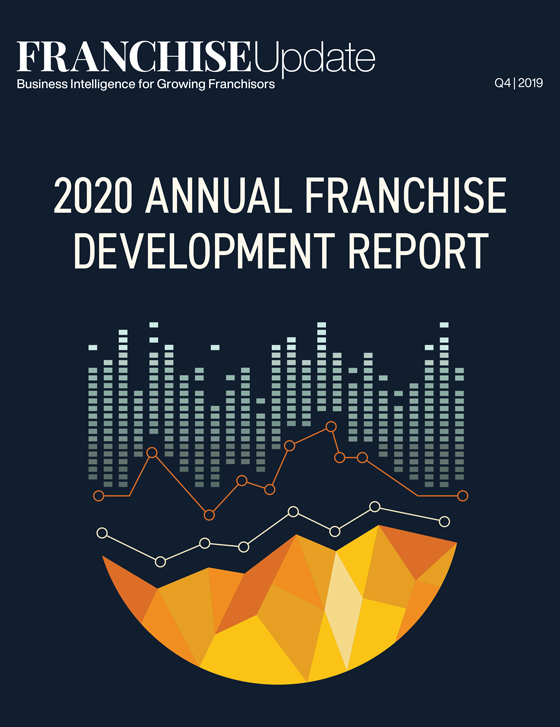 Franchise Update Magazine: Issue 4, 2019
ServiceScore helps businesses get the results they want from phone calls.
Hub by Thryv is an end-to-end client experience platform custom-built for franchises. Its ready-to-use business apps help franchisees view their...