Business Is Booming for Senior Care Franchises
With the Baby Boomer population steadily aging to the tune of 10,000 people turning 65 every day, senior care service franchises are in higher demand than ever before. In 2050, the number of Americans aged 65 and older is projected to be 88.5 million, according to the U.S. Census Bureau. The life expectancy of a 65-year-old woman in the U.S. today is 87.8 years, and for 65-year-old males it is 85.8 years, according to the Society of Actuaries.
"We have seen explosive growth in the home care and senior care market, largely driven by franchise brands and franchisees seeking to capitalize on the aging U.S. population," says John Reynolds, president of the International Franchise Association's Franchise Education & Research Foundation. FRANdata states there are about 90 senior care franchise brands with more than 6,200 franchises across the United States. The average age of these brands is 8 to 9 years old.
According to a survey by the AARP, 86% of the 50-plus population in the U.S. wants to stay in their home as they age. Thankfully, the increasing number of in-home care service providers, which help seniors with daily activities such as cooking, cleaning, errands, and hygiene, are enabling more of them to do so. In-home senior services also make it possible for the elderly to avoid the high financial costs, loss of dignity, reduced independence, and diminished quality of life often associated with long-term care facilities and nursing homes.
Cost of Senior Care
One of the factors driving the increased demand for in-home senior care is the fact that it costs less than many other options for seniors. Below is data regarding the cost of various senior care options, according to Caregiverlist.com.
Senior Home Care: $15 – $25 per hour for hourly care; $150 – $350 per day for 24-hour live-in care.
Nursing Home Facility: $180 – $400 per day with a variety of additional fees for beauty salon services, special meals, and activities.
Assisted Living Community: $4,000 per month plus additional fees for meals, special services, and activities plus additional cost for private duty caregiver services (see Senior Home Care costs above).
Continuing Care Retirement Community: $250,000 down payment on average plus $4,000 monthly rental fee (possibility of partial down payment refund depending on length of stay and care needs).
In addition, the Affordable Care Act (ACA), signed into law in 2010, includes provisions that assist people who wish to stay in their homes longer, which benefits the home care industry. For example, to reduce the number of readmissions, the ACA encourages hospitals and rehab centers to promote home care after patients are discharged.
Types of Senior Services Franchises
Most senior services franchises focus on in-home non-medical care for seniors (meal preparation, grooming, bathing, transportation, companionship, etc.) — as well as for non-seniors in many cases (post-surgical assistance, post-partum care, individuals with special needs, etc.) — that can be provided by caregivers who do not have a medical license. Others also offer in-home medical services (catheter care, injections, IV infusions, tracheotomy care, ventilator patient care, etc.) provided by a nurse, home health aide, certified nurse assistant, licensed vocational nurse, or doctor. In addition, there are a few assisted living facility franchises.
Several senior services franchise models do not entail directly caring for seniors. These include senior housing placement services, which help families find independent living, assisted living, memory care, and in-home care options; companies that sell and install mobility products such as lifts and ramps; and home care staffing services.
Senior Care Industry Background
Senior care as an industry experienced growth in the 1960s and 1970s thanks to government support and more elderly Americans needing care because they were living longer than in previous decades. In 1965, Medicare provided the elderly with federal money for home care. Today Medicare is the largest single source of revenue for home health care services. It also is the country's largest health care payer, spending nearly $650 billion in 2015, or roughly 15 percent of total federal expenditures. Other home health care funding comes from private insurance, individuals paying out of pocket, Medicaid, and local governments.
Some families try to assume the care of an elderly family member. However, because so many families today consist of dual-income earners and are far smaller than in previous generations, many seek the support of a third-party, in-home senior care provider. In 1990, there were 11 possible caregivers for every family member needing care, but it's projected this ratio will fall to 6 to 1 by 2030, according to the Family Caregiver Alliance. This trend, combined with the large number of people turning 65 and the relatively high cost of nursing homes, will continue to drive demand for senior care services franchises.
The following map is the senior care franchised units' geographic distribution for each state.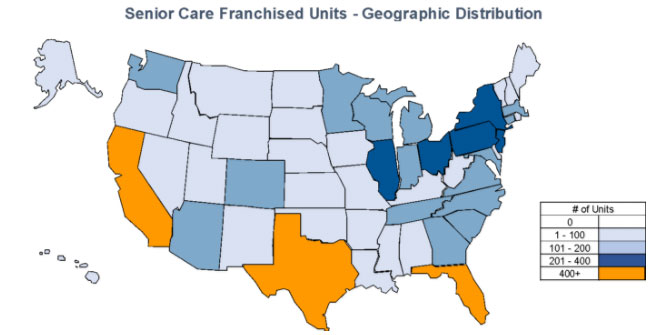 Source: FRANdata
The following chart shows the percentage of the different types of services each senior care franchise brand offers.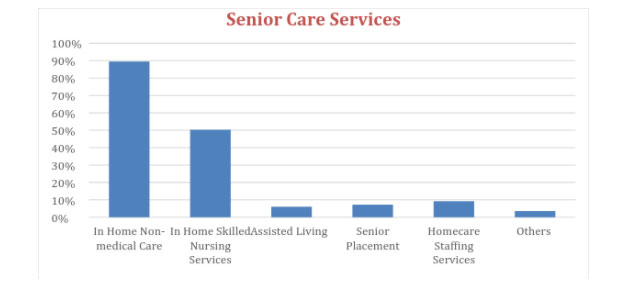 Source: FRANdata
Between 2014 and 2016, total senior care franchised units increased at a CAGR of 5%.
Source: FRANdata
There is an increasing trend in new senior care brands beginning to offer franchise opportunities. Since the economic recession of 2008, more brands have begun to franchise in the industry than in many of the previous years, a trend likely to continue.
Source: FRANdata
Published: September 18th, 2017
Share this Feature
Recommended Reading:
Comments:
comments powered by

Disqus
Featured Senior Care Opportunities