Cajun-Asian Fusion: Angry Crab Shack Poised for National Expansion
Angry Crab Shack is a full-service, casual dining restaurant featuring Cajun-Asian fusion seafood specializing in boiled shellfish flavored with signature sauces. As we carve out a niche in the restaurant industry, we have expanded our focus and are poised for nationwide growth.
I am a first-generation immigrant and the first Asian-American to play in the NFL, so I am no stranger to standing out and filling a niche in various aspects of my life. After my time as a player for the Houston Oilers and Philadelphia Eagles, I spent 35 years creating various restaurant concepts that have seen repeated success over the decades. As I became ready for another entrepreneurial adventure, I set out to create something unique and fun--not just another wing, burger, or pizza restaurant.
Six years ago, in 2013, I launched Angry Crab Shack in Mesa, Arizona. I wanted to create a concept that had a vibrant, memorable dining environment and that could offer high-quality seafood at a more affordable price. The simplicity and bold flavors in Asian food attracted me. I was able to combine flavors inspired by my heritage, affordable prices, and strategic real estate practices into the winning franchise brand we operate today.
Currently, we have eight locations open in Arizona. Our development goal is to reach 100 locations by 2023 through conservative growth strategies. We are targeting development in Arizona, Colorado, New Mexico, Utah, and El Paso.
Hands-on leader
As the founder, I like to be a very hands-on leader. I try to make a personal connection with everyone in the company, from in-restaurant staff to the corporate team. My goal is to bring out the best in everyone so they know they are a vital part of this organization and look forward to coming to work and being a valued member of the Angry Crab Shack family. To build on these relationships, I visit every location as often as I can to get to know everyone and to make sure each location is operating as effectively as possible.
When I visit, I'm looking for operational consistency, and to see if there are ways to improve the systems and processes we have in place. It's critical that our guests receive the same experience, service, and high-quality meal regardless of which location they visit. I typically don't tell the staff when I'm coming. I want to experience the true atmosphere of the restaurant, rather than have employees feeling pressured to perform better just because I'm there.
Each location has its own unique characteristics, and something that works at one location might not be the best fit at a different location, which is why it's so important to observe and inquire about different day-to-day procedures or practices. I can see how all of the moving parts in each restaurant encompass the overall culture of our brand. Then, if something needs to be changed, I can better direct those initiatives.
Fishing for franchisees
With Americans increasing their seafood intake every year, we are capitalizing on the growing trend of seafood boils to bring family and friends together for a memorable and unique dining experience. Angry Crab Shack offers a new business opportunity for entrepreneurs ready to take a bite out of the $90 billion seafood industry and help to expand the concept across the nation.
Angry Crab Shack is a family-oriented restaurant that caters to everyone for every occasion and offers an entertaining, affordable, and fresh experience that embodies the feeling of a mom-and-pop shop. The quality of food is superior to other seafood concepts in the industry since we use only the freshest ingredients, sourcing the majority of our products from suppliers on the East Coast, Ecuador, and the Pacific.
With simple interiors and kitchen operations and a low entry cost, our locations have experienced high success with average unit volume above $3 million, as well as dramatic year-to-year sales increases. With a laid-back atmosphere and unique presentation, our guests are encouraged to get messy: restaurants serve each order in a clear plastic bag mixed with our Cajun-Asian fusion signature sauces. Once you take your first bite, you understand immediately why the restaurants are fully equipped with communal sinks in the middle of the dining area.
Following the initial success of our Arizona locations, we're looking to continue the momentum by partnering with local entrepreneurs in metropolitan cities across the Southwestern U.S. With an initial investment range between $450,000 and $850,000, Angry Crab Shack offers an attractive investment opportunity for entrepreneurs looking to enter the full-service restaurant industry.
Ron Lou is the founder of Angry Crab Shack.
Published: June 8th, 2019
Share this Feature
Recommended Reading:
Comments:
comments powered by

Disqus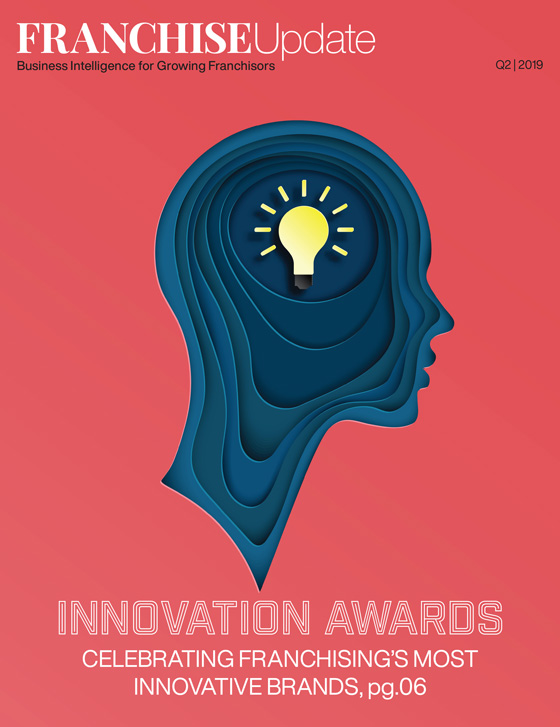 Franchise Update Magazine: Issue 2, 2019
Clayton Kendall provides franchise communities nationwide with comprehensive branded merchandise programs leading to greater brand exposure,...
In 2022 Empower Brands emerged when Lynx Franchising and Outdoor Living Brands united. Empower consists of JAN-PRO, Intelligent Office, FRSTeam,...