Consolidation Nation: Large Franchisees Continue Expanding
In the world of multi-unit franchisees, the big keep getting bigger. In our Multi-Brand 50 rankings, which we began publishing in 2008, the number of units operated by both the top 5 and top 10 franchisees has climbed steadily since 2010, following a post-recession drop-off when franchisees retreated from growth and instead focused on operational efficiency and selling or closing under-performing units.
Also during the past decade: many franchisors worked hard to refranchise their corporate stores; a generation of retiring franchisees with sizable portfolios sold them, whole or in part, to other large operators; and to help grease the skids for all these asset transfers, bankers relaxed their underwriting criteria, alternative lending sources sprang up, and the coffers of private equity firms (overfilled and searching for investment opportunities) expanded their strategic and acquisitional sights from franchise brands to franchisee organizations.
And the big kept getting bigger.
According to FRANdata, between 2011 and 2015 the largest 100 franchisees added units more than twice as fast as franchising as a whole: while total unit growth among the 100 largest franchisees was 6.1 percent during that period, for all of franchising it was 2.9 percent.
We asked several of the country's largest franchisees about their growth strategies--how they did it, how they manage it, and how they funded it. We also asked two people on the money side what they're seeing, and what they look for in a potential franchise acquisition.
The multiplier effect
"We've doubled our size twice," says Shoukat Dhanani, president of the Dhanani Group in Houston. The first time, in 2012, with about 80 Burger Kings in the Houston area, the company acquired 101 Burger Kings in the Northeast. In November 2014, the company doubled again, acquiring 255 more Burger Kings from Heartland Foods. Today his company's total unit count is up to 651 (490 Burger Kings and 161 Popeyes Louisiana Kitchens). "We're still around, and we're still sane," he says.
Guillermo Perales, founder and owner of Sun Holdings, says last year was an extraordinary one for growth at his company. He acquired more than 150 stores, built about 25 new ones, and remodeled about 30 more. "It was an active year where acquisitions and development fell into place," he says. "It was a good year, hard to duplicate." Sun Holdings now operates 649 units in all.
Greg Flynn, founder and CEO of Flynn Restaurant Group, also had a good year. He added a third brand, Panera Bread, becoming the brand's first new franchisee in 10 years. Today with 807 total units in 28 states--498 Applebee's, 259 Taco Bells, and 50 Paneras--his company is the largest restaurant franchisee in the U.S.
"Our approach has been to be very focused within a smaller number of concepts and be geographically diversified We had nothing but one concept for 14 years--Applebee's--and became an expert in that" says Flynn. And when it comes to financing, he adds, "lenders love that we're geographically diversified."
Only after becoming a "category killer" with Applebee's did he begin exploring other brands. "We made that decision in 2011, undertook a very strategic survey of the whole industry, and chose Taco Bell." His reasons included how the brand dominates its niche and its strong management team. His strategy to stay focused in concepts and diversify geographically is clearly working for him: his company has a 33 percent compound annual growth rate since its founding in 1999, and a $1.8 billion sales run rate.
Perales, who has grown his company from a single Golden Corral financed with an SBA loan, took a different approach to growth, concentrating his holdings geographically in Texas and Florida, but signing on with many different brands. Today his holdings include Golden Corral, Burger King, Popeyes, Arby's, Cicis, Krispy Kreme, T-Mobile, along with 10 restaurants in airports, and he was busy working on an 80-unit deal when interviewed for this story.
"It's impossible to make money with a few units. The only way to make money is through scale," he says. "Each brand grows organically and by acquisitions. We keep pushing each of the brands with remodels and acquisitions for ones that are growing." And the ones not growing? He sells them, or tries to.
His approach is to dominate his markets by buying and building as many units of a single brand as he can in each, allowing him operational efficiencies, as well as control over the marketing and brand image in that DMA. In a 2012 interview in Entrepreneur magazine, he said, "Owning the market allows you to close, move, and build stores, and to set uniform pricing and promotions without ruffling the feathers of customers who notice different deals at different locations, or have disagreements with other franchisees. It's only one price, one promotion, one message." Perales added, "When you have the whole market you can do what you think is the right thing."
While highly effective--Perales was named the IFA's 2015 Entrepreneur of the Year, and his company is trending toward $600-$700 million in sales--his approach is not for everyone.
"For me that's too much diversification. I can't keep my eye on that many brands," says Dhanani, whose 651-unit empire includes only two brands. He prefers an approach more like Flynn's: many units with a small number of brands and a large geographical spread. While he has 108 Burger Kings in the Houston area, he also has 100 in New England, and the 255 units he acquired from Heartland further diversified his holdings into several new markets, including Chicago, Minneapolis, and Omaha.
"Even if Texas is in a down cycle, we'll still have plenty of areas doing well," he says. While last winter was rough in some parts of Texas, he says, his other markets are doing well. And contrary to popular perception, he adds, the Houston market, where his company is based, is not only not in a slump, "it's doing great."
So why these two brands? He's been in the Burger King system for the past 21 years and has done well with it. In 2009, with his brother Amin Dhanani (see his profile in the Q3 2015 issue), he bought 19 Popeyes in Houston and San Antonio. "We thought Popeyes was a brand that had potential," he says. And with Cheryl Bachelder on board as CEO since 2007, he said, "She was making all the right moves and we thought, 'Maybe we should get on the bandwagon with Popeyes.'" In 2012, they added 49 more and today have 161.
On the franchisor side, that's a strategy Applebee's and Panera have embraced: fewer, larger franchisees who are experts at operating the brand and have proven themselves capable partners focused on building the system.
This makes sense from the franchisor's point of view as well as the franchisee's, says Perales. If he were a franchisor, "I would rather have a few franchisees that are strong. There's value for franchisor to have stronger franchisees," he says.
"I don't think there's a right or wrong way to do it. It depends on how you want to build your business," says Russ Umphenour, managing partner at 15C, LLC, following 6 years as CEO of Focus Brands. "The key is building the infrastructure to be able to handle it--not only operations and marketing, but real estate, finance, construction, and all that goes with it," says Umphenour, founder and CEO of the RTM Restaurant Group, which he grew to 775 Arby's over 32 years before selling it to the franchisor in 2005. He's also the chair of Chicken Salad Chick and a 10-unit franchisee of Shane's Rib Shack.
Finding funding
At the Dhanani Group, the company funded its growth through cash and banks, and has never used private equity. Why not? "Too much interference, too much control, and money is expensive from them," says Dhanani. "If we can fund our own growth, why use private equity?"
On the other hand, private equity was "very helpful for us to get started," says Flynn. Since starting the company in 1999, he has had two different private equity partners, GS Capital Partners and Weston Presidio. His first big acquisition of 64 Applebee's in 2001 made him the first to attract a significant private equity investment into a franchise business. "We couldn't have done that without private equity. Both were great partners," he says.
However, in 2014, he left the world of private equity funds behind. "We brought in a pension fund as a partner," he says, and recapitalized the company. The Ontario Teachers' Pension Plan invested about $300 million and, together with Flynn and his senior management team, acquired the stakes owned by the private equity funds. Flynn was now the first to attract direct pension investment into a franchise business.
Flynn says he's now "taking the next logical step, bypassing the middleman" with the direct investment from the pension fund. Another advantage, he says, is that whereas private equity funds have a 5- to 10-year horizon to build and sell their investments, this is not the case with the government-run pension fund, which has more than $170 billion in assets and is in for the long haul.
Perales, who funded his first franchise with an SBA loan in 1997, has come a long way. To fund his ongoing acquisitions and take advantage of strategic buying opportunities, he assembled a bank syndication loan a few years ago. "It gave us a lot of capacity to get money at a low price," he says. "It's a no-brainer when rates are very cheap and you can buy at a reasonable price."
In addition to capital, private equity firms with experience in franchising can also contribute their management and financial savvy to franchise brands and franchisees alike. One reason behind their growing interest in franchisee organizations, says Tom Wells, vice president at BIP Capital in Atlanta, is that "valuations in the franchisor market have gotten crazy." This has made franchisees' valuations very reasonable by comparison. Thus, as private equity firms have grown more comfortable on the franchisor side, they're now seeing franchisee valuations and cash flows as reasonably stable platforms for a healthy return on capital, he says.
"It's a lot less risky to invest in cash flow versus building a new location," says Wells. Add in an existing customer base, and it can be highly profitable for a fund to invest in a franchisee, renovating stores they can improve quickly, and then contributing their management expertise to help the franchisee expand.
"Roark pioneered this in the franchisee space with Focus," says Wells. "You can create really competent management teams to run the different brands with best-in-class talent, reduced overhead costs, and best practices between brands." BIP Capital's franchise brand investments currently include Tropical Smoothie Café and Tin Drum Asiacafé
The BIP Franchise Accelerator, a division of BIP Capital, not only provides advice to franchisees of those two brands, it provides funding through BIP Franchise Finance, a $20 million internal financing program to help franchisees in its portfolio get the money they need to grow. Formally launched in January, the program will supply up to 80 percent for existing franchisees to open new locations. Also, with the commercial real estate market tightening, this fund can preapprove a loan, accelerating funding for a new unit, allowing franchisees to nail down prime locations and the franchisor to open more stores from its better franchisees.
Can you get too big?
"No," says Dhanani. "To me, at this point where we are, I believe we can manage twice as much as we have today. At some point you can get too big, but I don't think we're halfway there," he says.
"Larger comes with larger responsibilities," he adds. "It's not everybody's cup of tea to manage multiple markets across the country. If you're going to do it, try it with one market first and see how you do. It's not for everybody, I can tell you that."
Umphenour concurs, adding that a lot of franchisees can grow from 5 to 10 or from 20 to 30 units, "but to make the next jump to triple digits is different game."
Perales says many other franchisees are growing at a faster rate than he is. But do they have the infrastructure in place to handle the increased numbers? "For us to add 100 is not as heavy," he says, as for a smaller franchisee to grow from 20 to 40 or 60 units.
"You're under the influence of your franchisor; but 90 percent is under your control. And once you get to a certain scale, you have a regular dialogue with the franchisor and are very interactive with them," says Flynn.
"Anyone can do what we've done," he adds. "Success in the restaurant industry is mostly a function of running your restaurants well. If you do that, capital will be available." And that means paying attention to every detail. "I don't think you get big unless you do the small well," he says.
And while there's always concern about debt compared with cash flow when looking to grow, Umphenour says two factors are critical in building a franchise company: choosing the best sites for each brand, and choosing the right GMs and operating partners. "If you get those two decisions right and are not leveraged too highly you can build a company and be successful," he says.
Then there's the leadership factor--who the leader is, how well they do their job, and how their individual goals fit with the organization. A good leader, he says, understands the business, how to run a company, is skilled at bringing along and growing strong people, and can attract leaders across all disciplines. "Like so many other things, it comes down to individual leadership, the decisions you make, and the people you surround yourself with. I'm a big fan of having big dreams."
One final piece of advice from Umphenour: "Have fun. If you're not having fun at what you do, working with people you enjoy, go somewhere else."
Private Equity and Restaurants
Private equity firms have shown increased interest in restaurant companies in the past 10 or 15 years, says Steve Rockwell, managing director of consumer investment banking focused on restaurants at BTIG. One reason, he says, is that traditional retail has become less attractive as an investment, mainly because brick-and-mortar retailers are at risk due to the rise the Internet.
"Investors are recognizing the restaurant industry's attractive investment characteristics," says Rockwell, noting that nationally known brand names have "incredible power," including consumer awareness, predictable unit-level economics, and established cash flows.
The model for established restaurant brands and their franchisees has been proven over the years, backed by data from hundreds or thousands of locations to support financial claims to investors and lenders alike. And as large operators become larger, "The risk of investing in a franchisee is generally less than investing in a younger brand," says Rockwell.
"Some scale is important to most private equity investors because they have a lot of money to put to work. The more money they can employ in one investment, within reason, the higher the interest level," he says.
"Many private equity firms want to develop a large company and have a strategy to use the acquisition of a franchisee as a platform to add additional franchisees to leverage their G&A, get economies of scale, and grow the value of their investment," Rockwell says. "You need only one CEO or COO, whether you have 20 or 100 locations. There is definite value in that strategy."
Restaurants with real estate are a further draw for private equity because following an acquisition they can do a sale-leaseback on the property, significantly lowering the cost of a transaction and preserving capital for additional deals.
An example is NRD Capital Partners (part of the private equity fund established by longtime restaurant franchisee and 2016 IFA Chair Aziz Hashim), which did precisely that last summer. After purchasing 121 Frisch's Big Boy Restaurants in an estimated $175 million deal, NRD sold the real estate beneath 19 Cincinnati-area restaurants to a real estate investment trust for nearly $47 million in a sale-leaseback deal under which NRD will continue to operate the restaurants.
Overbuilt for growth
BIP Capital, an investment firm based in Atlanta, is one of those private equity firms gearing up internally for growth, primarily on the franchisor side, to support its investments in Tropical Smoothie Café and Tin Drum Asiacafé--with plans for further growth in the franchise space.
"We've overinvested in infrastructure for franchise development, support, and building revenue through the system," says Tom Wells, vice president at BIP Capital, who also leads BIP Franchise Finance, the $20 million fund mentioned earlier.
In general, he says, private equity firms today have a lot of capital to put to work and can overbuild their infrastructure with the intent of adding new brands and/or franchisees to leverage their capacity, as well as their growing knowledge about franchising. "Their returns are nice, particularly for franchisee private equity firms that know the space well and have built great teams," he says.
His company, he says, is looking to invest in emerging brands, targeting those with 10 to 100 units. "We give them capital and tell the entrepreneur-founders we can do all the things they don't like to do, such as training, franchisee issues, etc. We have the infrastructure in place to help them do that easily and quickly," he says.
When a brand reaches 10 to 50 units, he says, the founder tends to run around putting out fires. "That's when then you have to build a real team," which he says is not only hard to do, but expensive--which is where BIP Capital comes in.
The approach is the same on the franchisee side, he adds--finding franchisee organizations that could use this same type of help to grow. "Private equity firms have figured out that as they build the infrastructure and expertise, they can operate the franchisee better than the small franchisee could."
Published: June 23rd, 2016
Share this Feature
Recommended Reading:
Comments:
comments powered by

Disqus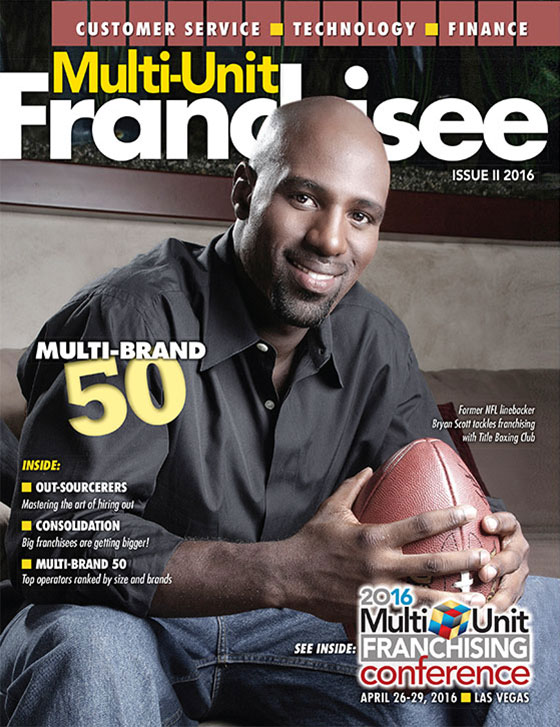 Multi-Unit Franchisee Magazine: Issue 2, 2016
If you're interested in a bold do-nut business opportunity one with strong multi-unit appeal a Shipley Do-Nuts franchise offering is one of the very...
Cash Required:
$225,000
There's nothing quite like the perfect cup of coffee. It wakes you up and gets you on the right path. Now, you've got the chance to build a lifestyle...
Cash Required:
$150,000