Data Delivers!: Rockets, Dogs, Mommas, and Gorillas In The Mix
What changed last month in sales, costs, market share, and customer satisfaction? Data answers those questions for you. Data gives you history. But there is a higher level of business intelligence that answers questions such as: Why is this happening? or What will happen next?
Insight--and foresight--spring from using data, statistical analysis, and predictive modeling to understand why things are happening and what will happen if current trends continue. Let me share three powerful discoveries made by different franchise concepts that improved their future.
#1: Ain't no one happy if Momma ain't!
Franchisees who operated portrait studios wanted to know which customer segment was the most profitable and most likely to be loyal. The franchisor included a number of demographic questions at the end of their customer satisfaction survey to gain information about age, employment, family size, and ethnicity. This information was linked to the transaction amount from the POS system to determine the characteristics of the highest-spending customers.
This high-spending group was further classified according to their ratings on "Overall Satisfaction," "Speed of Service," and "Selection of Products." The segment that was high spending and also highly satisfied was expected to return often and to spend more than other customers.
In this case, Hispanic women with full-time jobs and three or more children were the highest spenders and the biggest fans of the portrait studio... if these moms were happy (highly satisfied). Armed with this business intelligence, the franchisor developed marketing plans to help franchisees attract more of these high-spending, highly loyal customers. That turned out to be exactly the right move, and traffic soared.
#2: Shoot the dogs and ride the rockets
One full-service restaurant concept needed to re-engineer their menu to offer healthy choice alternatives. This meant adding and removing items from the menu. By using profitability and customer scores on "Taste of Food" to analyze each menu item, a matrix with four quadrants was created: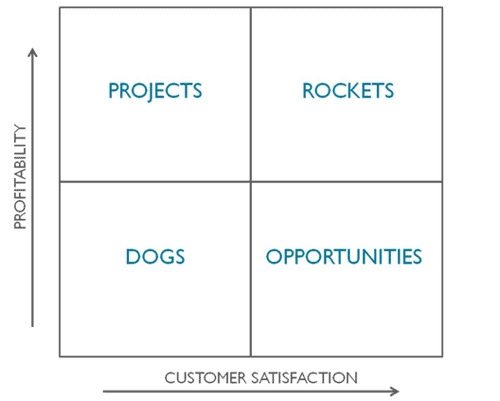 High profitability with high customer satisfaction: These menu items are the Rockets. They make the most money and create the most customer preference for the restaurant. Customers love these items, meaning the company gains repeat business and positive word of mouth that will drive future business. Franchisees were guided to promote these heavily!
 High profitability with low customer satisfaction: These items are the Projects (for product improvement). Because of their high profitability, it is worth some serious effort to figure out how to improve the taste and customer satisfaction with these items.
 Low profitability with high customer satisfaction: These Opportunities have a different kind of potential. Can the price be raised? Or is this item purposely designed to be a loss leader? These items may be building traffic for high-profit bar drinks and also qualify for heavy promotion.
 Low profitability with low customer satisfaction: These are the Dogs. Shoot them. Take them off the menu.
The new menu strategy significantly improved sales, profitability, and customer loyalty.
#3: Finding the gorilla in the data
One casual dining franchise had low scores on "Overall Atmosphere." To understand why, analysts selected verbatim customer comments from all surveys with below-average scores in this category. Using text analysis, key words such as "Noise," "Cleanliness," and "Crowded" were identified. Noise was mentioned most often by guests who gave below-average scores on Overall Atmosphere.
The franchise also found that most guests associated Noise with the music being too loud. This was an eye-opening discovery because the senior management team had recently instructed managers to turn up the music volume to give the restaurant a more energetic feeling! When the restaurant was crowded, managers turned up the music so it could be heard. But as the crowd thinned and ambient noise was reduced, the remaining guests experienced blaring music that annoyed rather than energized them. The solution: the restaurant installed equipment that sensed the ambient noise in the restaurant and automatically moderated the music volume.
The text analysis revealed that the second-highest correlation was between Noise and "Family/Kids Being Too Loud." As it happened, the restaurant had a special Kids Eat Free promotion. They were deliberately building incremental traffic without realizing the very negative impact on their core client base. They quickly cancelled this promotion.
The company's leaders learned the root causes of their Overall Atmosphere problems through text analysis of real customer comments. They were able to make corrective decisions and take effective action quickly--based on facts rather than gut instinct. When big discoveries are made through analysis, it's called finding the gorilla in the data.
These are just three examples. Leading franchise systems drive hundreds of better business decisions by analyzing customer data. Check with your franchisor to see what customer analysis they have.
SMG Vice President Jack Mackey helps multi-unit operators improve customer loyalty and drive growth. To request "Want Better Insights from Text Analytics? Start by Eliciting Better Comments," contact him at 816-448-4556 or jmackey@smg.com.
Published: November 28th, 2011
Share this Feature
Recommended Reading:
Comments:
comments powered by

Disqus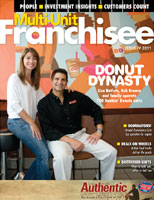 Multi-Unit Franchisee Magazine: Issue 4, 2011
Salata is a 90-plus unit, built-to-order salad and wrap kitchen providing quick, healthy meal options. Known for excellent customer service, the...
Cash Required:
$300,000
Basecamp Fitness is empowering entrepreneurs to build an innovative fitness franchise in their markets while helping create happier, healthier...
Cash Required:
$250,000