Digital Dilemma: Balancing Technology & Data Privacy
Technology and data privacy are two of the biggest hot buttons in franchising right now—and for good reason. Not only does the pace of change for digital technologies continue to accelerate every year, privacy laws, both domestically and abroad, continue to grow, continually creating new challenges for brands. To remain competitive in this increasingly digital and online era, franchise executives must stay current or be left behind. So what's an astute franchisor to do?
That's the question we asked two of our writers to tackle for this issue's feature stories. Joe Halpern spoke with representatives from four franchisors about how they are embracing technology to manage and grow their brands. The discussions ranged from staying on top of the newest technologies to the challenges of integrating them into their current tech stack, and the investment and time costs of introducing new tech tools. On the upside, when properly implemented and executed, these tools are benefiting brands—and their franchisees—by providing invaluable marketplace data intelligence and allowing for more friendly and efficient customer services.
One bugaboo tied to technology, affecting all brands in 2022, is the growth of data privacy laws and regulations. Combine this with data security breaches that have created growing distrust among tech-savvy consumers, and you have some real problems.
No national data privacy law is currently in place in the U.S., but numerous state and international data privacy laws are creating a confusing maze of do's and don'ts for brands, complete with serious potential liabilities. Think the EU's GDPR (General Data Protection Regulation) and the California Consumer Privacy Act and California Privacy Rights Act. In the U.S., Utah joins California, Virginia, and Colorado as the latest state to enact comprehensive consumer data protection laws, set to go into effect in 2023, and other states are lining up to follow suit. This doesn't even factor in international data compliance challenges for brands operating outside their home country.
We had Helen Bond work on sorting this out. She spoke with privacy experts and IT pros who discussed how brands must build a data privacy and protection program around the commonalities of all these regulations, rather than get lost in the weeds of differing state and global privacy laws.
Despite the many technology-related challenges franchise brands face, they are finding new and better ways to leverage technology to build their systems in compliance with privacy regulations. Brett Larimer, executive director of brand development at Skyhawks Sports Academy, told us how the brand is using digital flyers and SMS messaging to better maintain and improve relationships with customers. Jayne Levy, vice president of communications at Unity Rd., described how that brand is using technology to maximize positive customer experiences through guest feedback and reviews. The brand's customer communication platform texts customers after their purchases, sending a link to those who had positive experiences and asking them to post a good review online.
There's no avoiding it. Technology and data privacy laws are creating a new set of challenges for franchise brands. Navigating these changes requires action now to avoid future trouble. Are you up to the challenge?
Published: June 13th, 2022
Share this Feature
Recommended Reading:
Comments:
comments powered by

Disqus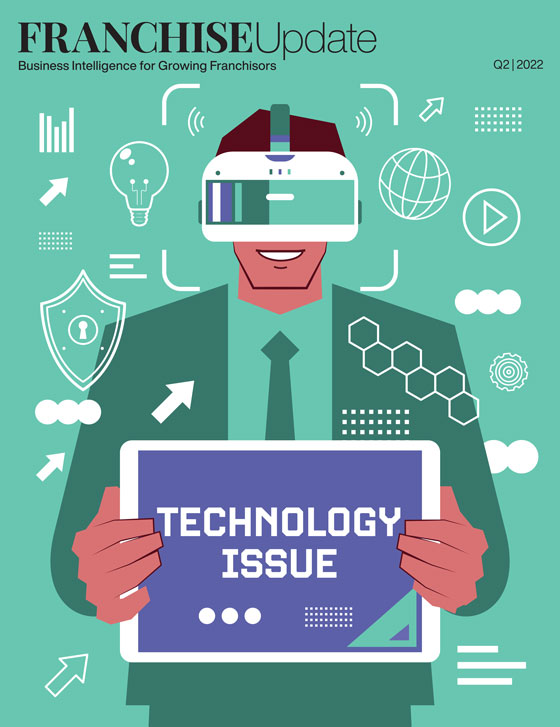 Franchise Update Magazine: Issue 2, 2022
919 Marketing Co. is a national content marketing, PR and social media agency serving franchise brands. Our proprietary social relations approach...
More than 15 years of passion and fascination with the franchise system. Thanks to having met many Franchisees, today I can help new ones and those...