Dominating Their Worlds: These Multi-Unit Operators Rock and Rule!
This issue's six profiles of multi-unit franchisees include immigrants from three different countries (India, Pakistan, and Armenia), all living the American Dream in their own way; a military veteran and former franchisor executive (KFC, Burger King, and Quiznos); a former Arby's CEO who also was president of a 775-unit Arby's franchisee organization; and a retired NFL placekicker who has successfully transitioned to life after football as a franchisee.
Each represents a different path an entrepreneurial-minded person can take to become a multi-unit or multi-brand operator. Between them, the six operate more than 800 units—ranging from a low of just 3 units for our "Under 30" profile to nearly 400 for the largest.
As we've noted before, multi-unit operators are a unique breed, fun to interview, and inspiring to read about. Some control their markets by having a large number of units from different brands, some by operating many units of a single brand, and many are the top-performing operators in their regions. No matter how they do it, they dominate where they operate.
Once a year we devote an issue to these hard-working, successful franchisees. As usual, they're an interesting mix, but the results are similar: a combination of grit, determination, and perseverance has led each to success and domination with their chosen brands and markets. Their stories and the paths they've followed are insightful and revealing. Here are this year's "Dominators"!
Amin Dhanani. From his childhood growing up in Houston, the Pakistani-born Dhanani never considered anything other than going into the family business—the billion-dollar Dhanani Group, a large Burger King franchisee and operator of its own massive convenience store holdings. Today he is president of two companies: one for his 270 Popeyes Louisiana Kitchens, the other for the 26 La Madeleine French Bakery & Cafés he recently acquired.
Kamal Singh. After starting out working as a cashier at McDonald's, Singh, born in India, delivered sub sandwiches, opened his own Lenny's Subs shop, began adding other franchise brands, took over and turned around underperforming KFCs and Taco Bells, and recently bought 34 Sonic restaurants and 10 more KFC/Taco Bells in Houston. All this by just age 31.
Clyde Rucker. A U.S. Army veteran and self-described military brat, Rucker told us he spent years working his way to the top in corporate America and as a franchise executive for one reason: so he could become a successful franchisee. Following stints at KFC, Burger King, and Quiznos, he finally made the move to franchising and now operates 60 Jack in the Box restaurants and 10 Denny's in Arizona and Texas.
Tom Garrett. When we last interviewed him only 2 years ago, Garrett's GPS Hospitality operated 196 Burger Kings. That's grown to 376 Burger Kings, and he's added 19 Popeyes to the mix. Rapid growth and big numbers are nothing new for Garrett, who previously worked at RTM Restaurant Group, which operated 775 Arby's when the company was sold back to the franchisor in 2005 and he moved from president of RTM to COO of the newly formed Arby's Restaurant Group. He left the company in 2010, as CEO before taking another dip into the franchisee pool.
Kris Brown. After kicking his way through 12 seasons in the NFL, Brown is kicking it as a Dunkin' Donuts franchisee. Following his retirement in 2011, Brown partnered with a former teammate and began operating Dunkin' franchises. Today at 40, he is the owner and CEO of the Berliner Group, which has 12 Dunkin' stores, 4 in Kansas City and 8 in Omaha, and is under contract to open 17 stores with the brand.
Albert Tadevosyan. As an MMA fighter in the Northwest, Tadevosyan retired with a professional fight record of 7-1-1. Now, at just 25, this Armenian immigrant owns three Baskin-Robbins stores in Washington, is a State Farm-approved candidate looking to start his own insurance agency, and is a husband and new dad to an 8-month-old daughter. Tadevosyan still remembers growing up poor and vowing to not have any money problems when he got older and was on his own. Welcome to America!
Once again we've teamed up with FRANdata to bring you the 2017 listing of the MSAs with the most franchised units, and the dominant franchisee organizations in each state and region.
Published: November 2nd, 2017
Share this Feature
Recommended Reading:
Comments:
comments powered by

Disqus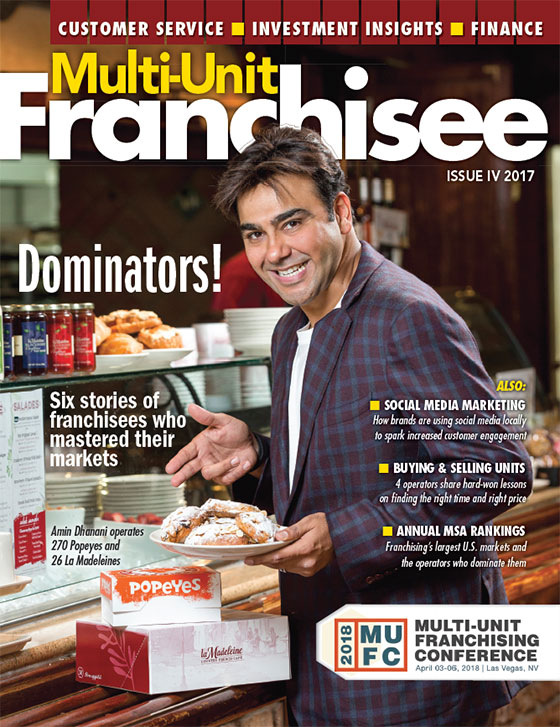 Multi-Unit Franchisee Magazine: Issue 4, 2017
Since 1962, customers have trusted Big O Tires for all their tire and automotive service needs. Today, we have over 465 locations across the country,...
Cash Required:
$50,000
Bad Ass Coffee of Hawaii brings an unforgettable brand, premium coffee products, and a proven business model to a booming coffee scene. We want...
Cash Required:
$200,000