Finding Your Optimal Buyer: Sellers Must Learn To Look Beyond Price
When sellers are contemplating a decision regarding the sale of their business, they overwhelmingly select the bidder with the highest price, only to find afterward that this might not have been the best decision for their circumstances. Just as a financing decision is more complex than simply getting the lowest interest rate, the process of selecting the optimal buyer for a particular transaction entails more than simply selecting the one offering the highest price.
For business owners, the decision to sell requires careful consideration. Frequently, sellers arrive at their decision to sell after a long and thoughtful assessment, which includes an analysis by the seller of their personal, lifestyle, and financial considerations. Unfortunately, after the decision to sell is made, many sellers give considerably less thought to the buyer selection process. The decision of whom to sell your business to is equally as important as making the decision to sell.
To avoid deal disappointment and the possibility of a substantially modified or even failed transaction, gaining a detailed understanding of the selling process is critical. A seller's first step in this process is to assess their own key motivations and objectives for pursuing the transaction. Of course, a seller wants to maximize the proceeds from a transaction, but other considerations also are critical factors, including transaction timing; the legacy the seller leaves behind; employee protection and enrichment; and future relationships with third parties such as franchisors, lenders, and landlords. It is easy to make an initial buyer selection based on the highest bid because it is a quantitative measure. However, a qualitative assessment is imperative as well.
Once a seller has identified and prioritized their own objectives, understanding the prospective buyers and assessing their respective qualities is a critical next step. Not all buyers operate the same way. The most professional (and often the best) acquirers pride themselves on completing extensive due diligence to gain a detailed understanding of the business and the seller's objectives from a transaction. This helps ensure a successful process and minimizes the chances for re-pricing the transaction.
However, other potential buyers will use a strategy of submitting an offer after expending a minimum amount of effort in assessing the deal, with the plan to invest the effort in due diligence only after they are awarded the transaction through an accepted Letter of Intent (LOI). Too often these types of buyers will change their position once they gain a detailed understanding of the business. Unfortunately, this arises only after both sides are well into the process and have committed extensive resources to the potential transaction.
Finally, there are those buyers who knowingly overbid the transaction to get it "off the street," with the intent to renegotiate afterward. This strategy attempts to capitalize on the fact that the highest offer is often too tempting to pass up for most sellers, and once sellers engage with this buyer, it is too late to go back to the other potential buyers. It is not uncommon for even the most astute business people to fall into this trap and fail to be diligent in their assessment of the buyer.
Seller's checklist
So, what steps can a seller take to increase the odds of a successful outcome? First, require in-person meetings with a buyer. You and your professionals can benefit from reading the unwritten messages in the body language of a buyer when they are presented with pointed questions. In addition, if the buyer is willing to travel to meet you on your home field, there is some indication of commitment on their part, and confirmation they are serious.
Second, look at the buyer's track record: What deals have they successfully closed to date? Any recently? What is the buyer's proposed timing for the transaction? And is their "quality" as a buyer strong enough to secure franchisor approval, lease assignments, and guaranty releases?
Third, make sure a buyer's plan addresses factors other than price. Putting price aside, does their plan for buying your business meet your other goals for a transaction? Do you understand the details of your buyer's plan? Where is their equity coming from? Who is providing their debt financing? Has the lender already started its underwriting? Has a commitment letter been provided? If you are selling a franchise business, determine if the buyer is already an approved operator in the system. Do they have an approved operating partner and the infrastructure in place to successfully run the business? What is the buyer's intent regarding your employees? What is the buyer's relationship with your franchisor? What is their transition plan? What is the plan for outstanding Capex and remodel requirements?
Finally, ensure that the buyer has full disclosure up front, to force the diligence process in advance of an LOI. As noted above, you do not want to fall into the trap of taking your business off the market as the result of a dazzling offer, only to be re-traded by a buyer once they do their homework after making the offer. Full disclosure up front also holds the seller accountable. Some sellers may want to gloss over or even hide financial events from the buyer, but this slippery slope plays right into a buyer's hands, and almost guarantees the price will be renegotiated. Damage is done by setting false expectations of value, which leads to mistrust, could spell the demise of the transaction, and will likely damage the seller's reputation. The rule here is to give the buyer what they are looking for and what they deserve to see in due diligence, because they will ultimately find out anyway.
Price is but one consideration in a potential transaction. And if the quality of a buyer is such that they can't perform, the offered "price" becomes worthless. The best deal is one that gets closed at a fair price. Remember that there are many professional pretenders out there: don't let yourself fall prey to one.
Dean Zuccarello, CEO and founder of The Cypress Group, has more than 30 years of financial and transactional experience in mergers, acquisitions, divestitures, strategic planning, and financing in the restaurant industry. The Cypress Group is a privately owned investment bank and advisory services firm focused exclusively on the multi-unit and franchise business for more than 22 years. Contact him at 303-680-4141 or dzuccarello@cypressgroup.biz.
Published: February 1st, 2012
Share this Feature
Recommended Reading:
Comments:
comments powered by

Disqus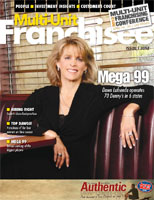 Multi-Unit Franchisee Magazine: Issue 1, 2012
Buddy's Home Furnishings is one of the fastest growing rent-to-own franchises in America with a 60+ year legacy of proven success.
Cash Required:
$150,000
Ace is #1 for convenience hardware! You pay no royalty fees. Instead, Ace pays you a year-end rebate based on your annual purchases. Enjoy the...
Cash Required:
$250,000