Growing in Tough Times: 2017 Multi-Unit Franchising Conference Shows How
Multi-unit and multi-brand operators continue to grow in both numbers and size--and so does attendance at the Multi-Unit Franchising Conference. This year's chair, Guillermo Perales, began his franchising career 20 years ago with a single Golden Corral, $100,000, and an SBA loan. Today his company, Sun Holdings, with nearly 750 units, is one of the largest franchise organizations in the country.
The conference offers something for everyone, from single-unit franchisees looking to grow, to multi-brand operators looking to diversify further. It's designed each year by an advisory board consisting of franchisees of different sizes, types of businesses, and locations.
The annual gathering took place this past April at Caesars Palace in Las Vegas. And just as franchisees and franchisors pride themselves on consecutive years of same store growth, the conference racked up another consecutive year of record attendance.
Golf, charity, welcome
The conference, which this year ran from Sunday through Wednesday, began with the annual fundraising golf tournament. The scramble-style outing is a chance to relax and make new friends in the beautiful Nevada desert--while raising significant sums for charity. Each year the conference raises tens of thousands of dollars for worthy causes, such as the Little Rock Foundation, an organization of parents with children living with blindness, visual impairment, and other disabilities.
The day on the links was followed by a welcome reception that evening at Carmine's Italian restaurant in The Forum at Caesars Palace. The reception featured cocktails, hors d'oeuvres, and plenty of lively conversation.
Keynote & power panel
The conference kicked off Monday morning with a welcome from Therese Thilgen, CEO of Franchise Update Media. She noted that the company is celebrating 30 years in business--another milestone to be proud of in any business. As she looked out onto the crowded room, she recalled that just 10 years ago only 150 attendees were on hand for the conference, held at The Broadmoor in Colorado Springs.
More than 1,650 registered for this year's conference. Of those, 716 were franchisees, representing more than 500 franchise enterprises. All told, the franchisees oversee 12,000 units, employ more than 200,000 people, and conducted $15 billion in business in the past year. And they're expansion-minded: collectively, they expect to add 4,000 more units in the next 12 months and 12,000 units over the next 5 years. Fifty percent of the franchisees operated 2 or more brands.
Greg Vojnovich, chief development officer at Arby's, introduced Marcus Lemonis, the first keynote speaker. Lemonis, star of CNBC's show "The Profit," began by sharing stories of his difficult childhood and adolescence, which he said has given him insights into business leadership. "Vulnerability and the compassion you have for others is ultimately the golden ticket to be successful," he said. He challenged attendees by asking what their definition of success is: money, a personal definition, or what you do to help other people to success. For himself, he said, "It's not about the glory, but about the opportunity."
He said the reason he invests in small businesses that are struggling--not necessarily financially--is that they're the underdogs. He called small-business owners "the most dysfunctional, hard-working, selfless people you'll ever meet."
Comparing franchisees' role to that of a parent, he urged them to be better leaders of their companies. (Yes, your employees want your attention and approval!) "It's important to understand the magnitude of your responsibility," he said. "As business owners, you're responsible for the humanity within your four walls. At your funeral you want people to say you changed their life; what you did for other people."
A general session panel, led by last year's chair, Michael Kulp (450 units including KFC, Taco Bell, and First Watch), took on the challenge of "Franchisee Growth & Success in a Changing Environment." Panelists were Perales, Adam Saxton (70 McAlister's), Omar Simmons (54 Planet Fitness), and Dave Goebel (Pie Five Pizza, former Applebee's CEO). They held a lively, informative conversation discussing current challenges, how they built their companies, how they differentiate themselves, their biggest mistakes, key metrics, where they found advice as they grew, and where they find it now.
Two separate luncheons followed, one exclusively for franchisees, the other for franchisors and exhibitors. The topic of the franchisor/supplier luncheon was "Franchisee Challenges in Finding Great Sites." The franchisee-only luncheon offered franchisees a pitch-free environment where they could rekindle old relationships and build new ones.
Afternoon breakouts
The afternoon's concurrent breakout sessions provided something for everyone: M&A (one session for buying and one for selling); remodel trends; scaling your organization for growth; franchisee advisory councils and franchisee associations; lease negotiations and renegotiations; and reputation management.
The Money Room, introduced last year to unanimous acclaim, opened at 3 p.m., offering franchisees an opportunity to meet one-on-one with potential lenders to discuss financing options.
The Law Room, new this year, provided attendees with a chance to sit down with franchise attorneys and speak privately about their legal concerns and any related issues keeping them up at night.
Another new feature this year was a lounge where attendees could sit and relax, make phone calls, catch up on email, or hold impromptu meetings.
After a full day of speakers, panels, breakout sessions, networking, and plenty of sitting, attendees headed to the Opening Networking Reception in the Exhibit Hall, where more than 200 franchise brands and third-party suppliers were on display to discuss franchise opportunities, products, and services. The three-hour opportunity to explore new brands and learn about new solutions was facilitated with plenty of food and drink.
Day 2: The economy
Tuesday opened with a continental breakfast as attendees fueled up for Day 2. Gary Gardner, chair of Franchise Update Media, and Conference Chair Perales welcomed the crowd and introduced the day's first speaker: Darrell Johnson, CEO and president of FRANdata, who presented his annual report on economic trends and their effect on franchising.
"It's time to be more opportunistic than optimistic," he began. Touching on many factors affecting the economy and marketplace, he cautioned that in the area of capital markets, the next credit tightening cycle will arrive soon. Two financing trends he noted are the growth of alternative lenders, and a shift from relation-driven lending to data-driven lending.
On a positive note, he said, the franchising business model is doing "very well," with publicly traded franchise companies outperforming the Russell indices for the past 11 years. And new brands are appearing almost daily, with about 300 new brands appearing each year. Many of the new brands, he added, are increasingly specialized and focused on subsectors. Also, he said, franchisors are offering stripped-down, lower-cost versions of their brands to allow easier entry.
Although many small-business owners were looking forward to a rollback of Obama-era regulation, the dysfunction of the new administration has disappointed many seeking quick relief from what they see as burdensome over-regulation. However, he reminded the crowd, even with a functional White House and Congress, "political change takes years to put into practice."
Other observations: 1) Transparency is a big issue in business today, and franchisors have responded: FPRs have risen from 47 to 66 percent in just the past 3 years. 2) Nontraditional units are boosting franchise growth. 3) Franchisors are providing more incentives to existing owners, such as reducing the franchise fee for additional units.
Summing up, he said, "Franchise growth looks stable for the next year or two."
MVP Awards
The much-anticipated Most Valuable Performer (MVP) Awards ceremony recognized outstanding franchisees for their contributions to their brands, their organizations, their employees, and their communities. In a moving ceremony, honorees stepped up onto the stage and were presented with plaques honoring their achievements. Each winner is profiled in this issue, beginning on page 8.
Woooo!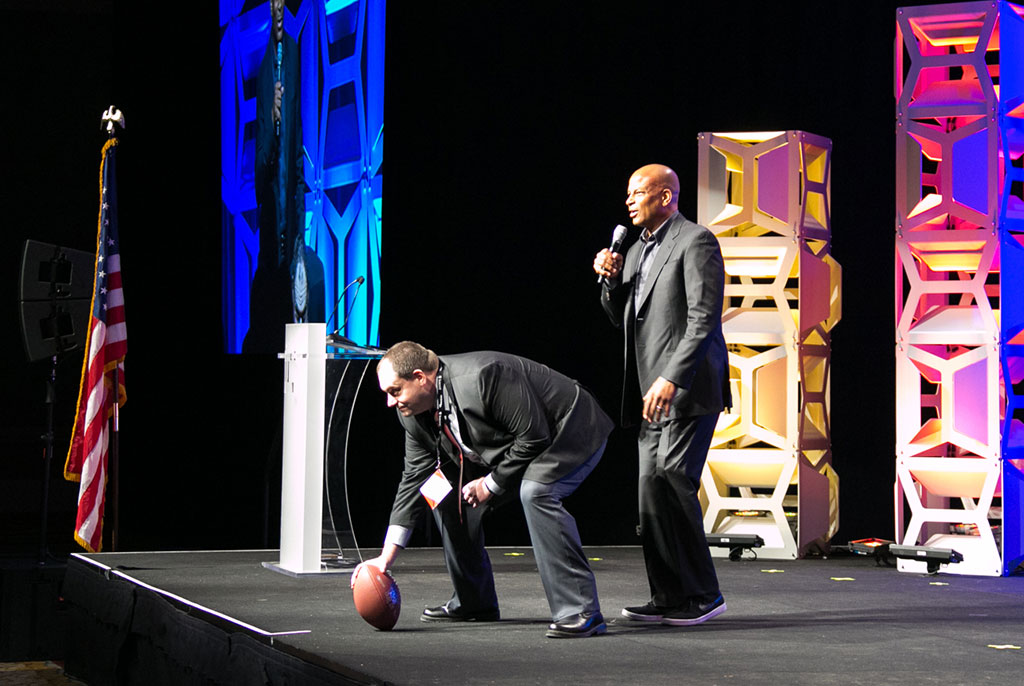 Ronnie Lott, after an introduction by Scott Hoots, vice president of franchising at American Family Care, made a dynamic entrance, running across the room and up onto the stage, football in hand, for his keynote address. Lott, a four-time Super Bowl champion with the San Francisco 49ers and known for his fierce on-field competitiveness, is considered one of the best safeties in the history of the game.
His talk focused on finding your passion. "Are you willing to go the distance, give everything you can?" he challenged. "What do you think about every day? What makes you feel passionate about being here today? What makes you excited every day?" he asked--adding that at age 57, "When I ran up here, I thought about wanting to be my best."
Lott talked about "Bringing woooo!" to your life, meaning giving your best to whatever you do, every day. "Some days you don't want to get up, but you've got to get up and bring a little Woooo!," he said, adding that everything he brought to football he now brings to his life.
He also spoke about the importance of getting like-minded people on your team and of the value of service. "You can have it all but you have to serve; you have to give it up to others," he said. And he's been backing that up for more than 20 years with involvement in many philanthropic ventures.
External threats
Lott's high-energy presentation was followed by a general session panel, "The New Normal: Legislation, Regulation, and Its Impact on Franchisees." Gary Robins, a Supercuts franchisee, facilitated the panel, which consisted of Rob Branca (Dunkin' Donuts franchisee), Aziz Hashim (NRD Capital), and franchise attorney Michael Lotito (Littler Mendelson).
External threats from the federal, state, and municipal levels--from the NLRB to the ACA to minimum wage--are on the minds of franchisees nationwide. One problem the panel identified is the need to educate elected officials, policymakers, the media, the general public, and even employees of franchisees about what franchising is--and isn't.
To illustrate the depth of the problem, Hashim, who called franchising "the last bastion of the American Dream," cited one alarming finding from focus groups: three out of four believed a franchisee's employees are paid by the franchisor. Other surveys have found that many employees of franchisees believe the same thing!
For a business that employs about 9 million Americans, generates $1.6 billion annually, and accounts for almost 4 percent of the U.S. economy, it seems that not a lot of people outside franchising understand how it actually works. "This ignorance has led to a vacuum of knowledge about the business model," said Hashim, who spent much of his year as IFA chairman working on educational initiatives. "This is all about the special interest groups who filled this vacuum with their own narrative," he said. To counter this and defend itself from over-regulation and other threats, he said franchising must promote its own story.
Robins asked the panel about what he called "50/500" rules: how small business with 50 or fewer employees are harmed by legislation targeting large organizations employing 500 or more. "Legislators look at you like you're Google or Apple," agreed Branca. "In my company, it's just me. That's why we invested in lobbying--a critical line item in our budget--and convinced our franchisor to do so as well."
Lotito spoke about joint employer and the NLRB. He said that with a new chair appointed the previous Friday, and two more appointees to be nominated (now done), the NLRB is "moving in the right direction." He also cautioned against complacency. "Your opponents spent $90 million and everything they said was wrong," he said, referring to the SEIU's Fight for $15 campaign. "We have this wonderful success story and we don't tell it. That's our fault--and we need more money to tell it. It needs to be told with passion and expertise to legislators at all levels. You've got truth on your side." While all this bodes well for franchising, he said the SEIU will not give up easily.
Lunch in the Exhibit Hall came next, followed by a second afternoon of concurrent sessions. Topics were how to protect your bottom line in the face of external threats; becoming the employer of choice in your markets (attracting and retaining the best talent); securing capital (separate sessions for $10 million or less and $20 million or more); and key items to look for in assessing a brand. The Law Room and Money Room both opened for business again before attendees headed to the Exhibit Hall for the closing networking reception.
Get active!
The last morning wrapped up with breakfast and a panel discussion about how franchisees can get involved in telling their stories and protecting the franchise model from what Hashim had described as "unintended consequences of good intentions" on the part of legislators and regulators. The panel, introduced by Matt Haller, the IFA's senior vice president of public affairs, included Shelly Sun, CEO of BrightStar Care and this year's IFA chair; Catherine Monson, CEO of Fastsigns; Matthew Patinkin, an Auntie Anne's franchisee; and Ron Feldman, chief development officer at ApplePie Capital.
Their chief goal was to encourage franchisees to get active and tell their stories through participation in the IFA's @OurFranchise initiative (atourfranchise.org). Legislators at all levels are most influenced by small-business owners telling their own stories, said Haller, who urged franchisees to come to Washington, D.C. this September 11-13 to do exactly that.
Sun, who assumed the IFA chair earlier this year, listed three main goals for the IFA in 2017: 1) increase engagement with franchisees; 2) increase the visibility of FranPac; and 3) increase support for emerging franchisors (fewer than 100 units). "Most franchisors don't make money until they have more than 100 units," she said, which is dangerous to franchisees and their employees.
Patinkin said that while there has been no major effect yet from the NLRB's joint employer rulings, it has created uncertainty and is a huge disruptor. "We talk about it at all our meetings, which is money and time spent on issues that don't benefit our company. We want to talk about operations and making money."
Monson said that although Fastsigns has never been a joint employer, "We have made some significant changes." She said Fastsigns has stepped back from delivering some services the brand used to provide franchisees (on the advice of her attorneys). "We don't do that any more, and it breaks my heart," she said.
Sun echoed that sentiment, saying there are "things we've stopped doing" because of the new NLRB rulings. For example, BrightStar used to provide and pay for an applicant tracking solution its franchisees could use. But "joint employer forced us to find a different company for this software--adding thousands of dollars to our franchisees," she said. "We were willing to pay for it. We felt we were providing valuable guidance."
Feldman said the NLRB rulings have also affected franchise lending, valuations, and the pace of development. "If joint employment succeeds, every franchisee's business will be devalued--and there will be fewer people in the pool to buy your business." He said so far the winners have been the lawyers and the third-parties franchisors are now using to provide the support and services they used to.
Monson pointed out that franchising has data on its side, "but that's not what moves hearts and minds," she reminded attendees. "We need to tell the stories of small businesses--personal stories." For instance, how you used to work in a terrible job, but now you're your own boss, hiring entry-level employees who now are managers or have their own units, and how the rejiggered definition of joint employer is threatening the livelihoods of everyone in your business.
The conference's Platinum Sponsors were Arby's and Jersey Mike's. Gold Sponsors this year were Bojangles', Buffalo Wings & Rings, Carl's Jr./Hardee's, Dunkin' Brands, IFA, La Madeleine, Toppers Pizza, and Zaxby's. More than 220 franchise brands and suppliers sponsored the event.
Next year's conference will take place at Caesars Palace April 3-6, 2018. Visit multiunitfranchisingconference.com for a look back at this year's conference, and for details on registering for next year.
Conference by the Numbers
Aggregated statistics from 2017 Multi-Unit Franchising Conference:
Attendees: 1,651
Franchisees: 716
Units: 12,000+
Exhibitors: 220+
Revenues: $15 billion
Employees: 200,000
Published: August 3rd, 2017
Share this Feature
Recommended Reading:
Comments:
comments powered by

Disqus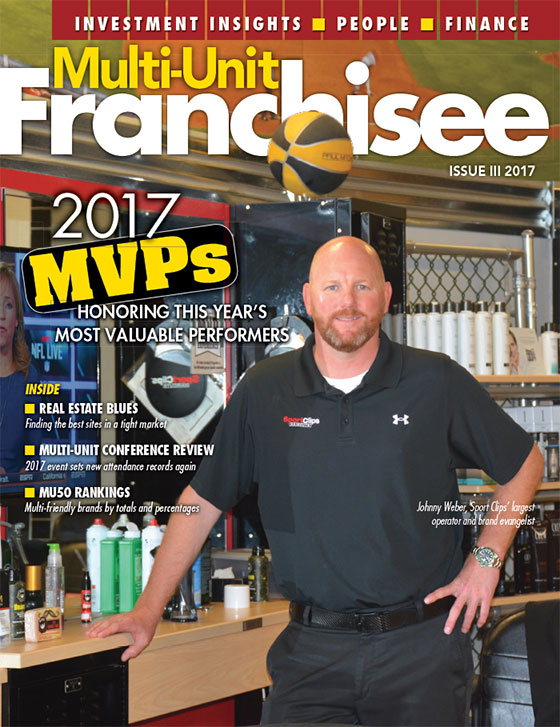 Multi-Unit Franchisee Magazine: Issue 3, 2017
MassageLuXe® is a fast-growing massage franchise providing massage services to clients, primarily through multi-unit area developers & single...
Cash Required:
$100,000
Born from a desire to bring classic, home-style comfort food and unparalleled service back to American diners, today's...
Cash Required:
$500,000