Growing to 10 (and Beyond): Advice for the Expansion-Minded
Growing to 10 units is a cherished milestone for franchisees. Different obstacles and opportunities crop up along the way, some expected, others not. A while back, we spoke with multi-unit, multi-brand franchisee Sean Falk about his own journey to 10 units, which at the time included four brands: Great American Cookies, Pretzelmaker, Mrs. Fields Cookies, and Salsarita's Fresh Cantina. Since then, he's had a few more journeys: serving as chair of the Multi-Unit Franchising Conference, testifying before Congress on the Affordable Care Act, and vice president of franchising at Safeway Driving School. Today, in addition to his franchise business, he's franchise development leader and client executive at Hylant Insurance.
Looking to grow to 10 units or more?
Here's some advice you can take to the bank.
How do you know when it's time to expand?
Everyone will have a different trigger point and time frame. It may rely solely on your ability, confidence, and talent. It may take some time for you to feel knowledgeable enough and have the monetary support to open additional locations. Or you may have vast experience running big operations and can step into a demanding role right from day one. Others still may have significant financial resources to open multiple locations quickly. Additionally, the level of complexity of the operation will affect how quickly or slowly you expand. Simplicity may afford you the opportunity to expand more quickly. As a QSR operator, I had the good fortune of waiting until my 10th location to add overhead, like an operations manager and an administrative assistant. Some operations, like hotels, are so complex and demanding that you will need that level of support right out of the gate! So there really isn't just one answer for when it is time to grow. There are many variables to consider. But you will know, and it will be very clear to you!
Should you stick with one brand or take on additional concepts?
There are pros and cons to both sides of this argument. Again, it depends on you. Let me give you my track record as an example. Initially, I bought into a brand and opened a location in my home town of Monroe, Mich. Monroe is a very small town. There wasn't an opportunity for me to open multiple locations of the same brand there. My initial plan was to stay local and open other concepts. So I looked for other brands and eventually had three different brands operating in Monroe. When I decided to break ties with my partner at the time, my goals changed. My new plan was to just have one, or maybe two brands, and expand into other cities. That changed again. As my empire got bigger, I had four different brands in four different states. Part of that plan included diversifying my holdings to a certain degree. It also included going to new cities and looking for the opportunity to open up two or three of my brands there right away. This approach helped me consolidate the management and oversight of all my locations during my trips or discussions.
What infrastructure do you need to grow to 10 units?
The important thing to remember is to take on the responsibility for the things that you do best. Outsource the things that are time-consuming or a challenge for you, so you can focus on strategy and growth. Infrastructure is usually just overhead with no significant income associated with it. When you add overhead, you better have additional plans to grow from your current level. Otherwise, you cannot overcome the expense you just added to your business model. Initially, I think you should consider the following positions: an operations manager, a regional manager, an administrative assistant, a marketing specialist, a bookkeeper, and perhaps an accounts receivable/payable position. All of these choices depend on your situation, the needs you have at the time, and the things you excel at. Here's another piece of advice: stay ahead of the growth! Don't hire an operations manager because you have grown so much that operations are now out of control. Hire early so you can continue with your growth plan in an orderly way. You don't want to hire someone and have them spend the next year or two fixing all the problems that could have been avoided if more systems or procedures were put in place earlier.
How do you assemble a great management team?
Leadership is a subject that could take years to discuss and teach. Everyone has different leadership styles. And, depending on execution, many leadership styles can be extremely effective. My approach is to hire strong people with a broad range of skills and experience. I use a "coaching" method of leadership, and then I give my management team full responsibility for the operations. My focus is to develop them on their leadership, understanding of the business model, and the key indicators of success. All of my stores do things differently, but the measure of success--profitability--is the same. Let the managers have the reins. They need to feel that their efforts are tied directly to the performance and success of the location. Being micro-managed is not what they desire, and is not an effective way to lead. And make sure to compensate and reward them for their individual performance.
Capital vs. debt when growing to 10 units
This is a very challenging part of your growth. If you don't grow fast enough, then you end up working for the bank as you open new locations and always have a note to pay. If you grow too fast and finance all of it, then you could experience significant challenges if you have a slowdown in sales and have trouble making the note payment. Like all things in life, there is a balance. Make sure you evaluate your capital vs. debt ratios closely. If you want to grow, maybe you have to get capital from other sources. Private equity may be an option; so is bringing in partners. Sometimes, the more you want, the more you have to give up. Often, your growth plan can "snowball." In the beginning, you considered opening one location every two years. But as you grow, your opportunities also grow. When you're bigger, you may consider opening up four locations in one year. Doing this will have a significant impact on your cash flow, and may require creative solutions to not miss out on an opportunity!
New build-out vs. taking over existing units
There is significantly more safety in choosing an operation that has been up and running for years. Perhaps you're more comfortable paying a premium for an existing business with a known cash flow. Or maybe you can find a bargain with a struggling location, if you think your talents can make a difference in its performance. However, opening a new location and taking on the cost of a build-out may prove to be your best choice. It depends on the cost of the build-out, the risk you are willing to take, and the projected performance of the location. To answer this question for yourself, you'll have to calculate your projected ROI, your long-term goals, and your tolerance for risk.
You've made it to 10... why stop there?
When a single-unit franchisee decides they want to grow and become a multi-unit operator, they will have to navigate several new challenges on the road to success. Growing from one to two units is difficult. Growing from two to three is a challenge. And growing from 3 to 10 has many, many hurdles to overcome. And when you grow beyond 10 units, you will face an entirely new set of obstacles and challenges--as well as opportunities. But "10 units" is just a number used here to discuss the set of new obstacles and opportunities you will encounter along the way. The important thing is to not consider 10 a magic number and a place to stop and rest. You still will have to plan for what to do after that. In fact, I would argue that with most systems, 10 units is a danger area. For example, having a larger number of employees will mean having to deal with more government regulations. You also will have to deal with significant growing pains as your geographic area starts to increase when you spread out to new areas of opportunity. Last, you will need to figure out how to pay for all the infrastructure you must put in place. When you've learned how to handle that level of growth, your next plan may be how to pare down your holdings to get to a core set of holdings that is profitable and easier to manage. Or, if additional growth is your goal, you need to start planning for an infrastructure that allows you to springboard to the next level of management and ownership. Never stop planning!
Published: August 22nd, 2016
Share this Feature
Recommended Reading:
Comments:
comments powered by

Disqus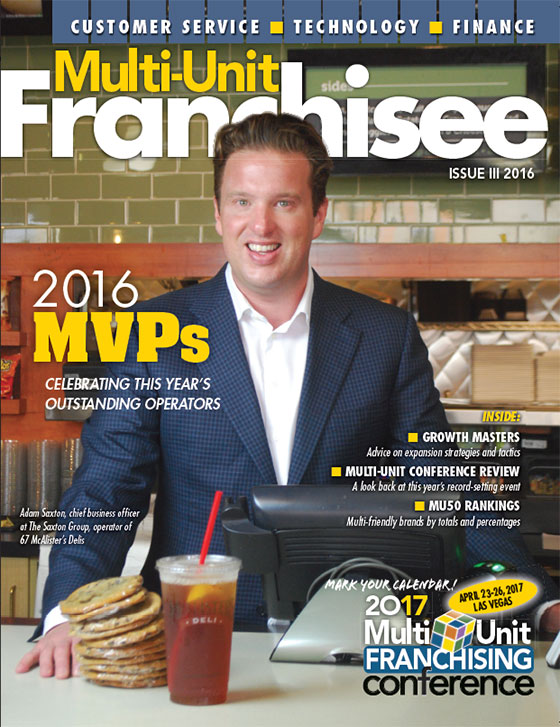 Multi-Unit Franchisee Magazine: Issue 3, 2016
There's nothing quite like the perfect cup of coffee. It wakes you up and gets you on the right path. Now, you've got the chance to build a lifestyle...
Cash Required:
$100,000
Signage has never been more important. Right now, businesses are looking for new and better ways to compete.
Cash Required:
$80,000