Let's Make a Deal! Navigating a difficult transaction environment 
As 2022 has come to an end and we move into the new year, multi-unit operators and franchisors still face significant macroeconomic challenges. While labor costs and COGS remain top of mind, rising interest rates and the reduced availability of capital have served only to further exacerbate an already difficult economic environment with limited liquidity alternatives for sellers and companies seeking a sale.
Increased borrowing costs and constrained capital markets have dampened buyer enthusiasm, with some buyer groups sitting on the sidelines entirely, either focused on their existing portfolios or awaiting more certainty in the economy. Others are minimally engaged in new opportunities outside of "value" situations or acquisition opportunities that create immediate accretive synergies.
Private equity firms, family offices, and institutional capital continue to pursue new acquisitions. But with the increase in the cost of capital, their desire to pay a premium valuation has and will be limited—apart from unique situations or high-growth opportunities with a proven and efficient unit economic model.
Seller valuation expectations have not yet adjusted to their potential bidder's ability, or to their desire to pay discounted market prices. Many project that the stalemate will continue into the first half of 2023, when operators and franchisors begin to see a more significant reprieve in their performance. So what should buyers and sellers do now to remain relevant and to increase their chances of success in a dicey market?
For sellers
For franchisors and operators in brands with modest growth prospects or in brands underperforming within their segment, it may be best to remain on the sidelines until performance or the M&A market improves. Numerous discounted opportunities abound for buyers seeking deals, which puts further pressure on valuations for brands and concepts with marginal or uneven results. For franchisors and independent concepts, the immediate focus should be on improvement of the unit economic model to drive profitable growth in the future. This focus will better position your brand favorably when market conditions do improve.
For companies that don't have the luxury to wait for macroeconomic improvements, get organized and get creative. Books and records must be in order. Be transparent and proactive in explaining challenges and opportunities for improvement. A deal is much more likely to get to the closing table if a certain level of trust is established between buyer and seller. Surprises during due diligence not only will put pressure on valuations, in a fragile market they may kill a transaction altogether.
Franchise sellers also should have a clear understanding and be ready to disclose the cost, timing, and scope of work of any development or remodel projects that will be required as part of the transaction. Required future development and remodel projects can represent a significant future capital outlay and can affect valuation and the buyer pool. Additionally, in most cases, any required remodels that are past due represent a shared cost between the buyer and seller. The more detail on cost and historical/projected sales increases a seller can provide, the better chance that seller can ask a buyer to assume a larger portion of those costs.
Sellers may consider rolling over equity in a transaction to provide future upside, or bridging potential capital gaps with seller paper or an earnout. However, be careful of unrealistic or uncertain projections. Consider engaging an experienced professional to help explore the different liquidity alternatives available and to help prepare and best position your company for a sale.
For buyers
Well-positioned buyers have a unique opportunity to quickly build scale at a time when valuations have dipped sharply on both a per-unit cost or, more traditionally, as a lower multiple of EBITDA. Buyers who can close quickly with no capital or borrowing restraints have a significant advantage. With numerous highly motivated sellers, closing certainty and the ability to move quickly will separate winners from losers.
Look at pockets of opportunity that may not be officially "on the market." Speak to lenders and franchisors who may have distressed or "watch-list" transactions. Most lenders currently have a percentage of clients in technical covenant default. While the number of payment defaults on franchise transactions is still somewhat limited, these situations will likely grow. Buyers can improve their probability of success by being disciplined, but not unreasonable. Be opportunistic without being greedy. This is a fine line and often distinguishes successful dealmakers with distressed buyer candidates who never close a transaction.
Work to position yourself as an ideal buyer candidate. For franchise buyers, work with franchisors on pre-approval for their system and for specific transactions in the network. Minimizing the timetable for franchisor approval can separate a buyer who can act quickly from one that is just starting the approval process. Have all financing pre-approved with funds available and ready to fund quickly. Capital resources and a demonstrated financial capacity will often separate the winning bidder from another suitor.
Last, be patient. While closing a transaction in a difficult environment may not be easy, an opportunistic purchase today has the potential to add significant long-term value for the disciplined buyer who can close.
In any uncertain deal environment, the most successful buyers and sellers will be those who can adapt to changing and evolving conditions. Be patient, be open, be flexible, and good luck!
Carty Davis is a partner with C Squared Advisors, a boutique investment bank that has completed hundreds of transactions in the multi-unit franchise and restaurant space. Since 2004 he's been an area developer for Sport Clips in North Carolina with more than 70 units. Contact him at 910-528-1931 or carty@c2advisorygroup.com
Published: April 15th, 2023
Share this Feature
Recommended Reading:
Comments:
comments powered by

Disqus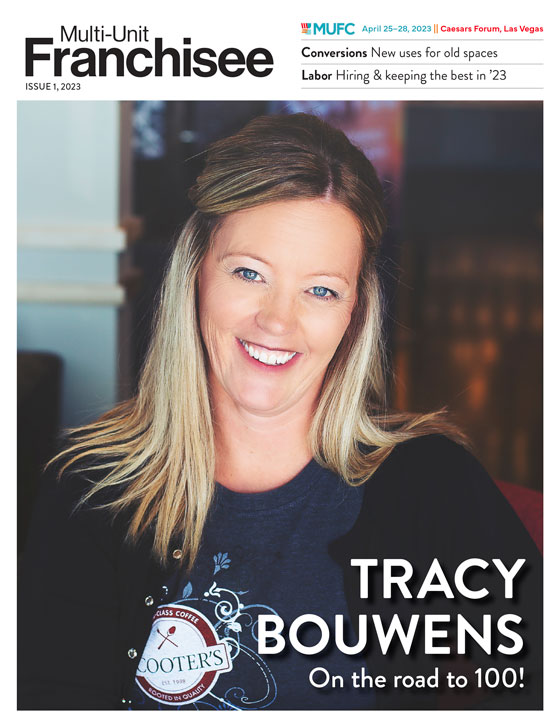 Multi-Unit Franchisee Magazine: Issue 1, 2023
Grab Hold of the Bold with the legacy brand that is backed by 50+ years of experience, a fresh look and feel, and outstanding menu innovation, all...
Cash Required:
$500,000
Vitality Bowls specializes in acai bowls, smoothies, juices, salads, grain bowls, wraps, toast & panini, made with unique superfoods like pitaya,...