Multiple Brands, Singular Success: One is Not Enough for these Franchisees!
Franchising is a tough business. There's competition, overhead, rising costs, changing consumer tastes, social media, and now legislative and regulatory threats to deal with--while you're busy hiring and training employees, updating your menu, remodeling your stores, and dealing with insurance, taxes, and suppliers. As that old TV commercial said, "But wait, there's more." There's always more--which is why you have to love it to succeed.
Multi-brand franchisees have the additional challenge of dealing with different systems, additional locations, and often different state and municipal laws and regulations. Not a piece of cake, even for the best. But as this issue's interviews with multi-unit and multi-brand operators show once again, it takes passion, determination, and perseverance to overcome these obstacles. Good thing they love a challenge!
Despite all these barriers to success (hey, who said business was easy?), there are many benefits to multi-brand franchising. Financially, diversifying into different concepts spreads the risk by allowing operators to hedge their bet on any one brand. Personally, offering a variety products and services and working with different kinds of people provides a sense of motivation and ongoing learning. Add to that the cross-pollination of best practices from different brands, which can be applied to their own organizations.
We've pulled together a set of profiles that include a former pro athlete and a young, "Under 30" franchisee. These hard-working, dedicated operators represent a mix of small and large organizations, as well as different industries. The stories are united by their passion for great products and concepts, a customer-driven focus, their eagerness to provide jobs and advancement to their employees, and their burning desire to grow their business.
Matt Rusconi, who recently added a hot new tech franchise to his two restaurant brands, has a refreshing attitude toward work: he loves it. Already operating 14 Moe's Southwest Grills and 3 Mooyah Burgers, Fries & Shakes, the 39-year-old Rusconi has added his first Experimac store, a UFG brand that focuses on Apple product sales and repairs. While Rusconi still loves to get in the trenches with his teams, he's working to "put the spatula down" and manage on a higher level.
Bob Middleton, our "cover boy," is a self-made millionaire who operates Jersey Mike's, Little Caesars, Sonic, and Del Taco franchises. He's not only diversified brands, he's diversified countries as he focuses on expanding Jersey Mike's in Canada through a joint venture with the brand--and is shooting for 100 in 10 years there. His approach to risk is refreshing: "When I go into a business venture, I don't ask how much money I can make. I ask, 'If doesn't work out, how bad can it hurt me?'"
Charles Loflin, a longtime Pizza Patrón franchisee, just bought the brand--that's right, all 92 stores including his own 33, adding "franchisor" to his resume. Through his 20-year friendship with Pizza Patrón founder Antonio Swad, Loflin also operates 70 Wingstops, the other brand Swad founded. Loflin, at 48, never sits still: when we spoke he was in the midst of opening six more Wingstops.
George Tinsley won 3 NCAA Division II basketball championships in college, played pro ball in the ABA, and worked alongside Colonel Harland Sanders for 3 years. During his transition from ABA star to KFC star, Tinsley says the Colonel gave him "the fever" for the restaurant business. Today, he has more than 60 units at street locations and airports, including Starbucks, Chili's, Wendy's, KFC, Pei Wei, P.F. Chang's, Shula's Bar & Grill, Cigar City Brewing, and Comfy Cow.
Chelsea Segura, our "Under 30" profile, could be the poster child for Millennial franchisees. With two locations already under her belt, this franchisee of The Little Gym may be the youngest seated at the table at executive meetings--but the energetic, hard-working 28-year-old has no doubt that being a franchisee can be the perfect career for young entrepreneurs willing to work hard and put in the time.
And, since this is our annual Multi-Brand 50 issue, we've teamed up with FRANdata to provide some great data on multi-brand franchising. Turn to page 42 to see the rankings of the country's largest multi-brand operators, along with the brands they've chosen.
Published: May 4th, 2017
Share this Feature
Recommended Reading:
Comments:
comments powered by

Disqus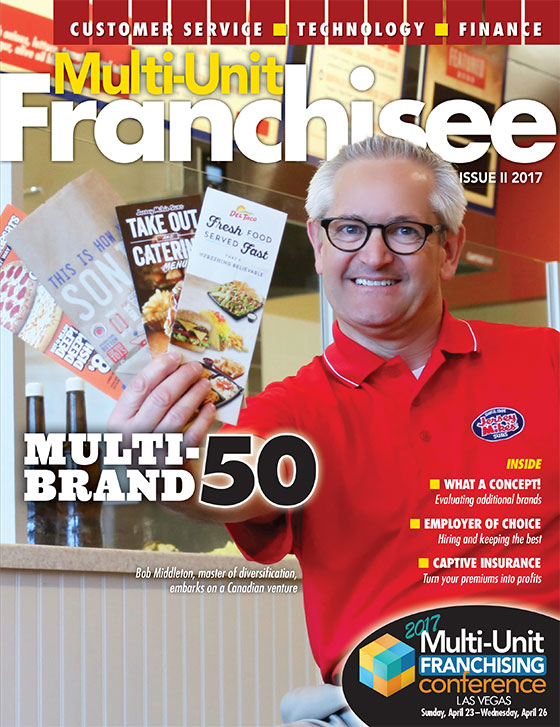 Multi-Unit Franchisee Magazine: Issue 2, 2017
At Twin Peaks, expect to enjoy scratch-made food, sports on TVs from every angle, frosty 29° beers, and the fun and friendly Twin Peaks Girls....
Cash Required:
$2,000,000
Checkers Drive-In restaurant franchises are small but efficient making our restaurants easy to operate and typically reduced overhead costs.
Cash Required:
$250,000