MVP Anil Yadav Began as a Fry Cook: Multi-Brand Leadership Award recipient
Name: Anil Yadav
Title: President, CEO
Company: Yadav Enterprises
Units: Jack in the Box, 214; Taco Cabana (franchisor), 144; Denny's, 75; TGI Fridays, 75; El Pollo Loco, 6; Sizzler, 4; Marco's Pizza, 3; Corner Bakery Cafe, 3; plus a few resorts and hotels
Age: 57
Family: Wife, 3 kids (2 boys, 1 girl)
Years in franchising: 37
Years in current position: 32
Anil Yadav is the 2020 Multi-Brand Leadership Award MVP (Most Valuable Performer).
Yadav came to the U.S. in 1982 when he was just 17 and looking for a better way of life. He went from being a fry cook at Jack in the Box in 1984 to restaurant manager, and is now the largest Jack in the Box franchisee in the U.S. His holdings consist of 8 food brands and a number of hotels spread across 15 states. He's also a partner at TriArtisan Capital Advisors, a New York-based private equity firm that owns TGI Fridays, one of his brands. In recent years, Yadav has gone beyond franchising, purchasing two resort properties in California.
After three decades of multi-unit franchising, Yadav says the secrets to his success are mastering real estate, raising the customer service bar, and taking care of his employees.
PERSONAL
Formative influences/events: I was very fortunate to have parents who were very loving and supportive. At a very young age, I was taught that it is important to stand by your word; honor and integrity are important. Say what you mean and do what you say.
Next big goal: I found the recent acquisition of Taco Cabana—my first shot at being the franchisor—to be an invigorating and exhilarating experience. Being a franchisor of a brand was on my mind for a while, and I am very excited for this to happen. I'll need to focus on maximizing the opportunity on my current portfolio.
Hardest lesson learned: Most recently, the Covid-19 pandemic. It made us realize how fragile life is and that we have to appreciate our family and friends more and live each moment to the fullest. The pandemic also taught us how the business environment can change quickly. It definitely brought the mindset back to the basics of being involved and learning to do more with less.
Best advice you ever got: Diamond Rule: "You treat others as they wish you to treat them." Be humble, but don't let your guard down in business.
What are you reading/favorite business books? I don't read a lot of books, but I read news, magazines, and papers.
What's your passion in business? Work hard, play harder, and try to do better today than yesterday. I love the industry and the people I work with.
MANAGEMENT
Business philosophy: We strive to be the most admired franchise operator for each brand we represent. We value food made with the freshest, highest-quality ingredients, served fast in a clean and friendly environment. To me, "Food may be the language, but customers are the lifeline." Do the right thing consistently and things will fall into place.
Management method or style: We fully believe that if we take care of our employees, our employees will take care of our guests, and this in turn will lead to higher profits. We call this the service profit chain and realize that our employees are the number-one asset in our company. I started as an employee working as a fry cook at Jack in the Box. So I know and I value my people.
Greatest challenge: Covid-19 has made it a challenge hiring and retaining talent.
How close are you to operations? Very close. I am working as hard now with more than 500 restaurants as I did when I had only one. I enjoy being around my ops team and being very close to my business.
How do you hire and fire, train and retain? Now, the team makes all the decisions. I am involved in hiring only when I am asked by my top management.
COVID-19
What have been the biggest impacts of Covid-19 on your business? 1) Hiring and retaining talent. 2) So many different mandates and new instructions from government. 3) Decreased profits. 4) Supply chain and inflation. 5) Unpredictability of the future.
MVP QUESTIONS
Why do you think you were recognized with this award? By surviving, thriving, and growing in business despite the difficulties and challenges of the Covid-19 pandemic, and the differences I am making in the industry.
How have you raised the bar in your own company? By working hard, not giving up, and always having a positive outlook. I think this philosophy inspires our employees and drives them to further succeed in their professional and personal lives.
What innovations have you created and used to build your company? Technology and automation have been our focus to ease the workload. Our training platform has evolved and been streamlined.
What core values do you think helped you win this award? Hard work and doing the right things for people I work with and the businesses I represent. Never give up.
How important is community involvement to you and your company? Community involvement is everything! We all need to help and support each other in order to succeed. When Covid-19 first started, everyone needed to wear a mask but mask production was scarce. Our company tripled our order and donated most of it to the community. We are giving back to organizations such as Backpacks for Kids, Every Monday Matters, and No Kid Hungry. During the pandemic we supported many causes to help communities with food and other needs.
What leadership qualities are most important to you and your team? Leaders must lead by example. A leader cannot expect employees to work hard if he does not work hard. A leader cannot expect employees to be honest if he is not honest. The company needs strong leadership to build an honest and hard-working team. It's also important to provide the right platforms and tools for everyone to do their jobs right.
BOTTOM LINE
Growth meter: How do you measure your growth? Other than P&Ls, we measure our growth by increased footprint in our locations and seeing our workforce growing with it.
Vision meter: Where do you want to be in 5 years? 10 years? I have never set the goal in terms of where I need to be in 5 or 10 years. I strive to do better today than yesterday and continue to do that every day. In 10 years, hopefully I will be working on transitioning the business to the next generation who will run the business, and I can enjoy watching them grow.
What are you doing to take care of your employees? We give employees raises and bonuses based on merit and profitability. We also celebrate their hard work by having off-site parties and picnics. We have monthly newsletters by brand that recognize stores that have surpassed their goals. I also have provided opportunities for employees to be entrepreneurs as part of our business or helped guide them into their own business.
What kind of exit strategy do you have in place? Honestly, I love what I do and haven't thought about an exit strategy yet.
Published: January 7th, 2022
Share this Feature
Recommended Reading:
Comments:
comments powered by

Disqus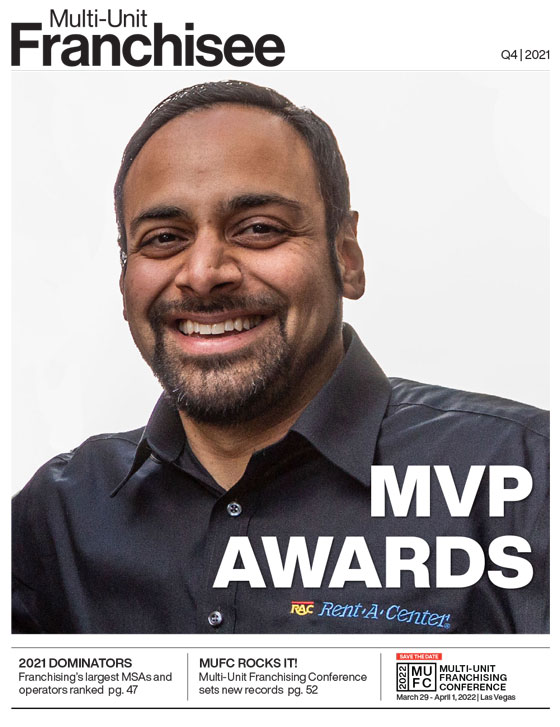 Multi-Unit Franchisee Magazine: Issue 4, 2021
Class 101 college planning franchise helps high school students get into better colleges and qualify for higher amounts of scholarships and financial...
Cash Required:
$50,000
Scooter's Coffee is in the midst of a strategic growth approaching 600 stores operating in 28 states and store commitments in 30 states. With a...
Cash Required:
$200,000