MVP Roland Spongberg Gives Back - Big-Time! 2020 Noble Cause Award recipient
Name: Roland Spongberg
Title: Founder, CEO
Company: WKS Restaurant Group
Units: Denny's (126), Wendy's (86), El Pollo Loco (69), Krispy Kreme (40), Blaze Pizza (10)
Age: 69
Family: Married 46 years to my incredible wife Sandee; 6 children and 16 grandchildren
Years in franchising: 34
Years in current position: 34
Roland Spongberg, the 2020 Noble Cause Award MVP (Most Valuable Performer), has a long list of accomplishments.
His WKS Restaurant Group in Cypress, California, employs more than 10,000 people spread across more than 300 locations, most located in the U.S. West. He is the largest franchisee in the El Pollo Loco and Krispy Kreme systems. His company is also the largest Wendy's franchisee in California. In July, Spongberg was named as an Orange County Entrepreneur of the Year by Ernst & Young. But it's his generosity that singled him out for the Noble Cause MVP Award.
WKS is committed to service and giving back to those in need, donating more than $158,000 annually, and has raised more than $3.2 million to date through fundraising to support more than 5,000 nonprofit organizations nationwide. His company also supports numerous local charitable initiatives including The Dave Thomas Foundation; (RED); the National Breast Cancer Foundation; The Salvation Army; No Kid Hungry; and United Way.
A few notable causes Spongberg was involved with recently helped to make him the recipient of this year's award: WKS raised more than $28,000 to benefit three young girls who survived a violent attack that left three people dead; completed 30 different restoration projects at the historic Theodore Roosevelt High School in Los Angeles; raised nearly $10,000 in just 6 hours for the victims of a shooting; and raised $16,000 for the family of a local fallen police officer.
With a track record like this (and we've only scratched the surface), it's easy to see why Spongberg was selected as the 2020 Noble Cause MVP.
PERSONAL
Formative influences/events: I served a 2-year mission for the Church of Jesus Christ of Latter-day Saints (1972–1974). The mission taught me discipline, much about people, service, and love and faith in God.
Hardest lesson learned: Debt is a double-edged sword. It can be instrumental in growing a business and it can prove disastrous if you let it get you over your ski tips.
Favorite business books? Good to Great: Why Some Companies Make the Leap... and Others Don't by Jim Collins.
MANAGEMENT
Management method or style: Collaborative. First, hire great people and then work with your team to make the big decisions.
Greatest challenge: Currently, staffing our restaurants.
COVID-19
What have been the biggest impacts of Covid-19 on your business? The type or design of our restaurants proved to have the biggest impact on navigating successfully through the pandemic. Restaurants without a drive-thru had crushing sales decreases, while those with a drive-thru drove significant sales increases.
MVP QUESTIONS
What innovations have you created and used to build your company? One of the things that makes WKS unique is that we have a software team who have built accounting and reporting applications, human resources workflow applications, and we specialize in integrating all the systems we use together to help us efficiently scale.
How important is community involvement to you and your company? We enjoy engaging in community events and helping where needed, be it by fundraising for local charities, feeding firefighters during a fire event, or contributing a day's worth of sales to a family struggling through a tragic event.
What leadership qualities are most important to you and your team? Teamwork, integrity, loyalty, service, and winning. These are our values and we live and run our business by them.
BOTTOM LINE
Growth meter: How do you measure your growth? Two ways: same store sales compared with last year, and total number of restaurants.
Vision meter: Where do you want to be in 5 years? 10 years? We work each year on a list of strategic priorities to help run better and more efficient restaurants. We don't have a specific plan as to where we want to be. We typically build 6 to 8 new restaurants a year and look for acquisition opportunities as they come along.
What are you doing to take care of your employees? When I had six restaurants, I said to myself, I need to get out of the restaurant business and into the people business. I had learned that it is the people who will drive and improve the restaurants. I believe our mission statement sums it up: "We win by making our guest happy and our people more successful than they ever thought possible. We help good people learn to lead, serve, and make a difference."
What kind of exit strategy do you have in place? I have spent the last 4 years developing a framework to allow this family business to endure to the second, third, and fourth generations.
Published: December 31st, 2021
Share this Feature
Recommended Reading:
Comments:
comments powered by

Disqus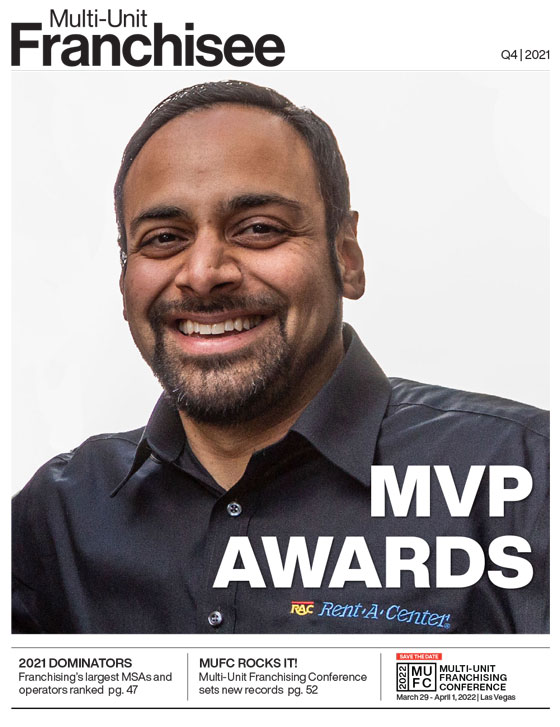 Multi-Unit Franchisee Magazine: Issue 4, 2021
With many attractive development territories available for multi-unit growth, there has never been a better time to become a Penn Station franchisee.
Cash Required:
$300,000
Demand for The Bar Method continues to grow as more people discover the benefits of a barre-based workout and feel the empowerment after each...
Cash Required:
$125,000