One Brand Beyond: Multi-Brand Stars Keep on Shining
Anyone who's operated a franchise business knows it takes a lot of hard work to attain (and maintain) a high level of success and profitability. Life changes dramatically with expansion from 1 or 2 to 5 or 10 units and beyond, with new challenges presenting themselves at each stage of growth.
Multi-brand franchising, a growing trend for some time, has many important advantages, most notably diversification, which spreads risk across different geographies, industries, and economic cycles. Signing on with different systems allows operators to learn from the best and apply those lessons across different brands, while some thrive on the stimulation and variety that working with several brands provides.
We all know business is really about people--the people who start businesses, the people who work in those businesses, and the people who buy from those businesses. That's why each year we search long and hard to assemble a unique group of multi-brand franchisees whose stories are dynamic, engaging, and that offer instructive models of success.
This issue profiles eight hard-working, dedicated multi-unit operators representing small to large organizations. Their stories are unique, yet have common threads: a passion for great products and concepts, a customer-driven focus, an eagerness to provide jobs and opportunities to their employees, and a burning passion to grow their business.
FRANdata has been supplying us with data on multi-brand franchising for 9 years now. Their list of the 50 largest multi-brand franchisees in the U.S. begins on page 60, along with a list of the 25 most popular brands. Here's a preview of what you'll discover in the following pages:
Brent Collier loves tourists--at least the ones who eat in one of his 16 restaurants, located strategically along a 25-mile stretch in East Tennessee featuring attractions ranging from Dollywood to Gatlinburg to Great Smoky Mountains National Park. The area draws about 15 million visitors annually, and Collier estimates that one in three ring up a tab at one of his restaurants each year.
Mills Sinclair spent two decades in the financial industry before serendipity and an eye for an opportunity led him into franchising in the form of Abby's Pizza, a 36-unit chain in the Northwest he acquired in 1988. Today he also is a franchisee of Golden Corral and Sonic Drive-In and likes to own the land beneath his restaurant.
Jesse and Charles Keyser, 39 and 35, are brothers who bring a sibling harmony to their franchise operation. They've parlayed their mutual respect and complementary strengths into a business that now includes Sport Clips, Little Caesars, and Oxi Fresh Carpet Cleaning, leveraging their youth, energy, and social media savvy into a $10 million business.
Brian Smith has been in the franchised restaurant business for 26 years. Today the former Subway franchisee operates 11 Popeyes and recently signed on with Captain D's to build (hold your breath!) 50 restaurants by 2026. He also sells rural land for Mossy Oak Properties in Missouri, Kansas, and Oklahoma. When he's not working, he loves to spend time on his farm.
Bryan Scott, who spent a decade in the NFL as a linebacker, always knew there would be life after football. After hanging up the pads, he wasted no time getting into Title Boxing Club as a franchisee. He has two locations open and plans for five more. Additionally, he is co-owner of Noene USA, which sells a line of high-tech, ultra shock-absorbing insoles.
Michael Knobelock was no stranger to multi-brand franchising when we first profiled him in 2010. He's also no stranger to expansion. Since we last visited, he has added Captain D's and Sears Appliance & Hardware stores to his arsenal of brands, which also includes Church's Chicken, Little Caesars, and his own full-service seafood and steakhouse restaurant, Dekker's Mesquite Grill.
Jerry Heath was busy with his Hungry Howie's locations and had just gotten into the Jimmy John's brand when we profiled him in 2010. Since then he's more than doubled his Jimmy John's locations to 12, with 2 more set to open this spring, and has been busy remodeling and relocating his Hungry Howie's units.
Published: May 12th, 2016
Share this Feature
Recommended Reading:
Comments:
comments powered by

Disqus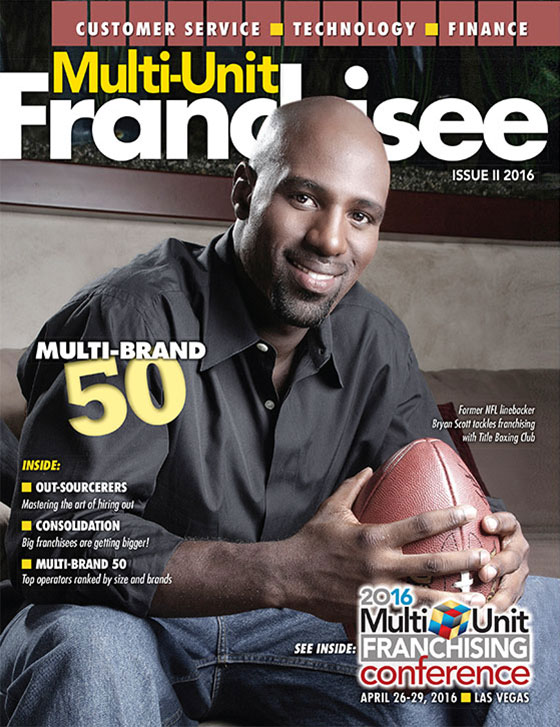 Multi-Unit Franchisee Magazine: Issue 2, 2016
Checkers Drive-In restaurant franchises are small but efficient making our restaurants easy to operate and typically reduced overhead costs.
Cash Required:
$250,000
Invest in a legacy brand with 40 years of experience serving up crave-able food in a fun environment. Here's all you need to know
Cash Required:
$1,500,000