Shipping Out Service: Navy Veteran Jo McCabe Succeeds with Mr. Handyman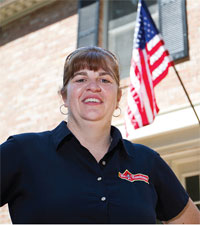 You might assume that Jo McCabe has a background in home repairs. The co-owner of Mr. Handyman and the system's 2010 Franchisee of the Year, serves the Prince William and southern Fairfax counties in Virginia. But it's her background in the military that has helped her succeed in franchising.
McCabe attended the U.S. Naval Academy and received a B.S. in Aerospace Engineering and then furthered her education with an MBA from Southern New Hampshire University. She worked as an aircraft maintenance officer in the U.S. Navy and served in the Reserves. McCabe spent eight years in physical security, overseeing the Navy's northeast region and eventually managing 1,500 people.
She graduated from the Naval Academy in 1991 and served until 1996, then joined the Reserves. Following September 11, 2011, she returned to active duty for two years before returning again to the Reserves and then retiring from the service in September 2011.
That's when McCabe decided to put her management experience and MBA to use by becoming a business owner. She wanted a proven system so she investigated a host of franchise options. She selected Mr. Handyman and opened her business in September 2008. Now with six employees, McCabe's company provides major and minor repairs, maintenance, and improvements for both homes and businesses.
Her first two years were tough. "We bought it right before the economy tanked," McCabe says.
Although 2009 was "terrible," McCabe managed to increase revenues by 46 percent in 2010. Her secret? "Business is like sports - the teams that master the basics and continue to use them are the ones that make it to the championships."
McCabe's military background and Mr. Handyman performance are both impressive. She was awarded the 2010 Franchisee of the Year award for her amazing sales and profitability. She is an exemplary franchise owner and follows the Mr. Handyman model, which has helped her grow the business significantly.
During the 2012 Convention, she was awarded for being among the top 10 Mr. Handyman businesses in sales. She is also a member of the Franchise Advisory Council and Metrics Committee.
"There is no silver bullet to becoming successful," she says. "You just have to stay focused on your goals and work at mastering the basics."
Published: May 7th, 2013
Share this Feature
Recommended Reading:
Comments:
comments powered by

Disqus
The Walk-On's Sports Bistreaux delivers authentic Louisiana flavors and a winning guest experience for friends and families alike. With a commitment...
Cash Required:
$500,000
Shakeaway is a unique global company with stores popping up all over the world! Get involved in this fun, fast growing and profitable franchise now...