STAR Lights!: Honoring the Best in Franchise Recruitment
Each year, in the run-up to the annual Franchise Leadership & Development Conference, franchise brands that pre-register can choose to have themselves mystery shopped by a team of sales and lead generation experts. This year, the 165 franchise brands that participated were evaluated on best telephone follow-up, franchisee satisfaction, website response, their websites, and their FDDs.
The results are scored and the top performers in each category--and the overall winners--are recognized with STAR Awards at a banquet held on the final night of the conference. The dinner, sponsored by eKomi, was held at Maggiano's Little Italy, just up the road from the Intercontinental Buckhead Atlanta, where the conference took place this past September 28-30.
To learn more about the methodology employed by the mystery shoppers--and more important, their observations, analysis, and suggestions for improvement--see page XX. A list of the winners and top runners-up can be found at the end of this article.
Best Overall Performance
1st Place: Captain D's
No one was more surprised or excited about winning the STAR Award for Best Overall Performance than Michael Arrowsmith, chief development officer for Nashville-based Captain D's. After all, Captain D's started franchising again only 2½ years ago after a hiatus of more than a decade.
"We do a lot of things well," says Arrowsmith. "Responsiveness is the single most important thing we do. But there's so much that we can improve on that I was happily surprised when our name was announced."
Much has been accomplished in the past couple of years at Captain D's. "When I was brought on board, there was no infrastructure, no real estate or sales department--nothing. The cool thing about that is you're able to build exactly what you want based on best practices," he says.
"We've been around since 1969 and continued to work with existing franchisees, but starting up again with franchising we're like an emerging new brand with all our platforms and processes. We had one talented sales person and we brought two more on last January, so we tripled our sales staff. There's a lot more we'll be able to do over time, because we want to get better."
Arrowsmith, who has attended the Leadership & Development Conference for more than 10 years, said he used what he learned there when building the franchise development platform and sales department. "We educated ourselves and learned what other brands were doing successfully. We've also met some of our vendors at the conference. Last year, when we overhauled our website, we used one of the partners we met there."
What's been happening at Captain D's is a testament to a lot of hard work behind the scenes and a lot of good people, he adds. "It all comes down to people. You've got to have the right people on your team to execute all this."
Arrowsmith credits the brand's emphasis on responsiveness for the positive reactions he's been getting from franchisees and prospects alike. "Responsiveness is really about listening, and that theme permeates our entire organization. We listen to our franchisees. We don't do everything they want us to do, but the fact that we've had six consecutive years of same store sales increases speaks for itself," he says.
"And when we hear from prospects, we get to them quickly and listen carefully because we know we're not the only ones they're contacting. You've got to be responsive and listen, not just pontificate about how great your brand is, to learn if that person is who you're looking for."
Captain D's also listens to customers, including much of their feedback into the 4-year-old relaunch, complete with new look and grilled menu, he says.
"Listening, working hard, and hiring the best people is key to our success. We're going to try to get better each year."
Best Overall Performance
2nd Place: Pinot's Palette
Departing from the traditional channels and portals employed by many franchises has worked well for Pinot's Palette, says Missy Erickson, franchise development director for the Houston-based paint-and-sip concept.
"Our current strategy has shifted in the last two years. Because 90 percent of our owners were customers before, we target them more directly. They fall in love with the concept and are ready for a lifestyle change. That leads to franchisee satisfaction," says Erickson. "We're 'Team Pinot': we know our franchise partners well, where they went to school, and what sports their kids are playing. We also have had great success in veteran franchisee satisfaction, which has been a great avenue for getting well-organized members ready for change into our system."
One big change at Pinot's Palette is its new franchise development website. "When we looked at our website and others, we found a big sea of sameness: paint splatters, bright colors, clutter. We made the site cleaner so the brain can process it faster. We're putting the information right in front of people and are reviewing the content quarterly, especially if we notice a big shift."
Erickson jokes that both she and her counterpart in Chicago, Mari Sokolowski, love to talk and are excited when they meet potential franchisees who have great careers, but have come to the studios and been "hit by the magic touch."
Erickson credits Pinot's Palette co-founders Craig Ceccanti and Charles Willis with the process-oriented focus that runs throughout the company, which they founded in 2009 and began franchising in 2010.
Best Overall Responsiveness
BrightStar Care
It's only logical to the folks at BrightStar Care that the company be recognized with the award for Best Overall Responsiveness in franchise recruitment and development. After all, that's an important part of the corporate culture.
"In our marketing to consumers, we espouse the principle of person-centered care, and we carry that same principle into franchise development," says Steve Schildwachter, chief marketing officer for the Gurnee, Ill.-based home care and home health agency. "When somebody is trying to fulfill a dream to start their own business, it's our obligation to be responsive--not only in turnaround, but in terms of understanding their goals and how we can help them meet those goals."
Commitment to prompt and effective responsiveness is in line with the brand's "proven process," says Schildwachter. "Our process is well-defined and well-designed at every step of the way for maximum responsiveness to candidates who express interest in BrightStar."
BrightStar also was a runner-up in the Best Telephone Prospect Follow-up category. "We're very good at telephone follow-up because we have an able person on the front lines who makes sure that inquiries are handled right away," he says. "That follows on down the line. We have great people and we put our best foot forward."
Best Franchisee Satisfaction
1st Place: Home Instead Senior Care
Kathleen McKay, franchise development director at Home Instead, says Best Franchisee Satisfaction is her favorite STAR Award--and the most humbling. "When you grow and you've always been really invested in having a good company culture, it can be hard to maintain that family culture. This award is reaffirmation that people are still happy, and I'll take that any day of the week," she says.
"Yes, I'm in sales and we have goals. But at the end of the day, we say 'no' dozens of times more than we say 'yes.' We look at every person we meet as a potential owner and ask ourselves: 'Would I want them caring for my mother?' That's why we don't say, even within the office, that we 'sell' franchises. We say we 'award' them. And we're fanatically vigilant because we have to make sure that seniors are able to remain as independent as possible with compassionate, competent care. If we bring in owners who feel the same way we do, they'll use the same lens when hiring caregivers."
This focus on simple, compassionate, non-medical care has been at the core of Home Instead since founders Paul and Lori Hogan transformed their experiences caring for Paul's grandmother into the Omaha-based franchise concept. Though his grandmother had been told she had six months to live, compassionate care by the entire family enabled her to live another 11 years in her home, McKay says.
The company's culture and philosophy, which she says includes "brutal" honesty, transparency, and constant support, have led Home Instead to build strong relationships with its franchisees. The same culture applies to the qualification process with potential franchisees. "We stay away at the beginning from having people fill out a bunch of forms about their net worth. That will naturally come out in the process. We prefer to talk and get to know them. And we're honest about what it takes to be successful with Home Instead. It's a simple business model, but it requires a lot of hard work and a good heart for serving this population."
McKay also points to the brand's 150-person support staff as another reason for the brand's great relationships with its franchisees. "We spend a lot of time in the field with our owners, because you can't have a personal relationship with them if you don't know them. Our Franchise Exchange Council has been around for years and we lean on them to help drive our vision and plans for the future. We're in lockstep with our owners. We have the same mission, the same vision."
Best Franchisee Satisfaction
2nd Place: Fastsigns International
On her way out of the country, Catherine Monson, CEO and president of Fastsigns International, stopped for a minute to say that everyone at the Carrolton, Tex.-based franchise is excited about this award.
"We are honored to receive the STAR Award for Best Franchisee Satisfaction given out last week at the Franchise Leadership & Development Conference," she says. "Every team member at Fastsigns understands that our top priority is profitable, growing, happy franchisees. We focus on franchisee profitability as our single most important strategic objective. With strong unit-level economics, we then focus on helping franchisees grow their profitable sales volume. That, combined with treating them as family and open, transparent communication, leads to high franchisee satisfaction."
Her only regret? "That this award is for second place and not first! Everyone who knows me knows that I strive for excellence and am very competitive."
Best Website Practices
1st Place: Mighty Auto Parts
Over the years, Joshua D'Agostino, vice president of business development for Mighty Auto Parts, says he's picked up some website best practices by working with other franchisors and marketing companies, by studying other websites, and by listening carefully to the mystery shopping results each fall at the Leadership & Development conference. Based on these sources and more, he continually incorporates the most effective, up-to-date functionality into the Mighty Auto Parts website.
"For example, we know that searchable maps and territory maps as well as short and long inquiry forms are helpful," he says. "Our site also offers easy-to-find contact information. I know that testimonials and videos are hot right now, but there haven't been a lot of hits there on our website. The most visited features on our site include the territory map so they know what's available and where, and the investment criteria section."
Best Website Practices
2nd Place: Smoothie King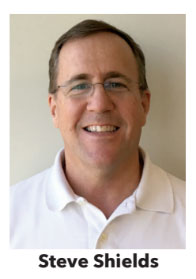 Counter to what some consider conventional wisdom of having a website designed from within, Metairie, La.-based Smoothie King found it best to have a vendor specializing in restaurants revamp their franchise development website.
"We've found that having someone looking at what we do with different eyes has been a plus," says Steve Shields, senior business development manager at Smoothie King. "Jason at Dogwood here in New Orleans worked closely with our franchise development department and our marketing team to come up with a nice, clean, strategic look and feel to our website.
The new website, part of the recent revitalization of the brand with new owner Wan Kim at the helm, was designed to allow potential franchisees to proceed through the initial process at their own pace, he says. "If they want to jump right in and call us or contact us, they can. If they'd rather read and do their research before starting the process, they can do that, too."
The video testimonials available on the website have proven to be effective as well, says Shields. "Having the franchisees speak creates a certain level of brand authenticity. Smoothie King has been franchising since 1989, and we're having a lot of success with our fresh look and logo."
Best Telephone Prospect Follow-Up
1st Place: Wild Birds Unlimited
Always energetic Paul Pickett, chief development officer at Wild Birds Unlimited, is quick to credit two of his team members for the award.
"I didn't speak to the mystery shopper. Our executive assistant, Cheryl Miller, answered that call in her usual enthusiastic and professional tone and got him to the right person in record time," says Pickett. The right person in this case was Lisa Hammer, manager of franchise development, who represents the brand's culture of positivity and transparency, he adds.
"Lisa has specific information we want to collect from a candidate just to make sure they're a good match. She also makes herself available to answer questions and ask questions that help her dive deeper into the individual's motivation," Pickett says. "We consider it essential to communicate with candidates the way they want and to give them a safe space to ask and answer some pretty tough questions about their finances and motivation. But we try to do it in an optimistic way to lay the foundation for what could be a great, long-term relationship between the individual, the brand, and our team."
When Pickett heard the mystery candidate speaking on stage at the conference (Art Coley, who called himself Dudley Pennington on those calls), he went into his phone and pulled up the CRM and there was information about him, his desires, goals, operational plans, and interest in the hobby of bird-feeding. "This said to me that Lisa responded with full knowledge and the nuances of who 'Dudley' was," says Pickett. "She really made a connection with him."
The Carmel, Ind.-based backyard bird feeding and nature specialty brand, which began franchising in 1983, also was a runner-up in the Best Franchisee Satisfaction category.
Best Telephone Prospect Follow-Up
2nd Place: FirstLight Home Care
"If you snooze, you lose" may sound passé, but Bill McPherson, executive director of franchise development for Cincinnati-based FirstLight Home Care, said quick telephone follow-up on prospects is a winning formula for the company.
"We try to do a good job of educating all our first responders as to the nature of the calls, the key information we want to gather, what we want to explain, and our key criteria," he says. "We have a pre-qualifier who works in franchise development and reports to me. If the call comes from the website, it goes to her first. If the candidate contacts us through our corporate office, it goes to her or another first responder."
On a second call, potential franchisees speak to a franchise director. "This is when we talk more specifically about the due diligence process. We send out information, step-by-step, on markets and financial criteria," McPherson says. "I learned a long time ago that you have to be very responsive. If a call comes by phone or email, our goal is to get back to them in 60 minutes. If we hear from them at the end of the business day, we get back to them first thing the next day."
Technology means that FirstLight is getting more candidates coming to their website, sending an email or filling out the form, he says. "We have a responsive website, but I've trained my team that this does not take the place of human interaction, especially in our model. We're not a retail or fast food concept. This is about taking care of people in need. It's a very personal business, and the sooner we connect in person with candidates, the better."
Best Website Prospect Follow-Up
1st Place: Capriotti's Sandwich Shop
Capriotti's dynamic duo of Bruce Evans, vice president of franchise development, and Krystal Conrad, franchise development manager (who doubles as pre-qualifier and salesperson), springs into action as soon as a prospect comes their way.
"We use FranConnect as our CRM, so people are limited as to what they can put in there, but unless they say 'Don't contact me,' Krystal will call them back as soon as possible to put a voice with the name," says Evans. "Even though people today are so tech-driven and into sending emails and texts, they still like to talk with a live person."
Generally, within 24 hours, Evans and Conrad team up and get on the phone together with prospects. "Our goal is to get to know people so we know if they're the right fit for our brand," says Evans. "There are quantitative and qualitative ways of doing this, and we focus on the qualitative. We want to understand their goals, dreams, and desires and make sure they know what our values and mission are so they know if they want to be part of it."
With a new franchise sales website slated to roll out at the end of October, Evans said the focus is on connecting prospects to them quickly and effectively. "We want to qualify them through conversation rather than having them self-qualify through information on a website."
Best Website Prospect Follow-Up
2nd Place: Checkers & Rally's Restaurants
Consistent, steady, and thorough describes the process Checkers & Rally's uses to follow up on prospects who come through its franchise development website, says Jennifer Durham, chief development officer for the Tampa, Fla.-based brand.
"Lots of people are interested in our brand, which is great," says Durham. "Our resource qualification specialist walks them through the parameters, both operational and financial. She explores with them where, regionally, they're interested in development and discusses their operations background and experience and financial capacity before she turns them over to one of our three franchise development directors," she explains.
"We use FranConnect to manage lead flow, and when that's completed we respond to candidates in the way they wish--by phone, email, or text. Our expectation is to respond within 24 hours unless it's Friday, and then we'll get back to them on Monday."
The process is definitely a two-way street, says Durham. "Both on our website and when we talk, we try to give potential candidates as much information as we can about where the opportunities are. We have market evaluations and testimonials from franchisees who share what this opportunity feels like to them. We also need certain information, but we try to make it easy. We don't have a complicated form. Over the past two years, we've made changes in terms of the length of the form and the questions we ask up front. We try to gather and offer the amount of information needed to get a decision on both sides," she says. "That works for us."
And The Winners Are...

Franchise Update's annual STAR Awards are a recognition of a job excellently done by franchisor recruitment and development teams. There are many players but only a select few claim the trophies. We present the winners and top runners-up by category.

Best Overall Performance

1st Place:
Captain D's
2nd Place:
Pinot's Palette

Best Overall Responsiveness

BrightStar Care

Top 10
Best Franchisee Satisfaction

1st Place:
Home Instead Senior Care
2nd Place:
Fastsigns International
Runners-Up:
Captain D's Seafood
Christian Brothers Automotive
CruiseOne Dream Vacations
Pinch A Penny Pool Patio and Spa
Pinot's Palette
Two Men and a Truck
Wild Birds Unlimited
Zaxby's

Top 20
Best Website Practices

1st Place:
Mighty Auto Parts
2nd Place:
Smoothie King
Runners-up:
American's Swimming Pool

Bach to Rock
Captain D's
Chem-Dry Carpet Cleaning
Christian Brothers Automotive Epcon Communities
Fastsigns International
FirstLight Home Care
Floor Coverings International
Meineke Car Care Centers
Moe's Southwest Grill
Oxi Fresh Carpet Cleaning
PostNet
Shelf Genie
Sport Clips
Taco John's
Togo's Sandwiches
Tropical Smoothie Cafe

Top 20
Best Telephone Prospect Follow-Up

1st Place:
Wild Birds Unlimited
2nd Place:
FirstLight Home Care
Runners-up:
Big Frog Custom T-Shirts
BrightStar Care
Captain D's
Chem-Dry Carpet Cleaning
CruiseOne Dream Vacations
Floor Coverings International
Go Mini's Moving & Portable Storage
Handyman Connection
Huddle House
InXpress
Merlin 200,000 Mile Shops
Pinot's Palette
Pump It Up
PuroClean
Recycled Granite
SpeedPro Imaging
Sport Clips
Teriyaki Madness

Top 20
BEST WEBSITE PROSPECT FOLLOW-UP

1st Place:
Capriotti's Sandwich Shop
2nd Place:
Bach to Rock
Runners-up:
Bar Louie
Big Frog Custom T-Shirts
BrightStar Care
Camp Bow Wow
Captain D's
Charter Fitness
Checkers & Rally's
Chem Dry Carpet Cleaning
Costa Vida Fresh Mexican Grill
Fit36
Johnny's Italian Steakhouse
Panchero's Mexican Grill
Pinot's Palette
Primrose Schools
R Taco
Right at Home
Scooter's Coffee
Teriyaki Madness

Top 20
Best FDD Grade

All American Pet Resorts
Ben's Soft Pretzels
Big Frog Custom T-Shirts
Christian Brothers Automotive
Fastsigns International
Goldfish Swim School
Great Clips
Interstate Batteries
Le Duff America
Massage Envy
McAlister's Deli
Nothing Bundt Cakes
Pinot's Palette
Planet Fitness
Primrose Schools
Sport Clips
The Melting Pot
Waxing the City
Wild Birds Unlimited
Zaxby's
Published: November 16th, 2016
Share this Feature
Recommended Reading:
Comments:
comments powered by

Disqus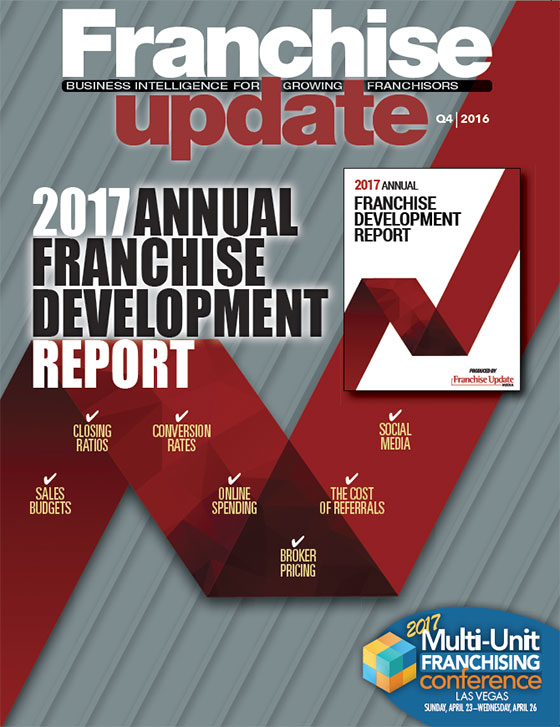 Franchise Update Magazine: Issue 4, 2016
ApplePie Capital provides a fresh new approach to franchise financing that is focused on your growth and success.
Our franchise management software helps increase unit growth, reduce opening time, track and improve unit performance, automate financial reporting...