STAR Power: Top Performers in Franchise Recruitment Honored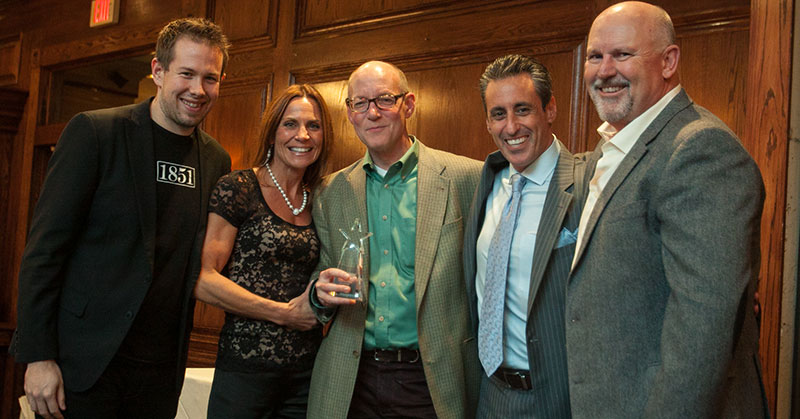 Franchise Update mystery shoppers, posing as qualified prospects, surveyed attendees at the 2014 Leadership & Development Conference for best practices in lead generation, follow-up, and recruitment. Mystery shoppers scored 146 franchisors on their telephone responses, 147 on their recruitment websites and responses to website inquiries, and 147 on social media implementation, judging how well--and how quickly--franchise sales and development staff replied to qualified inquiries.
The resulting STAR Awards (Speaking To And Responding) were presented at a special awards dinner at the conference, held Oct. 15-17 in Atlanta. Multiple award winners were CertaPro Painters, PostNet, and Wild Birds Unlimited.
Best Overall Performance
1st Place: CertaPro Painters
The winner of three STAR Awards this year, CertaPro Painters celebrated for about 10 minutes before getting back to work, says Peter Barkman, vice president of franchise development for the Philadelphia-based brand. "We've been franchising since 1992, and one of our core values is practicing continuous improvement. So we're pretty good at never believing our own hype. We're very proud to receive this award, but it's also humbling because we see so much more we can do better. I'm glad, because it gives me something to do."
2nd Place: Wild Birds Unlimited
"We're excited about this award because we're a really small team that gets a lot done," says Paul Pickett, vice president for franchise development for the backyard bird feeding and nature specialty concept. Along with the brand's prompt and efficient response to candidates comes a large amount of respect, he says. "We respect their interest and their time and feel strongly that when someone asks about our brand, it's an honor to get back to them quickly, to respond to their questions, and to give them a full understanding of what it means to be a member of our team. That respect for their time, energy, and interest is what drives us to continue to do our best job. We never take that interest for granted."
Best Overall Prospect Responsiveness
PostNet
Brian Spindel, president of the 700-unit PostNet brand, is pleased but unsurprised by this award because the development staff, led by CEO Steve Greenbaum and Franchise Development Manager Robert van Gompel, "puts the same importance on the blocking and tackling associated with the website, email campaigns, text messages, phone calls, and interfacing at the unit level," he says.
Best Website Prospect Follow-Up
1st Place: Christian Brothers Automotive
Over the past 18 months, Houston-based Christian Brothers Automotive has made a concerted effort to improve its process and systems, says Josh Wall, vice president of franchise and strategic development for the company. The STAR Award confirms what the company was already seeing: that the investment of time and resources spent to be more responsive and effective is working.
"About this time in 2012, we began investigating adding a lead qualifier to our team, and we spoke with several franchisors who had invested in that. Some liked it and some did not. Our management team trusted me in the decision to hire a qualifier, and we brought in Kendall Troncoso in 2013," says Wall. "Not only did we see a tremendous increase in our contact rate, but all our metrics went up considerably. Year-to-date in 2014, we're contacting 78 percent of all our leads, mostly from the website."
The company, which has "never closed a business in 32 years," also hired a franchise performance group to help take their website up a notch. "We peeled off from our consumer page and built an independent franchise recruitment website that launched in December 2013," says Wall.
He describes the concept's growing online presence as "the single greatest asset we have for telling people about our franchise opportunities. We had to reverse our thinking from considering the website something that offered a little information and answered broad questions, to investing in the philosophy that we want to educate our candidates. Our site not only has video interviews with our franchisees, but also full Item 7 disclosure, all of our costs broken down, and what we expect from our franchisees. The right people for us to interview are those who read it all and self-qualify. When Kendall talks with these candidates, they're well-informed."
2nd Place: Signal 88 Security
The success Signal 88 Security has had following up on website prospects comes from the mindset that website leads are "invaluable," says Josh Minturn, vice president of franchise development for the Omaha-based security and patrol concept created by law enforcement professionals in 2003.
"We make these leads high priority. The worst-case scenario for us is same-day return contact. If I can get to them between one and two hours of their message hitting my inbox, I do," says Minturn, adding that constant improvement to the website is his goal. "Websites should ultimately drive qualified leads to the development people, and ours actually leads people through a simple process, giving them information in a way that is consumable."
Signal 88, which started franchising in 2007 and now has 100 units in 35 states, is technology- and cloud-based and can be accessed anywhere, he says. "We're unique as a franchise. There are few people in our space, largely because security has been a heavily commoditized business in the past. We specialize in a specific area -roving patrol service--and people buy our services regularly."
Best Telephone Prospect Follow-Up
1st Place: PostNet
Brian Spindel, president of 21-year-old, Denver-based PostNet, believes that, generally, success comes from having a solid process and good people. "We have a high level of discipline associated with every inquiry, whether by phone or web, and we set a high level of importance on being the first to get back to a prospect. We try to do it as soon as possible with a worst-case scenario of four business hours," he says. "The more responsive you are, and the more information you provide, the better a prospect
Along with response time, mystery shoppers for the STAR Awards also considered the "quality of the call interfacing and engaging with the prospect, along with information provided and movement towards the next step," says Spindel. In the end, he says, "You can only do so much with high-tech. The way to build trust with someone you don't know is to be responsive, responsible, and reliable. If you promise to do something, then you do it."
2nd Place (tie): CertaPro Painters
Key to successful prospect phone follow-up is having the right people at the right stage of the process, says Peter Barkman, vice president of franchise development. "What's worked well for us is the recognition that, in most cases, somebody really good at working with a prospect at the front end of process is different, from a personality standpoint, from those working with the prospect at the end of the process, taking them through due diligence." Barkman says the people making contact after the initial call must have a "disciplined, organized approach and be able to connect quickly with people." On the recruiting side, he adds, the right person is "more about building longer relationships."
2nd Place (tie): Denny's
Denny's recruitment philosophy is to have franchise prospects feel just as welcome when they express interest in joining the brand as they do when they drop by one of the 61-year-old concept's many restaurants. "We are totally committed to treating the franchise experience just like the consumer experience. We want them to feel so welcome that even if they don't get involved as a franchisee, they'll want to come back as customers," says Doug Wong, senior director of global franchise recruitment for the Spartanburg, S.C., company. "Many of our prospects, who are often Denny's consumers who love the brand and want to become franchisees, call in. That's their comfort zone. Anytime someone picks up the phone to call you, there's interest. Our job is to take that interest and move it to intent."
The franchise development team does that by responding to phone calls promptly and appropriately, he says. "We get inquiries a lot of different ways, and people come to us at different times with different questions. It's incumbent on us to sort out their questions and see what bucket it falls into," he says. "How we take their information and move forward affects our relationship with them now and in the future."
Best Social Media Implementation
1st Place (tie): Great Clips Beth Caron, director of franchise development at Minnesota-based Great Clips, is the first to admit there's no "silver bullet" for using social media in franchise development. But the 32-year-old company's award for Best Social Media Implementation reflects what she describes as "a group effort across our consumer division and the development side," assisted by Franchise Marketing Coordinator Zak Schneider. "We've been playing off each other and doing a little bit of everything, from LinkedIn, which is more of the demographic we're looking for, to Facebook, which also offers opportunities to target prospects geographically, to a little bit of Twitter," she says.
One of the realities of social media, she adds, is that it changes so quickly that it can be difficult to make long-term plans. "As soon as we feel like we get a handle on using a system, something changes. So paying attention to metrics on a regular basis is a key piece of it. What works this quarter may not work next quarter. You have to keep rolling with it."
1st Place (tie): Sport Clips
Sport Clips is also taking a "different path than many franchisors" in its focus on social media, says Dave Wells, director of franchise development. "It's a space that some have stumbled around and figured out to a degree. I'm 35 and this is a space I know. We've all had a hand in it, using our collective brainpower," he says. "We have separate social media pages, including LinkedIn for franchising and Facebook. We're creating a YouTube channel, but in addition, we use local search rankings like Yelp to see what people are looking for before they come to our stores," says Wells, who works closely with Pete Lindsey, vice president of franchise development, and the franchise development team. Sport Clips, which celebrated its 20th anniversary in 2013, remains somewhat "recession resistant" and has a whopping 99 percent continuity rate, he adds.
Best Franchisee Satisfaction
Food Brand: East Coast Wings & Grill
Lee Easley, senior vice president of brand development for North Carolina-based East Coast Wings & Grill, says she was "quite excited" by the brand's franchisee satisfaction award at her first Franchise Update Media conference. She considers the recognition a signal that the 11-year-old brand is succeeding with its focus on unit-level economics.
"We like to say we manage from the outside in. We have an entire division dedicated to unit-level economics, so we're looking at our franchisees' profitability first and the rest falls in line. As a result of that focus, our franchisees experience strong sales," she says. "Also, 90 percent of our franchisees are multi-unit owners. We love that fact--it speaks well of them and our brand, and we plan to continue to support our franchisees and keep them happy and profitable."
Easley, who says East Coast Wings is growing slowly in comparison with other brands in the sector "by design," says the decades of restaurant experience CEO Sam Ballas, COO Tom Scalese, and Steve Kontos, president of Athenian Food Concepts (a subsidiary company that oversees the corporate stores) bring to the table also contribute to a satisfying relationship between franchisees and franchisor.
Retail Brand: Wild Birds Unlimited
Wild Birds Unlimited understands that one size does not fit all franchisees, says Paul Pickett, vice president for franchise development. "Several years ago we developed individual consultation plans for all our franchisees. We have a very defined process of helping our candidates understand the concept and ensure that we're a strong match for them, but we also modify that approach to meet the goals of the individual," he says.
For example, someone with years of retail experience (like a manager of a Wild Birds store) can move into disclosure, financing tools, and the business planning process a little earlier because they already know how to work within the Wild Birds culture, says Pickett. "Everyone is at a different stage in their business enterprise life cycle, so we customize and adapt while still ensuring brand culture and standards are maintained. We just happen to think there are multiple ways of getting there."
When it comes to franchisee satisfaction, Pickett also cites the company's policy of having candidates reach out early to speak with existing franchisees and learn about the brand's "world-class support and tools" from the development and operations teams. Most important, he says, is Wild Birds' attitude toward franchisees. "We're honored that they are part of our company."
Service Brand: CertaPro Painters
There's no great secret to why CertaPro franchisees are happy with their franchisor and their work, according to Peter Barkman, vice president of franchise development. "One of the reasons our franchisees are satisfied is that a lot of our ideas and innovations come directly from them," he says. "We have great franchisees, many with tremendous backgrounds in their previous lives. We do a good job of leveraging that. If you have talent, you can fly a lot faster and more efficiently--as long as you're flying in the same direction."
Barkman, a former franchisee of CertaPro, College Pro Painters, and College Pro Window Cleaning, also attributes the high satisfaction level of the brand's franchisees to the credibility he and other senior people bring from their stints as franchisees. "Many of us have been franchisees, so we know what that's like, and how franchisees like to be treated and not treated."
Emerging Brands: FirstLight Home Care
Franchise veteran Bill McPherson, executive director of franchise development at FirstLight Home Care, says the concept is "the most selective I've ever worked for in 26 years in franchising." So receiving the Best Franchisee Satisfaction award in the Emerging Brands category is especially rewarding, he says.
"We're excited that we won the award--not just for the category of home care and not for the number of units that some magazines use to classify awards--but as an emerging brand across all industry segments," says McPherson. "We've awarded 126 franchises in 3 years of franchising in the U.S. and Canada, but if we are not supporting our owners and they're not happy and successful, it doesn't matter."
Creating that kind of culture starts with bringing in the right people, he says. "Then we provide unprecedented support. Our entire philosophy is predicated on what's the right thing to do for our franchise owners. We have agreements, contracts, and models, we know all that. But when issues come up for entrepreneurs who have invested their life's savings or left good jobs in corporate America, we look as a management team through the lens of doing what's best for that person. The families FirstLight serves are customers of our franchisees, but our franchisees are our customers. It's easy to do the right thing when you look at it in that light."
That "unprecedented" support includes providing in-market support for new franchisees with two visits from corporate, even before they open their store. "This enables us to make sure they're doing all the things necessary for a strong opening and developing habits that will make them successful as a new owner," says McPherson. Also important is FirstLight's technology platform, which is all web-based, he says. "Not only does this allow our franchisees to operate their business anywhere there's wifi, we also can provide support through the Internet and we can IM, doing everything we can to be as accessible to them as possible."
Best Overall Performance
1. CertaPro Painters
2. Wild Birds Unlimited
Best Overall Prospect Responsiveness
1. PostNet
Best Website Prospect Follow-Up
1. Christian Brothers Automotive
2. Signal 88 Security
Best Telephone Prospect Follow-Up
1. PostNet
2. CertaPro Painters, Denny's (tie)
Best Recruitment Website
1. VooDoo BBQ & Grill
2. FirstLight HomeCare
Best Social Media Implementation
1. Great Clips, Sport Clips (tie)
Best Franchisee Satisfaction
Food: East Coast Wings & Grill
Retail: Wild Birds Unlimited
Service: CertaPro Painters
Emerging Brand: FirstLight Home Care
Published: September 3rd, 2015
Share this Feature
Recommended Reading:
Comments:
comments powered by

Disqus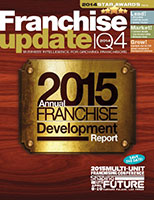 Franchise Update Magazine: Issue 4, 2014
Gravity Software is a cloud-based, multi-entity accounting solution that simplifies inter-company transactions and financial reporting. Built-in...
MSA provides domestic and international franchise advisory services to franchisors and companies seeking to establish franchise and licensing systems.