Survivor! Spencer Smith is back on the growth track
Name:

Spencer Smith

Title:

CEO

Company:

Smith Group

Units:

7 Aaron's, 3 American Family Care, 2 Big O Tires

Age:

47

Family:

Married to Nichole, my college sweetheart, 6 children (4 adopted, 2 biological)

Years in franchising:

21

Years in current position:

21
Spencer Smith understands that success comes from having a strong work ethic and remaining dedicated to the business. That's what he learned growing up on the family farm and working in his father's tire store in southwestern Colorado.
"Dad passed away last year," says Smith, "and his influence has become even more apparent. I can trace most of my business acumen back to him."
Smith founded his own company, Smith Group, in May 2000 by opening his first Big O Tires location in Cortez, Colorado. He says it didn't take long to realize that he wanted to grow the business and opened his second location 2 years later. "I knew multi-unit operations was in my blood."
His next move was to begin franchising with Aaron's by acquiring six units in 2002. Within 10 years he grew his Aaron's portfolio to 46 locations. In 2015 crisis struck.
"We faced disruption to our model from new virtual competitors, cash drain from over-expansion, and at the same time the bottom fell out of the oil and gas industry—our customer base," he says. The result was a negative cash flow within months and the need to sell 38 of his Aaron's locations by the end of the year. But the trouble wasn't over yet because he then faced a $5 million tax bill. "It took a few years to right the ship and pay off those taxes," he remembers.
With his business cut back to a lean but successful operating machine, in 2019 he signed on with American Family Care and opened his first location in Garden City, Idaho, a suburb of Boise.
Today Smith's company operates 7 Aaron's, 3 American Family Care, and 2 Big O Tires locations and is doing $28 million in annual revenue across 5 western states. He says he'd like to open 3 more American Family Care centers this year.
"I love to grow things," he says, "whether it's the crops on our farm, opening new locations, or helping associates grow their professional abilities so they can succeed in every part of their lives."
PERSONAL
First job: Working at my parents' tire store in the afternoons after kindergarten, then a few years later at their farm. My first job not working for my parents was when I went to college. I worked at a McDonald's from midnight to 6 a.m. as part of the cleaning crew. I lasted only a week once I realized I really did have to sleep and that doing so in class wasn't working well.
Formative influences/events: Working with my father. He passed away last year and his influence has become even more apparent. He expected the best out of everyone, but he'd go to the ends of the earth to help you in return. I can trace most of my business acumen back to him. We had multi-hour business discussions on his business trips. He talked with me like I was his peer even though I was only a teenager.
Key accomplishments: My family and the people I work with. When I see and hear from our associates how their recent promotion allowed them to buy their first home I feel I've succeeded in some small way. I love to grow things, whether it's the crops on our farm, opening new locations, or helping associates grow their professional abilities so they can succeed in every part of their lives.
Biggest current challenge: Anticipating future disruptions and planning to outmaneuver them.
Next big goal: Grow to more than 30 urgent care locations.
First turning point in your career: My parents' divorce necessitated my resignation as general manager of their tire store and wholesale operation. Two weeks later I purchased a competing tire store. Long story short, it all worked out and there was greater harmony within a few years. I quickly realized I wanted to grow and opened my second location 2 years later. I knew multi-unit operations was in my blood.
Best business decision: Deciding early on that I didn't have to stay in just one brand or industry. After opening my second Big O Tire franchise, I started opening Aaron's furniture stores and we grew to 46 locations.
Hardest lesson learned: In 2015 I woke up one day to a trifecta of business model disruption: over-expansion, cash drain, and the collapse of the oil and gas industry that was a large segment of our customer base. In April 2015, we went from hundreds of thousands of dollars of positive monthly cash flow to hundreds of thousands of dollars of negative monthly cash flow. By the end of 2015 I had sold 38 locations. While that solved most of the immediate issues, it wasn't long before a $5 million-plus tax bill was due. It took a few years to right the ship, pay Uncle Sam, and then decide to switch industries again, finding my way into the urgent care world.
Work week: I work 5 days a week, 40 to 60 hours a week.
Exercise/workout: I do great for months at a time during the winter, but tend to stop come summer, and then start all over again. It works for me.
Best advice you ever got: Work so you can sleep when the wind blows.
What's your passion in business? Growth.
How do you balance life and work? I strive to play with my family as hard as I work.
Guilty pleasure: Ice cream.
Favorite book: <7 Habits of Highly Effective People.>
Favorite movie: "Remember the Titans."
What do most people not know about you? I'm a farmer at heart. I just haven't learned how to feed my family doing so.
Pet peeve: Indifference.
What did you want to be when you grew up? Truck driver.
Last vacation: Maui with all our kids and their spouses.
Person I'd most like to have lunch with: Elon Musk. I like his out-of-the-box thinking.
MANAGEMENT
Business philosophy: Do the right thing, even when it costs, because it always pays off long term.
Management method or style: Hire the right people and get out of the way.
Greatest challenge: Retaining talent and weeding out those who are "okay" with underperforming.
How do others describe you? Strong work ethic and religious conviction.
One thing I'm looking to do better: Long-term planning.
How I give my team room to innovate and experiment: Fail fast.
How close are you to operations? From a distance. I'm blessed with a great partner and operator, Mike Weir.
What are the two most important things you rely on from your franchisor? Supply of what our customers want at a better-than-market price; and strong processes and operational flow that contribute to our culture.
What I need from vendors: Partners for mutual success.
Have you changed your marketing strategy in response to the economy? How? Pulled back for 60 days and then continued much the same thereafter.
How is social media affecting your business? It's becoming a large contributor for good or bad every day.
How do you hire and fire? Hire slow, fire fast is our goal. Still room to improve.
How do you train and retain? Process-driven, general manager involvement. Still room to improve.
How do you deal with problem employees? Have candid conversations about how they can succeed, then ask if they want to do that or if it's time to go our separate ways.
Fastest way into my doghouse: Lack of integrity.
COVID-19
What are the biggest impacts of Covid-19 on your business? Customer and associate morale.
How have you responded? Kept associates' full-time hours and found many projects to keep them productive during that lull. Paid hazard pay bonuses to our urgent care team members to show them we appreciate them putting their own well-being on the line to serve our patients.
What changes do you think will be permanent? Heightened awareness when the next pandemic comes along and a willingness to make some changes more quickly for the benefit of all.
BOTTOM LINE
Annual revenue: $28 million.
2021 goals: Open three more American Family Care centers. Grow the number of customers and patients we serve while making a modest profit increase so we can continue to do this for decades to come.
Growth meter: How do you measure your growth? Locations, number of associates, revenue, and profitability. Profit isn't a four-letter word, it's a measure of our customers' confidence in us.
Vision meter: Where do you want to be in 5 years? 10 years? Continued location and revenue growth within all the franchise brands we are a part of.
Do you have brands in different segments? Why/why not? Yes, for the many reasons cited above.
How is the economy in your regions affecting you, your employees, your customers? With the number of rural locations and conservative communities we operate in, we've been insulated from the mass effects in many metro areas.
Are you experiencing economic growth in your market? Most of our markets are slow but steady growth.
How do changes in the economy affect the way you do business? We are striving to drive business in our doors every day through our marketing and word-of-mouth promoters.
What are the best sources for capital expansion? I'm constantly looking for new sources to provide capital. It surprises me how it takes constant effort to find new sources all the time. Just because someone was the best option 6 months ago is no guarantee they are the best today. Seldom are they.
Experience with private equity, local banks, national banks, other institutions? Why/why not? I've worked with all but private equity. It seems like the lending world continues to change at an ever-faster pace each year. Loan brokers have helped find some of our most creative solutions at competitive terms.
What are you doing to take care of your employees? Hazard pay, improving benefits plans, and incentivizing best behavior through bonus plans.
How are you handling rising employee costs (payroll, minimum wage, healthcare, etc.)? We continue to look for ways to save with existing and new vendors and make up the difference in price increases to the consumer.
What laws and regulations are affecting your business and how are you dealing with it? I belong to strong industry associations and actively participate by attending legislative conferences.
How do you reward/recognize top-performing employees? Company recognition at meetings, newsletters, and bonus programs to say thank-you.
What kind of exit strategy do you have in place? I'm in the beginning stages of recruiting for replacing myself and my partners so our organization can continue for decades to come, rather than looking for a way to cash out.
Published: June 11th, 2021
Share this Feature
Recommended Reading:
Comments:
comments powered by

Disqus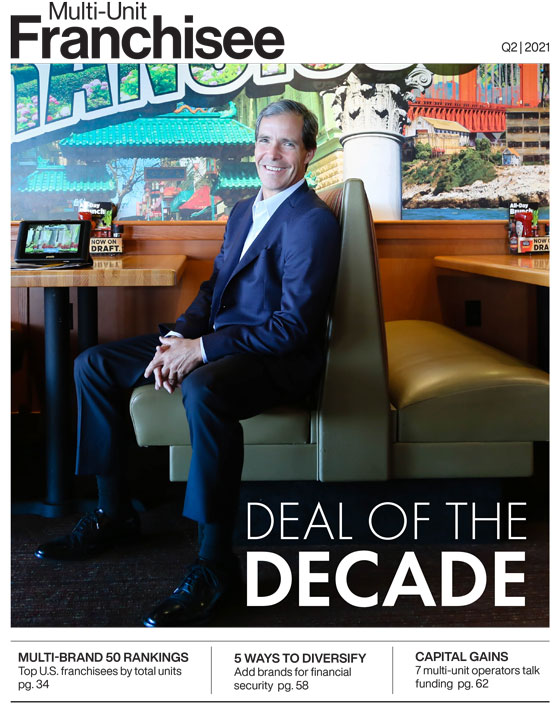 Multi-Unit Franchisee Magazine: Issue 2, 2021
Offering same-day service, a single low price, and a streamlined process that's simple to replicate, ZIPS is a standout in the garment care...
Born from a desire to bring classic, home-style comfort food and unparalleled service back to American diners, today's...
Cash Required:
$500,000