The MU 50: Multi-Unit Franchising Continues To Drive The Franchise Industry In 2008
An industry analyst digging into reams of franchise industry data would find that about half of all franchisees across the country are busy operating more than one unit -- and often, more than one brand. It's a phenomenon that has changed the face of the franchise industry over the last decade. And though there hasn't been much significant change in percentages so far in 2008, it's likely to remain a strong and growing trend.

To shed some light on this dynamic part of the industry, we have again enlisted the aid of franchise industry research firm FRANdata. As you approach the following data, keep in mind that we have prepared two separate "views" of multiunit franchising.

The first highlights the highest total number of multiunit operators among franchise brands. Regular readers of this analysis will not be surprised to find Subway, once again, riding atop that list. In fact, the brand currently has nearly 4,000 multiunit operators in its system.

The second list identifies the highest percentage of multiunit operators by brand. 1-800-Dryclean.com sits at the top of this list as 99 percent of its operators are multiunit franchisees.

Both of the lists is interesting because they put some brand names and numbers behind the statistics.

Of course, the ways that franchisors offer and franchisees become "multiunit" operators runs the gamut. Some sell them directly, some use area developers, some use area reps (or a combination). Some franchisors prefer to sell one unit, watch the results, and then sell additional units based on performance. Some will sell a group of units to one buyer in one fell swoop. It simply depends on the franchisor's (and the franchisee's) growth strategy.

Once again this year, we have carefully selected a handful of multiunit and multi-brand franchisees to put under the microscope and profile. We tried to get inside their heads to find out what makes them tick and what makes their brands, and their units, click. What you'll find in the pages of this issue are intriguing insights and anecdotes about how they do it. You might even pick up a couple of ideas to try yourself. As always, getting to know these individuals was a privilege, and we are impressed with their frankness, savvy, and business acumen.

As with any lists that compile data from multiple sources (i.e., dozens of franchise brands), there may be some minor discrepancies. We've worked closely with FRANdata to report the data and information as clearly and correctly as humanly possible. All the information is systematically collected from franchise disclosure documents, or FDDs (formerly UFOCs), and sorted in FRANdata's database. Multiunit operators can be identified by comparing entities and principals within a franchise system. Unit counts are calculated based on the number of unit addresses found for a given franchise entry in the database. Sometimes information is reported before the unit is actually opened. This fact alone accounts for many of the discrepancies.

Regardless of the methodology and any minor discrepancies, the trend of multiunit franchising identified in these lists cannot be denied. It is a growth method that is here to stay, and it has become an anchor in today's franchising universe.


Published: August 7th, 2008
Share this Feature
Recommended Reading:
Comments:
comments powered by

Disqus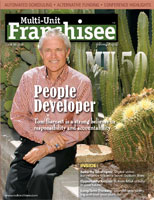 Multi-Unit Franchisee Magazine: Issue 3, 2008
At Nautical Bowls, we combine healthy, fresh superfood bowls with an uplifting atmosphere, giving you energy to life a full life! Our goal is to...
Cash Required:
$100,000
Checkers Drive-In restaurant franchises are small but efficient making our restaurants easy to operate and typically reduced overhead costs.
Cash Required:
$250,000