810 Billiards & Bowling Set to Strike with a High-Value Franchise Proposition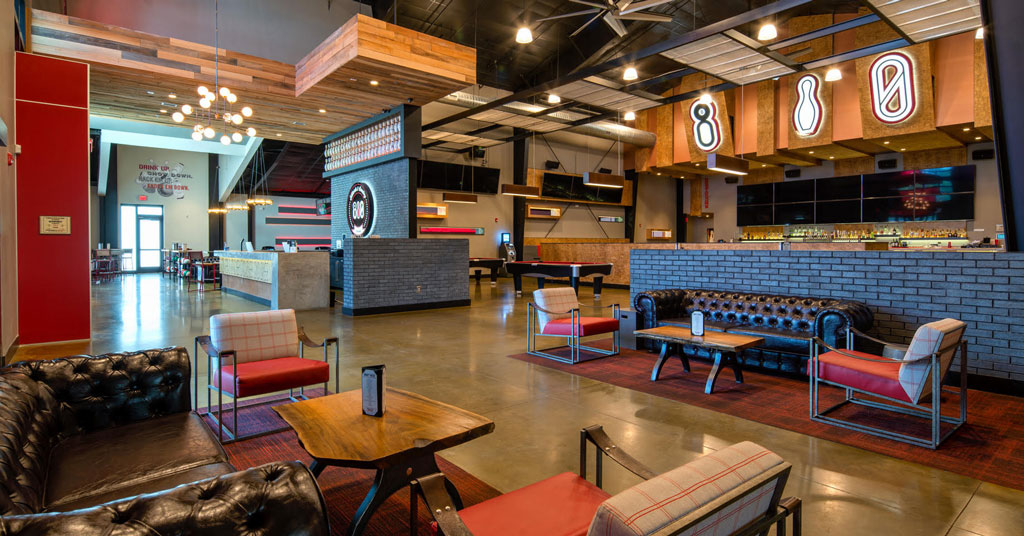 Emerging brand 810 Billiards & Bowling is on the move and ready to make its mark as an upscale eatertainment concept and one-of-a-kind franchise opportunity.
South Carolina-based 810—a nod to eight-ball billiards and 10-pin bowling— has expanded its presence into Arizona with a new venue in Phoenix and the brand's first franchise location in Chandler, Arizona, paving the way for more nationwide growth.
"There's nothing like 810 available in franchising," says Mike Siniscalchi, president of 810 Billiards & Bowling, founded in 2015. "We want to make upscale entertainment—traditionally only available in large metro markets at premium price points—accessible and affordable for all markets."
Siniscalchi, who has a background in mechanical engineering and finance, has his sights set on that middle-market sweet spot as the path to sustained success for 810, a concept born from his acquisition of a Myrtle Beach, South Carolina bowling alley.
An East Coast options trader at the time, Siniscalchi was visiting family when he spotted an opportunity to convert the dilapidated building into a thriving entertainment concept similar to what he experienced in high-priced, densely populated markets like Chicago and New York.
Initially intended to be a proof of concept, Siniscalchi knew he was onto something when the renovated venue—complete with high-end finishes, a full-scratch kitchen, premium cocktails, and bar service—reopened as an immediate go-to entertainment hit.
"We came into this industry in 2015 building our concept from the ground up, which has allowed us to re-think the traditional approaches to food and beverage, and most importantly customer service, says Siniscalchi. "We have been able to leverage new technology platforms to deliver a drastically improved customer experience relative to our legacy competitors."
810's smaller, flexible footprint is artfully designed as a destination spot for a night out with friends, large group outings, and special events. Each multi-purpose location leverages state-of-the-art bowling equipment, table and bowling lane wait service, and soul-satisfying shareable plates and signature fare.
Along with boutique-style bowling and billiards, guests can enjoy live music and friendly competition with foosball, darts, shuffleboard, and a slew of other classic games and entertainment options. Every venue features a private bowl area for parties, corporate events and fundraisers.
"We've got more offerings under our roof than anyone in the industry," notes Siniscalchi.
For entrepreneurs, 810 offers broad demographic appeal, attractive margins, and a stable business model poised for growth. The hospitality brand remained resiliently profitable over the past year – despite a two-month, state-mandated closure and weeks of operating at a 75% reduction in capacity.
On the heels of successful openings in Arizona, 810 is strategically expanding in Houston; Ft. Smith, Arkansas; Greenville, South Carolina; and South Jersey. Siniscalchi sees plenty of white space available in markets hungry for a modern family-friendly approach to the classic outing of bowling and billiards.
"Everyone in the country wants family entertainment and nighttime entertainment with quality food and beverage," Siniscalchi says. "Eatertainment is not a regional concept. Affordable entertainment with high-quality food and beverage is in demand no matter where you go in this country, which is why we were happy to head all the way out to Arizona for our fourth and fifth stores."
Franchisees can count on comprehensive support in all facets of operation from the start, bolstered by the recent rollout of 810's new app and loyalty program. The brand is committed to community involvement wherever 810 lands.
"We want to prioritize forging lasting relationships with local charitable organizations in all our new markets," 810 President Mike Siniscalchi said. "It's a win-win."
To get in on the ground floor of a winning franchise opportunity, head to 810bowling.com/franchising.
Published: July 13th, 2021
Share this Feature
Comments:
comments powered by

Disqus