2022 MULTI-BRAND 50
| RANK | COMPANY | BRANDS | UNITS |
| --- | --- | --- | --- |
| 1 | FLYNN RESTAURANT GROUP | | 2,353 |
| | | PIZZA HUT | 937 |
| | | APPLEBEE'S | 441 |
| | | ARBY'S | 368 |
| | | TACO BELL | 285 |
| | | WENDY'S | 192 |
| | | PANERA BREAD | 130 |
| 2 | SUN HOLDINGS | | 1,347 |
| | | T-MOBILE | 228 |
| | | ARBY'S | 195 |
| | | POPEYES | 169 |
| | | PAPA JOHN'S | 159 |
| | | BURGER KING | 141 |
| | | TACO BUENO | 139 |
| | | APPLEBEE'S | 131 |
| | | MCALISTER'S DELI | 64 |
| | | GNC LIVE WELL | 55 |
| | | IHOP | 36 |
| | | OTHER BRANDS | 30 |
| 3 | CARROLS GROUP | | 1,074 |
| | | BURGER KING | 1,009 |
| | | POPEYES | 65 |
| 4 | FQSR (KBP FOODS) | | 1,024 |
| | | KFC | 816 |
| | | ARBY'S | 120 |
| | | TACO BELL | 88 |
| 5 | DHANANI GROUP | | 824 |
| | | BURGER KING | 503 |
| | | POPEYES | 284 |
| | | LA MADELEINE | 37 |
| 6 | MUY COMPANIES | | 762 |
| | | PIZZA HUT | 361 |
| | | WENDY'S | 320 |
| | | TACO BELL | 81 |
| 7 | PILOT TRAVEL CENTERS | | 624 |
| | | SUBWAY | 192 |
| | | CINNABON | 158 |
| | | DUNKIN' | 84 |
| | | WENDY'S | 82 |
| | | ARBY'S | 48 |
| | | TACO BELL | 20 |
| | | DQ TREAT | 15 |
| | | AUNTIE ANNE'S | 11 |
| | | MOE'S SOUTHWEST GRILL | 6 |
| | | PIZZA HUT | 6 |
| | | IHOP | 1 |
| | | LITTLE CAESARS | 1 |
| 8 | ARAMARK | | 550 |
| | | CHICK-FIL-A | 119 |
| | | EINSTEIN BROS. BAGELS | 98 |
| | | PANDA EXPRESS | 44 |
| | | OATH PIZZA | 39 |
| | | WHICH WICH | 24 |
| | | DUNKIN' | 22 |
| | | MOE'S SOUTHWEST GRILL | 21 |
| | | STEAK 'N SHAKE | 19 |
| | | PAPA JOHN'S | 18 |
| | | PIZZA HUT | 16 |
| | | SUBWAY | 15 |
| | | FRESHII | 14 |
| | | QDOBA MEXICAN EATS | 13 |
| | | JAMBA | 11 |
| | | AUNTIE ANNE'S | 5 |
| | | MOOYAH | 5 |
| | | PANERA BREAD | 5 |
| | | QUAKER STEAK & LUBE | 5 |
| | | TACO BELL | 5 |
| | | TIM HORTONS | 5 |
| | | BURGERFI | 4 |
| | | CHILI'S | 4 |
| | | ERBERT & GERBERT'S SANDWICH SHOP | 4 |
| | | MCALISTER'S DELI | 4 |
| | | WAHOO'S FISH TACO | 4 |
| | | CARIBOU COFFEE | 3 |
| | | PJ'S COFFEE OF NEW ORLEANS | 3 |
| | | QUIZNOS | 3 |
| | | WENDY'S | 3 |
| | | KFC | 2 |
| | | PACIUGO GELATO CAFFE | 2 |
| | | LA MADELEINE | 2 |
| | | VILLAGE JUICE KITCHEN | 2 |
| | | DENNY'S | 1 |
| | | DUNN BROTHERS COFFEE | 1 |
| | | FIREHOUSE SUBS | 1 |
| | | JERSEY MIKE'S | 1 |
| | | SMASHBURGER | 1 |
| | | EXTREME PITA | 1 |
| | | WING ZONE | 1 |
| 9 | LOVE'S TRAVEL STOPS & COUNTRY STORES | | 515 |
| | | SUBWAY | 235 |
| | | GODFATHER'S PIZZA | 133 |
| | | CHESTER'S | 130 |
| | | TACO JOHN'S | 7 |
| | | DUNKIN' | 3 |
| | | ARBY'S | 2 |
| | | BOJANGLES | 2 |
| | | DQ TREAT | 2 |
| | | NAF NAF MIDDLE EASTERN GRILL | 1 |
| 10 | ARMY & AIR FORCE EXCHANGE SERVICES | | 484 |
| | | SUBWAY | 123 |
| | | BURGER KING | 105 |
| | | CHARLEYS | 81 |
| | | POPEYES | 58 |
| | | ARBY'S | 30 |
| | | TACO BELL | 28 |
| | | QDOBA MEXICAN EATS | 22 |
| | | EINSTEIN BROS. BAGELS | 19 |
| | | BASKIN-ROBBINS | 6 |
| | | DUNKIN' | 5 |
| | | RICE KING | 3 |
| | | WING ZONE | 2 |
| | | PIZZA HUT | 1 |
| | | SLIM CHICKENS | 1 |
| 11 | GPS HOSPITALITY | | 476 |
| | | BURGER KING | 394 |
| | | PIZZA HUT | 63 |
| | | POPEYES | 19 |
| 12 | SUMMIT RESTAURANT GROUP | | 436 |
| | | IHOP | 262 |
| | | APPLEBEE'S | 113 |
| | | WENDY'S | 61 |
| 13 | SIZZLING PLATTER | | 418 |
| | | LITTLE CAESARS | 327 |
| | | WING-STOP | 71 |
| | | PIZZA HUT | 20 |
| 14 | JIB MANAGEMENT (YADAV ENTERPRISES) | | 392 |
| | | JACK IN THE BOX | 213 |
| | | DENNY'S | 126 |
| | | TGI FRIDAYS | 53 |
| 15 | WKS RESTAURANT GROUP | | 385 |
| | | WENDY'S | 141 |
| | | DENNY'S | 123 |
| | | EL POLLO LOCO | 68 |
| | | KRISPY KREME DOUGHNUTS | 43 |
| | | BLAZE PIZZA | 10 |
| 16 | HARMAN MANAGEMENT | | 353 |
| | | KFC | 244 |
| | | A&W | 109 |
| 17 | CHARTER FOODS | | 340 |
| | | TACO BELL | 268 |
| | | LONG JOHN SILVER'S | 42 |
| | | KFC | 24 |
| | | A&W | 6 |
| 18 | TACALA | | 322 |
| | | TACO BELL | 320 |
| | | KFC | 2 |
| 19 | AMPEX BRANDS | | 317 |
| | | KFC | 147 |
| | | PIZZA HUT | 113 |
| | | LONG JOHN SILVER'S | 32 |
| | | TACO BELL | 14 |
| | | A&W | 11 |
| 20 | K-MAC ENTERPRISES | | 315 |
| | | TACO BELL | 306 |
| | | KFC | 9 |
| 21 | EYM GROUP | | 310 |
| | | PIZZA HUT | 163 |
| | | DENNY'S | 59 |
| | | KFC | 39 |
| | | BURGER KING | 27 |
| | | PANERA BREAD | 19 |
| | | TACO BELL | 3 |
| 21 | PACIFIC BELLS | | 310 |
| | | TACO BELL | 241 |
| | | BUFFALO WILD WINGS | 67 |
| | | KFC | 2 |
| 23 | HART RESTAURANT MGMT (HAZA BELL OF NEBRASKA) | | 301 |
| | | WENDY'S | 250 |
| | | TACO BELL | 51 |
| 24 | THE COVELLI FAMILY LTD PARTNERSHIP | | 294 |
| | | PANERA BREAD | 282 |
| | | DQ GRILL & CHILL | 6 |
| | | O'CHARLEY'S | 5 |
| | | DQ TREAT | 1 |
| 25 | SODEXO | | 290 |
| | | CHICK-FIL-A | 74 |
| | | EINSTEIN BROS. BAGELS | 65 |
| | | DUNKIN' | 21 |
| | | SUBWAY | 21 |
| | | PIZZA HUT | 20 |
| | | JAMBA | 10 |
| | | QDOBA MEXICAN EATS | 9 |
| | | MOE'S SOUTHWEST GRILL | 7 |
| | | STEAK 'N SHAKE | 7 |
| | | TACO BELL | 6 |
| | | ERBERT & GERBERT'S SANDWICH SHOP | 5 |
| | | GARBANZO MEDITERRANEAN FRESH | 5 |
| | | PAPA JOHN'S | 5 |
| | | FRESHII | 4 |
| | | AUNTIE ANNE'S | 3 |
| | | MCALISTER'S DELI | 3 |
| | | PANERA BREAD | 3 |
| | | PJ'S COFFEE OF NEW ORLEANS | 3 |
| | | BAJA FRESH | 2 |
| | | BASKIN-ROBBINS | 2 |
| | | BURGER KING | 2 |
| | | DENNY'S | 2 |
| | | DQ TREAT | 2 |
| | | FIREHOUSE SUBS | 2 |
| | | GODFATHER'S PIZZA | 2 |
| | | THE HABIT BURGER GRILL | 2 |
| | | WHICH WICH | 2 |
| | | BLAZE PIZZA | 1 |
| 26 | QUALITY RESTAURANT GROUP | | 270 |
| | | PIZZA HUT | 176 |
| | | ARBY'S | 27 |
| | | MOE'S SOUTHWEST GRILL | 67 |
| 27 | TA OPERATING | | 255 |
| | | POPEYES | 68 |
| | | TACO BELL | 38 |
| | | BURGER KING | 34 |
| | | SUBWAY | 32 |
| | | PIZZA HUT | 29 |
| | | DUNKIN' | 20 |
| | | ARBY'S | 7 |
| | | CHARLEYS PHILLY STEAKS | 5 |
| | | A&W | 3 |
| | | BLACK BEAR DINER | 3 |
| | | FAZOLI'S | 3 |
| | | WENDY'S | 3 |
| | | BASKIN-ROBBINS | 2 |
| | | CARL'S JR. | 1 |
| | | IHOP | 1 |
| | | JAMBA | 1 |
| | | KFC | 1 |
| | | SUPER 8 BY WYNDHAM | 1 |
| | | TACOTIME | 1 |
| | | TIM HORTONS | 1 |
| | | DQ TREAT | 1 |
| 28 | PALO ALTO | | 247 |
| | | TACO BELL | 202 |
| | | PIZZA HUT | 32 |
| | | KFC | 13 |
| 29 | HMSHOST | | 245 |
| | | BURGER KING | 58 |
| | | AUNTIE ANNE'S | 47 |
| | | SBARRO | 24 |
| | | ROY ROGERS | 15 |
| | | CHILI'S | 14 |
| | | QUIZNOS | 14 |
| | | CHICK-FIL-A | 13 |
| | | NATHAN'S FAMOUS | 13 |
| | | CINNABON | 12 |
| | | PIZZA HUT | 9 |
| | | DUNKIN' | 4 |
| | | FIREHOUSE SUBS | 4 |
| | | STEAK 'N SHAKE | 3 |
| | | TCBY | 3 |
| | | KELLY'S CAJUN GRILL | 2 |
| | | KFC | 2 |
| | | PANDA EXPRESS | 2 |
| | | BAJA FRESH | 1 |
| | | BLIMPIE | 1 |
| | | BURGERFI | 1 |
| | | ON THE BORDER | 1 |
| | | THE COUNTER | 1 |
| | | MAGGIANO'S LITTLE ITALY | 1 |
| 30 | VISION GROWTH PARTNERS/SUPER C GROUP | | 244 |
| | | SUPERCUTS | 137 |
| | | COST CUTTERS FAMILY HAIR SALON | 107 |
| 31 | FUGATE ENTERPRISES | | 239 |
| | | PIZZA HUT | 165 |
| | | TACO BELL | 74 |
| 32 | FOURTEEN FOODS | | 237 |
| | | DQ GRILL & CHILL | 232 |
| | | DQ TREAT | 5 |
| 33 | MITRA QSR | | 233 |
| | | KFC | 195 |
| | | TACO BELL | 38 |
| 34 | DIVERSIFIED RESTAURANT GROUP | | 232 |
| | | TACO BELL | 216 |
| | | ARBY'S | 16 |
| 35 | TASTY HUTS/TASTY KING | | 228 |
| | | PIZZA HUT | 161 |
| | | BURGER KING | 67 |
| 36 | DESERT DE ORO FOODS | | 224 |
| | | TACO BELL | 135 |
| | | PIZZA HUT | 89 |
| 37 | AMPLER | | 223 |
| | | BURGER KING | 120 |
| | | LITTLE CAESARS | 103 |
| 38 | MANNA | | 222 |
| | | WENDY'S | 139 |
| | | FAZOLI'S | 83 |
| 39 | BORDER FOODS | | 220 |
| | | TACO BELL | 206 |
| | | CHURCH'S CHICKEN | 14 |
| 40 | APPLE HOSPITALITY REIT | | 218 |
| | | HILTON GARDEN INN | 41 |
| | | HAMPTON INN BY HILTON | 39 |
| | | COURTYARD BY MARRIOTT | 33 |
| | | HOMEWOOD SUITES BY HILTON | 33 |
| | | RESIDENCE INN BY MARRIOTT | 29 |
| | | HOME2 SUITES BY HILTON | 10 |
| | | FAIRFIELD BY MARRIOTT | 9 |
| | | TOWNEPLACE SUITES BY MARRIOTT | 9 |
| | | SPRINGHILL SUITES BY MARRIOTT | 8 |
| | | EMBASSY SUITES BY HILTON | 2 |
| | | HYATT PLACE | 2 |
| | | MARRIOTT HOTELS | 2 |
| | | HYATT HOUSE | 1 |
| 41 | COTTI FOODS | | 202 |
| | | WENDY'S | 111 |
| | | TACO BELL | 86 |
| | | PIEOLOGY PIZZERIA | 5 |
| 42 | CIRCLE K STORES | | 196 |
| | | SUBWAY | 158 |
| | | BLIMPIE | 10 |
| | | CHURCH'S CHICKEN | 8 |
| | | HARDEE'S | 6 |
| | | DQ TREAT | 5 |
| | | DQ GRILL & CHILL | 4 |
| | | NOBLE ROMAN'S | 3 |
| | | HUDDLE HOUSE | 2 |
| 42 | QUALITY DINING | | 196 |
| | | BURGER KING | 158 |
| | | CHILI'S | 38 |
| 44 | LUIHN VANTEDGE PARTNERS | | 189 |
| | | TACO BELL | 157 |
| | | KFC | 30 |
| | | PIZZA HUT | 2 |
| 45 | PREMIER KINGS | | 184 |
| | | BURGER KING | 158 |
| | | POPEYES | 26 |
| 46 | WENDYS OF COLORADO SPRINGS | | 183 |
| | | WENDY'S | 181 |
| | | GOLDEN CORRAL | 2 |
| 47 | COMPASS GROUP USA | | 176 |
| | | PAPA JOHN'S | 27 |
| | | PANDA EXPRESS | 24 |
| | | DUNKIN' | 21 |
| | | SUBWAY | 15 |
| | | PIZZA HUT | 12 |
| | | MOE'S SOUTHWEST GRILL | 10 |
| | | JAMBA | 8 |
| | | PJ'S COFFEE OF NEW ORLEANS | 7 |
| | | STEAK 'N SHAKE | 6 |
| | | WENDY'S | 5 |
| | | CARIBOU COFFEE | 4 |
| | | CHILI'S | 3 |
| | | TACO BELL | 3 |
| | | TIM HORTONS | 3 |
| | | AUNTIE ANNE'S | 2 |
| | | FIREHOUSE SUBS | 2 |
| | | FREDDY'S FROZEN CUSTARD & STEAKBURGERS | 2 |
| | | FRESHII | 2 |
| | | KFC | 2 |
| | | QDOBA MEXICAN EATS | 2 |
| | | SBARRO | 2 |
| | | SLIM CHICKENS | 2 |
| | | BASKIN-ROBBINS | 1 |
| | | BLIMPIE | 1 |
| | | BOJANGLES | 1 |
| | | BURGER KING | 1 |
| | | ILLY CAFFE | 1 |
| | | PANERA BREAD | 1 |
| | | PITA PIT | 1 |
| | | PLANET SMOOTHIE | 1 |
| | | POPEYES | 1 |
| | | QUIZNOS | 1 |
| | | WHICH WICH | 1 |
| | | THE HABIT BURGER GRILL | 1 |
| 47 | SUNDANCE (TEAM LYDERS) | | 176 |
| | | TACO BELL | 173 |
| | | ARBY'S | 3 |
| 49 | HAMRA ENTERPRISES | | 168 |
| | | WENDY'S | 92 |
| | | PANERA BREAD | 67 |
| | | NOODLES & COMPANY | 8 |
| | | HOLIDAY INN | 1 |
| 50 | CELEBRATION RESTAURANT GROUP/CFL PIZZA/BRAVO FOODS | | 167 |
| | | PIZZA HUT | 127 |
| | | TACO BELL | 40 |
TOP 25 BRANDS OF THE 2022 MULTI-BRAND 50
| RANK | BRAND | UNITS |
| --- | --- | --- |
| 1 | TACO BELL | 3,084 |
| 2 | BURGER KING | 2,777 |
| 3 | PIZZA HUT | 2,502 |
| 4 | WENDY'S | 1,580 |
| 5 | KFC | 1,528 |
| 6 | ARBY'S | 816 |
| 7 | SUBWAY | 791 |
| 8 | POPEYES | 690 |
| 9 | APPLEBEE'S | 685 |
| 10 | PANERA BREAD | 507 |
| 11 | LITTLE CAESARS | 431 |
| 12 | DUNKIN' | 380 |
| 13 | DENNY'S | 311 |
| 14 | IHOP | 300 |
| 15 | DQ GRILL & CHILL | 242 |
| 16 | PAPA JOHN'S | 229 |
| 17 | T-MOBILE | 228 |
| 18 | JACK IN THE BOX | 213 |
| 19 | CHICK-FIL-A | 206 |
| 20 | EINSTEIN BROS. BAGELS | 182 |
| 21 | CINNABON | 170 |
| 22 | TACO BUENO | 139 |
| 23 | SUPERCUTS | 137 |
| 24 | GODFATHER'S PIZZA | 135 |
| 25 | CHESTER'S | 130 |
Source: FRANdata & Franchise Update Media
Published: June 10th, 2022
Share this Feature
Recommended Reading:
Comments:
comments powered by

Disqus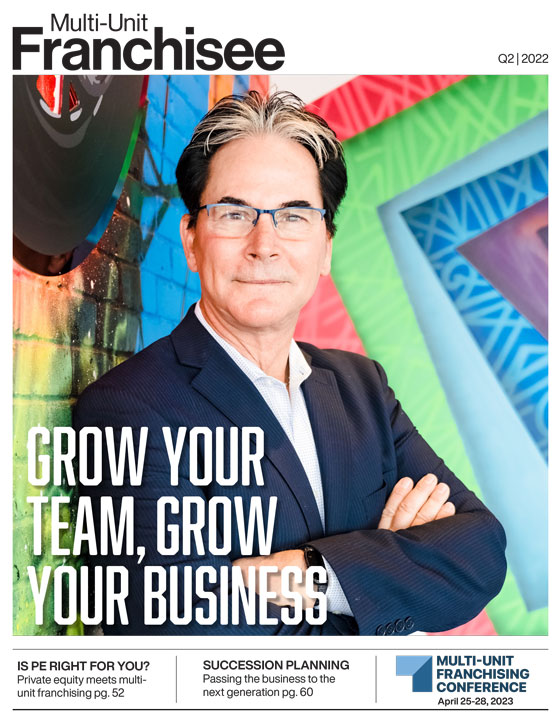 Multi-Unit Franchisee Magazine: Issue 2, 2022
Heyday is a fast-growing skincare company on a mission to provide expert skincare that empowers everyone to be their best self. Heyday is reframing...
Cash Required:
$350,000
Pronto Insurance is a leader in the Hispanic insurance franchising sector. Offering a wide range of comprehensive insurance products, we are uniquely...
Cash Required:
$70,000