5th Annual Franchise Innovation Awards: Operations & Techology: 2023 Winners Leverage Tech to Create Unique Solutions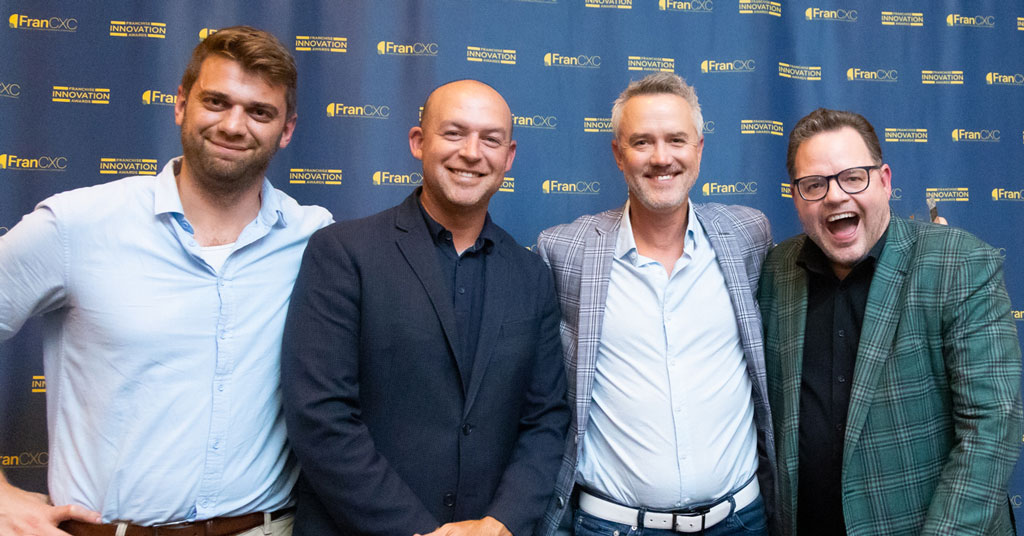 5th Annual Franchise Innovation Awards: 2023 winners leverage tech to create unique solutions Written by Kerry Pipes
This year's Franchise Update Media Innovation Award winners were selected from a long list of entrants about franchise brands turning technological innovations and strategies into cost-cutting and time-saving efficiencies. This year saw more than 100 entries from franchise brands large and small, legacy and emerging. A choice few grabbed the top spots to earn the prestigious awards and recognition.
The contest recognized two overall winners: Denny's took home the Franchise Marketing Leadership Award, and Dickey's Barbecue Pit won the Operations & Technology Leadership Award.
A panel of expert judges evaluated each entry's objective, the problem it solved, and the innovations required to achieve the stated goals. Winners in each of the four main categories and 22 subcategories are highlighted in the following pages. The four major categories are Marketing & Branding, Operations & Technology, Products & Services, and Human Resources.
Marketing & Branding: This category asked brands what innovative solutions they employed to grow consumer awareness, engagement, and loyalty--everything from traditional advertising and PR campaigns to social media, rewards programs, new product launches, and local store marketing campaigns.
Operations & Technology: Systems and processes, along with replicability and scalability, are essential for franchising success. And who could do all that without advanced technology. Judges reviewed the most forward-thinking operations teams and how they improved and streamlined their processes and practices through innovation in the aftermath of the pandemic.
Products & Services: To meet the needs of today's consumers, franchise systems must evolve along with what customers want in products and services--and in how they want them delivered. For many entrants, technology played a huge role in adapting to how customers ordered, paid for, and received their products or services in 2022.
Human Resources: Growing a great brand requires the best people at every level. This category examined how brands employed unique, innovative strategies and tactics to attract, hire, train, and retain the employees who best suited their vision and culture.
OPERATIONS & TECHNOLOGY
Most Innovative Building Design, Remodel, or Prototype
Kona Ice
Objective: We are always looking for ways to enhance the Kona Ice experience. We have historically accomplished this through our brightly colored truck wrap and interactive Flavorwave. In 2022, Kona's operations team looked into adding digital monitors to the side of the trucks that could play continuous, rolling, customizable content while they were stationed at events. With monitors on the sides of trucks, franchisees would be able to provide a Wow factor currently unseen in the food truck space.
Overview: The brand's Digital Display Monitor (DDM) is a Samsung 46-inch display with a built-in cooling system to handle all weather extremes. The DDM can show three different zones at one time or a single, full-screen zone. Static images, animated shorts, and videos can be displayed on the DDM. In addition to displaying existing Kona-created content, franchisees are able to customize their screens to display birthday greetings, sponsorship information, corporate and school logos, and more.
Results: Kona Ice launched the implementation of 46-inch monitors on all new trucks starting in 2023. Franchisees are able to customize their monitor offerings based on the type of event they are going to, giving them the ability to create one-of-a-kind experiences for their customers while offering local advertising opportunities to their clients.
Most Innovative Franchisee Support
Wireless Zone
Objective: A typical Wireless Zone customer transaction includes multiple moving parts with promotions, plans, and devices that are frequently changing with short notice. Every sale is tailored specifically to each customer. We needed to streamline the sales process for our reps and give an accurate, up-to-date transaction breakdown for our customers.
Overview: The Digital Guide is an interactive program created on Microsoft Power Apps to assist sales associates during their transactions. The rep enters every aspect of the sale on the Digital Guide: smartphones, tablets, smartwatches, plans associated with the devices, home Internet service, and device protection. It automatically creates a full bill analysis from that information, breaking down the exact cost for each element and applying any applicable discounts and promotions.
Results: The introduction of the Digital Guide has reduced overall transaction time by 8 to 10 minutes because it instantly and accurately calculates the bill. Customer satisfaction has improved because we have simplified what was typically a confusing and convoluted sales process into a format that is fast and easy to digest. Customers now spend less time in the store, and reps are able to spend their time helping more guests. Customer satisfaction is reflected in our Google scores. To date, our average Google score has risen to a 4.9 across the company. Franchise owners and field leaders say they can put a new hire on the sales floor much quicker, 3 to 5 days earlier than without the guide. Newer reps also feel more confident when they are quoting prices to customers, even during their first week on the job.
Most Innovative Operations Team
Re-Bath
Objective: Re-Bath's operations team set out on a mission to improve the brand's customer experience and strengthen overall brand reputation across the system. Understanding that customer satisfaction is at the center of everything, the operations team gathered information and collaborated on innovative solutions to achieve these objectives.
Overview: Historically, Re-Bath would send out two customer experience surveys to collect feedback. Now, the brand sends out four surveys and optimizes them to find any weaknesses throughout the customer journey. From all this information gathering, the operations team was able to identify areas to improve the customer experience by enhancing Re-Bath's email automation campaign, hiring an installation trainer, and creating a call center. While a massive undertaking, the innovative solutions have made an incredible impact on the business.
Results: The operations team was able to streamline and enhance the customer experience, leading to an increase in reviews and star ratings. We started using the review requesting tool in 2020 and increased our network's review star rating across all review sites to 4.8. We have increased our review volume drastically.
Most Innovative Supply Chain Improvements
Dickey's Barbecue Pit
Objective: Dickey's sought an innovative solution to supply chain disruption and food inflation that would allow the brand to have continuous, high-quality barbecue meats at a competitive price.
Overview: Wycliff Douglas Provisions broadened Dickey's barbecue horizons with the launch of a manufacturing and distribution plant in Mesquite, Texas. The production facility's goal is to control the costs of goods for Dickey's franchisees and provide proprietary barbecue meats for the brand.
Results: The plant has been hugely successful since its opening, resulting in the production and distribution of thousands of pounds of Dickey's craft sausages, wings, and chicken to their franchisees as well as offering hundreds of job opportunities to local workers. By offering retailers higher-quality products at lower prices, the new facility has acquired more than 50 clients that use the plant for their protein products and has supplied more than 1,000 grocery stores across the country.
Most Innovative Use of Data
Camp Bow Wow
Objective: Because our franchise owners are running their own businesses and generating their own financial statements, we see many different types of reporting methods and account usage with the financial data that is submitted. Our goal was to create a financial metric to track profitability consistently across Camp Bow Wow locations despite differences in their P&L data. We also wanted to allow our franchisees the ability to benchmark or compare their own data against data from all Camp Bow Wow locations. In addition, we wanted a way to compare data against different groups based on geography, months in operation, and square footage of their camps.
Overview: The company created a new financial metric to measure profitability that simplifies reviewing financial results and transforms financial data from multiple formats and methods into a united, one-size-fits-all data set. The reports for operating profit margin are on demand and can be pulled by all users and customized to give them multiple reporting options. Camp Bow Wow's finance department also offered video tutorials as well as one-on-one calls to educate users on how to use these reports to their highest potential.
Results: Overall, the launch of this metric and the reporting resulted in increased engagement and usage by our franchise owners and corporate support staff. Most importantly, since releasing the operating profit margin reports, we've seen year-over-year financial improvements across the system.
Most Innovative Use of Technology
MassageLuXe
Objective: To proactively fill open appointments with customers most likely to book based on open appointment characteristics.
Overview: In 2022, MassageLuXe rolled out a new feature within the brand's custom POS software that proactively notifies clients and members of open appointments twice a week through its CRM. Through these notifications, clients can easily select the open time slot and book online themselves. The software also allows spa owners to click on an open appointment and select a feature to find customers. The technology matches openings with a list of clients most likely to book with the specific therapist at the specific time of the day. Spa employees can then easily reach out by email, text, or phone to notify the client of the opening with their therapist of choice during the day of the week and time they typically come into the spa.
Results: More than 50% of open appointments are booked each week directly as a result of this CRM feature. The emails sent as part of this work have more than a 45% open rate.
Published: September 17th, 2023
Share this Feature
Recommended Reading:
Comments:
comments powered by

Disqus

Franchise Update Magazine: Issue 3, 2023
PetWellClinic is a walk-in veterinary clinic offering basic health and wellness services to dogs and cats. PetWellClinic is the first vet clinic...
Cash Required:
$250,000
With a 46-year track record, 1.3M+ Avg. Gross Sales* and flexible footprints, Potbelly is a perfect addition to your portfolio. *Top 25% of...
Cash Required:
$250,000