Branching Out: Young Operator Adds Sears to his Two Food Brands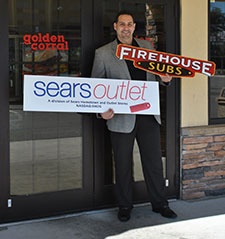 Conventional wisdom says it makes sense for multi-unit franchisees with food brands to stick with food as they expand. Ahmed El-Hawary doesn't see it that way.
El-Hawary, who worked in his family's restaurant as a youth, operates four Firehouse Subs. When he opened his first 12 years ago, he was the brand's youngest franchisee. Last December, he opened his first Golden Corral restaurant, a $3.5 million project built from the ground up.
But when the 34-year-old--who also worked in his father's business selling glass doors, screens, and garage doors--had the opportunity to acquire eight Sears Outlets stores, he didn't hesitate.
"It was an opportunistic choice. We're the third franchisees to come in and do the Sears Outlets, which are now outside the Sears brand but still have that strong name behind them," he says. "Most of what we do is sell appliances at 20 to 70 percent off retail. We don't own the inventory. Sears owns it and gives us commission on sales. It's a great business model--an old company with a new business model. It's been exciting and the fastest-growing segment in our company. To build Golden Corral restaurants takes more time because of the large footprint, so those won't come on as fast as the Sears Outlets. We'll continue to grow our Firehouse brand, which is a great brand with great guys, as opportunities arise."
El-Hawary was born in Cincinnati to Egyptian parents and grew up in Merritt Island, Fla. He says he doesn't see himself as a restaurateur. "I'm a businessman. And once you understand the fundamentals of business, it doesn't matter if you're selling food, appliances, or widgets. It's all the same: You take care of your customers, pay your bills, and hope to make a little money at the end of the day."
He says his three different brands are extremely different from one another. "One is a buffet restaurant based on volume, the other is a restaurant with an a la carte menu with a totally different volume, budgets, and core marketing, and our third brand is a retail franchise. The differences don't matter."
El-Hawary, who earned a degree in business management at the University of Central Florida and bought his first piece of residential real estate when he was 21, says he's always liked business--especially acquisitions--and real estate. "I had an entrepreneurial family, but as long as I can remember, I've always been interested in business. When you like something, you focus more energy on it and become successful," he says.
When people ask him how he juggles the three brands, he says, "It comes down to Business 101. Ask yourself: What's the game plan? Then you have to get people to understand your concept and to believe in it. And you're held accountable for it. The beautiful thing about franchising is that we have all these franchisors and franchisees out there that can help us benchmark how we're doing against them."
El-Hawary, owner and CEO of Zeal Group in Orlando, says that his businesses are doing well financially, but he's reorganizing the company to ensure that procedures throughout his brands are consistent.
His best advice for would-be franchisees? Network and attend conferences with other franchisees, and embrace social media and technology in growing their business. "You have to get used to change, which is constant. Whatever you're doing is going to change, and you have to go with it."
Name: Ahmed El-Hawary
Title: Owner/CEO
Company: Zeal Group
No. of units: 4 Firehouse Subs; 1 Golden Corral (and 1 under development); and 8 Sears Outlets (all in Florida)
Age: 34
Family: Father, mother, and two sisters
Years in franchising: 12
Years in current position: 12
Personal
First job:
I worked in my family's restaurant growing up.
Formative influences/events:
Playing competitive football and owning my first real estate property at the age of 21--a duplex I lived in and then leased. Opening my first business with Firehouse Subs at 23, as their youngest franchisee at the time.
Key accomplishments:
I don't spend much time thinking about this. There are so many younger than I who have accomplished more. But I'm extremely blessed, and I work hard. I guess my biggest accomplishment was when I opened my Golden Corral on Dec. 12, 2013. I had no idea I'd one day build a $3.5 million project from the ground up.
Biggest mistake:
All my mistakes were lessons, just higher-priced than others.
Smartest mistake:
Getting involved with Firehouse Subs when they had only 30 stores. These guys are humble and smart. They really took a chance on me.
Decision I wish I could do over:
I wish I had gotten involved in networking and attending business conferences earlier in my career. Now I go to Las Vegas every year for the Multi-Unit Franchising Conference. It's inspirational to gain exposure to so many different people with different backgrounds and stories about how they overcame obstacles.
Work week:
65 hours, but always reachable as needed.
How do you spend a typical day?
Reviewing the status of current businesses, communicating with the leadership team, and visiting the stores.
Favorite fun activities:
Spending time with family and friends. Watching football with friends, going to the Super Bowl, shooting at the gun range. Believe it or not, I enjoy talking about business and that whole network atmosphere.
Exercise/workout:
Not as often as I would like (football injuries).
Favorite tech toys:
Smartphone.
What are you reading?
Business and industry magazines and publications.
Do you have a favorite quote?
"If it were easy, everyone would do it."
Best advice you ever got:
Set long-term goals and outline the steps necessary to achieving them, then work hard as heck every day to get there. If done properly, there is no limit to what you can accomplish.
What gets you out of bed in the morning?
To progress every day and just the fear of failure itself.
What's your passion in business?
I enjoy evaluating risk/exposure, mapping out a plan, executing, and dealing with the consequences or the rewards.
How do you balance life and work?
Not very well right now since we're in the process of reorganizing the business (not a financial reorganization, just making sure all our procedures are consistent throughout the different brands).
Last vacation:
December 2012 to Egypt to see family. I still have plenty of aunts, uncles, and cousins there.
Person I'd most like to have lunch with:
Warren Buffett. I don't consider myself a restaurateur--I'm a businessman. So I admire the fact that he has consistently invested in an array of different companies and made money in all of them, and that he has been able to own companies and operate them through different people. He's a master of that. The biggest thing, and an ability I would love to possess, is that he sees value in things others don't.
Management
Business philosophy:
Set high standards and you will get excellent results. Ask yourself how you can get it done first. Think outside the box. See value where others don't.
Management method or style:
Select high performers and empower them.
Greatest challenge:
Becoming more and more productive every year while maintaining growth.
How do others describe you?
Intense, high-energy, fair, and consistent.
One thing I'm looking to do better:
Build better back office infrastructure and have a good work/life balance.
How I give my team room to innovate and experiment:
I welcome innovation and feedback. However, I expect that our procedures are consistent throughout the different brands.
How close are you to operations?
Extremely close.
What are the two most important things you rely on from your franchisor?
I'll give you three: brand marketing, buying power, and operational systems.
What I need from vendors:
Consistent products at the greatest value possible.
Have you changed your marketing strategy in response to the economy? How?
We constantly change marketing strategy within the brand guidelines to achieve the desired results.
How is social media affecting your business?
It's becoming the fastest-growing marketing vehicle. You either get on it or you will be left in the dark.
How do you hire and fire?
Hire as carefully as possible, and fire based on quantifiable, indisputable information. Keep in mind that our employees are also our customers.
How do you train and retain?
My constant frame of mind is to sharpen the saw.
How do you deal with problem employees?
Getting the right people on the bus is equally as important as getting the wrong people off the bus. If I'm called in on something like this, I like to coach them and see how they handle it. You have to get to the root cause of the problem. I believe in helping people. Everybody has to feel they fit in. If they don't, they'll cause problems. Most people want good leadership and communication and they want to know what is expected of them. I'd say there's 10 percent who do not want to follow the rules. Most people, when treated with respect, understand that even though this may not be exactly what they will be doing in the future, they can learn basic skills of responsibility and accountability that will help them in the future, whether they're working for me or for a Fortune 500 company.
Fastest way into my doghouse:
Lying, stealing, and cheating.
Bottom Line
Annual revenue:
Prefer not to disclose.
2014 goals:
To grow quality assets and build a more streamlined back office infrastructure.
Growth meter: How do you measure your growth?
Comparing ourselves to yesterday.
Vision meter: Where do you want to be in 5 years? 10 years?
In 5 years, I'd like to have 50 units. In 10 years, I want to have a strong company that is more profitable than it was in the ninth year.
How is the current economy affecting you, your employees, your customers?
Since people are more careful about their spending now, it's even more important to provide customers with the greatest service, so the perception of value is greater.
Are you experiencing economic growth in your market?
Yes.
What did you change or do differently during the economic downturn that you are continuing to do?
Watch every penny and examine each line item on the P&L.
How do you forecast for your business?
Based on last year's numbers, trends of market, industry, and brand.
Is capital getting easier to access? Why/why not?
Yes, banks are seeking good, sound loans.
Where do you find capital for expansion?
Institutional banks.
Have you used private equity, local banks, national banks, other institutions? Why/why not?
We haven't used private equity. We normally use local or regional banks, as they understand our needs and are able to accommodate them.
What are you doing to take care of your employees?
We give management the opportunity to earn more income by increasing revenue and/or profitability.
How are you handling rising employee costs (payroll, healthcare, etc.)?
It is always challenging and difficult, but it is an industry problem that we all deal with. Inevitably, the increased costs are unfortunately reflected in the end price.
How do you reward/recognize top-performing employees?
We are working on some new programs that will recognize performers weekly and monthly.
What kind of exit strategy do you have in place?
I am currently in growth mode and not considering any exit strategies at this time.
Published: April 28th, 2014
Share this Feature
Recommended Reading:
Comments:
comments powered by

Disqus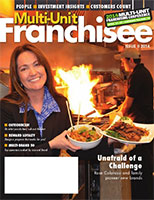 Multi-Unit Franchisee Magazine: Issue 2, 2014
Minuteman Press is the world's largest & number 1 rated printing & marketing franchise. Our business model features multiple revenue streams,...
Cash Required:
$30,000
Big Frog's proven-and-tested business model allows you to take charge of your financial future with a business concept that offers unlimited revenue...
Cash Required:
$50,000