Fixer-Uppers: Using conversion to maximize success
When Aaron Zucker and Aaron Fields converted a former Kentucky Fried Chicken into an American Family Care in Fuquay-Varina, North Carolina, the running joke around town was that all the entrepreneurs had to change was the sign from KFC to AFC.
"As funny as it was, we certainly wish it had been that easy to convert," says Zucker.
With two urgent care clinics open and five more to develop in the Raleigh area, the multi-unit franchisees are always on the hunt for just the right site. The franchise partners look for visible and accessible real estate with ample parking to quickly and safely ensure that as many people as possible get the standard of care they deserve.
"The best locations are rarely sitting there as vacant lots," says Zucker.
Recycling existing space has become a strategy for brands and franchisees of all shapes and sizes. In most cases, they are looking to trim real estate costs as part of pandemic-inspired adjustments, avoid the complexities and expense of a full construction project, and take advantage of a faster start at a prime location. Although it's always good to know why a property was shuttered, a real estate makeover can save franchisees time and money.
"Saving time can come from not needing as many permits and approvals, not having to construct the shell or doing site work," says Fields. "Financially, using an existing building often can present opportunities for cost savings, as well as provide occupancy cost factors to be lowered on an ongoing basis."
Use your franchisor!
To help with market analysis, site selection, lease negotiations, store design, and buildout responsibilities, franchisees also can take advantage of the analysis and insights of an experienced franchisor.
Pinch A Penny Pool Patio & Spa franchisee Chris Weis is transforming a high-end beauty salon into a new pool supply and retail store located along a bustling major corridor in Fort Worth. The 4,000-s.f. standalone site includes ample customer parking and space for his coming fleet of service trucks.
A first-time franchisee, Weis worked with his franchisor for help with lease negotiations. The result, he says, was that the landlord "gave us a really good deal starting off" that included six months of free rent. It was the breathing room that he and his wife, Nicol, needed to get their new family business off the ground on a solid footing.
"Not a lot of owners get the opportunity for a standalone building," he says.
The space is twice the size of the three other alternatives Pinch A Penny gave him to consider. When he opens in February 2023, his location will be the brand's largest in the Dallas-Fort Worth area. Feedback from other Pinch A Penny owners helped him seal the deal.
"Every owner I talked to said they wished they had more space for equipment," says Weis. "That was a big thing I was looking for. I could grow into this space and see it being a bigger store."
The benefits of conversion
Conversions can open a new world of opportunities for franchisees who know where to look.
While AFC's Zucker and Fields went to great lengths to "un-restaurant" the restaurant look and feel of the urgent care center, they kept one element of the property's fast-food roots: the drive-thru. It was a decision that served them well, allowing the clinic to offer elective, asymptomatic testing when they opened in September 2020 during the height of the pandemic.
"The drive-thru turned out to be such a value-add to the community in Fuquay-Varina that we incorporated a drive-thru at our Wendell, North Carolina, opening, which was ground-up construction," says Fields.
Franchisors are also spearheading growth for their franchisees through conversion strategies and tactics, particularly locations with restaurant shells.
With 30 corporate and 50 franchised restaurants, Chicago-based Pizzeria Uno has launched a conversion strategy targeting full-service restaurants operating in hospitality-driven hotels, where site selection, kitchen equipment, and most of the front-of-the-house needs are already in place.
"Hotels seem like a natural place where we could solve someone else's problems. Most hotels, in general, lose money on restaurants," says Erik Frederick, CEO of Pizzeria Uno.
The strategy pays off in many ways, boosting dine-in and takeout revenue from hotel guests, group sales, and the community. Frederick says that hotel owners and operators can leverage lower customer acquisition costs, a higher capture rate, and the infrastructure that comes with being a franchisee of a national brand.
Hotel staff no longer have to watch money walk out the door with guest takeout and delivery from outside restaurants. The familiar neighborhood brand also attracts local residents who may have never stepped inside the hotel otherwise.
So far, Pizzeria Uno has converted three hotel restaurants in the Midwest into franchised restaurants, with a fourth on the way. Food and beverage sales have been impressive since day one, with two of the three franchisees signing on for more locations.
"Our restaurateurs are seeing anywhere between a 100% to 300% lift on their pre-conversion," says Frederick.
Pizzeria Uno looks to build on the success of its conversion program, including introducing a separate brand for economy hotels. Frederick is talking to prospects across the country and wants to expand with the right franchisees.
"As much as I'm trying to grow, we aren't targeting a specific area—we are targeting the 'who,'" says Frederick. "We have a great franchisee community, and we are going to keep it that way."
The challenges of conversion
Conversions also can come with challenges. Zucker says it's essential to work with your franchisor to ensure the location meets or exceeds the standards. He and Fields had plenty of headaches modifying their property, which was constructed on a slope in the 1980s.
The duo had to replace the roof, demolish old fixtures, and place the building's rear wall on stilts at one point because of some serious structural issues. Tough decisions also had to be made in giving up revenue-generating square footage for functional space. Ultimately, they had to sacrifice the number of exam rooms they had planned because the building wasn't wide enough.
"Go into the project knowing that something is going to come up that you didn't plan for and be mentally prepared to roll with the adversity that will come with it," says Zucker.
"Never, ever compromise on the real estate," he says. "If the best site for you and your brand is a tough conversion, and an alternative option is a 'cleaner' deal, take the high road and go with the better site. It almost never fails."
The power of conversion
As labor shortages, supply chain issues, and inflation woes continue to squeeze small businesses, more independent operators are opting for the power of the franchise relationship. Home improvement services, home care, salon, real estate, hospitality, and automotive are among the sectors experiencing a surge in conversion franchising.
Andrew Gemmen converted his 42,000-s.f. Hudsonville, Michigan, family-owned store to an Ace Hardware in 2017. The hometown hardware store, founded by his grandfather in 1955 and previously affiliated with the Do it Best co-op, has been a mainstay in a growing area of western Michigan. Still, he knew it was time to change with the times and expand his services—something he felt unable to do on his own.
"We have new families and younger generational shoppers who know and understand what Ace is," says Gemmen. "When they looked at our building before and saw 'Do It Best,' sure it's a hardware store, but what does it mean? When you see 'Ace' on a building, because of their branding and marketing, people instantly know what it is, what they can go there for, and how their business will be conducted."
His decision to convert to the largest retailer-owned hardware cooperative came with loads of fact-finding. He and his wife price-checked and researched Ace's product mix and supplier. They also spoke with vendors, Ace employees, and others who made the switch. It took roughly 3 months to complete the transformation to Gemmen's Ace Hardware, but the benefits were immediate.
"We are a single store and single location, and the economies of scale that we needed to do the things we wanted, we couldn't do on our own. Instantly, overnight, we had an online shopping presence," he says. "
"Being part of Ace has taken significant hours out of my back office. That is the power of scale," Gemmen says. "We may not always love the way something works, but they have a system and a program. I could not run this business as a single independent owner with the amount of labor and man-hours I do without being part of Ace."
Published: March 25th, 2023
Share this Feature
Recommended Reading:
Comments:
comments powered by

Disqus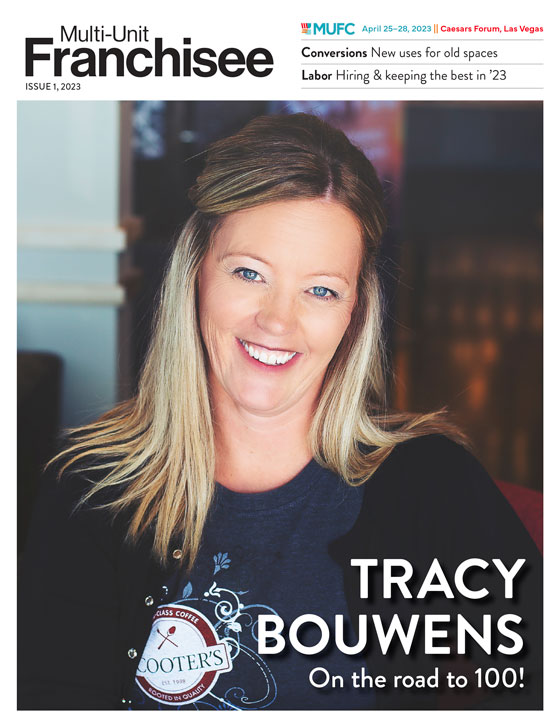 Multi-Unit Franchisee Magazine: Issue 1, 2023
A business-to-business franchise opportunity for executive entrepreneurs! AlphaGraphics is now celebrating 52 years of history, and is recognized...
Cash Required:
$125,000
The Drybar® brand, the category creator and a leading blow dry bar salon franchise, is seeking qualified owners.