The 2016 Multi-Unit 50: Ranking the most multi-friendly brands
| | |
| --- | --- |
| Top 50 Brands by Number of Multi-Unit Franchisees | |
RANK
BRAND
MULTI-UNIT
FRANCHISEES
SINGLE-UNIT
FRANCHISEES
TOTAL
FRANCHISEES
1
SUBWAY
4,284
3,838
8,122
2
MCDONALD'S
2,151
497
2,648
3
DUNKIN' DONUTS 885 467 1,352
885
467
1,352
4
LIBERTY TAX SERVICE
826
1,039
1,865
5
H&R BLOCK
781
831
1,612
6
AFC FRANCHISE CORP./SOUTHERN TSUNAMI
772
1,366
2,138
6
THE UPS STORE
772
2,398
3,170
8
LITTLE CAESARS
716
100
816
9
DAIRY QUEEN/DQ GRILL & CHILL
604
2,171
2,775
10
GREAT CLIPS
572
322
894
11
DOMINO'S
568
352
920
12
BURGER KING
536
401
937
13
RE/MAX
503
1,874
2,377
14
ACE HARDWARE
495
2,564
3,059
14
HEALTH MART PHARMACIES
495
2,380
2,875
16
JACKSON HEWITT TAX SERVICE
444
138
582
17
FIREHOUSE SUBS
438
25
463
18
TACO BELL
406
358
764
19
JIMMY JOHN'S
372
336
708
20
WENDY'S
366
232
598
21
CENTURY 21
361
969
1,330
21
VISION SOURCE
361
2,159
2,520
23
KFC
340
233
573
24
ANYTIME FITNESS
338
1,319
1,657
25
SPORT CLIPS
278
173
451
26
PAPA JOHN'S PIZZA
277
419
696
27
COUNTRY INNS & SUITES BY CARLSON
273
75
348
28
DUNKIN' DONUTS/BASKIN-ROBBINS COMBO
256
266
522
29
PAPA MURPHY'S
250
307
557
30
COLDWELL BANKER
249
603
852
31
EDIBLE ARRANGEMENTS
243
313
556
31
PACIFIC PRIDE SERVICES
243
62
305
33
SONIC DRIVE-IN
241
355
596
34
HISSHO SUSHI
238
5
243
35
FANTASTIC SAMS
225
317
542
36
GNC
218
268
486
37
ARBY'S
216
134
350
38
PIZZA HUT
203
141
344
39
CHICK-FIL-A
194
1,215
1,409
40
BASKIN-ROBBINS
191
586
777
41
ZAXBY'S
181
34
215
42
JERSEY MIKE'S
168
188
356
43
POPEYES LOUISIANA KITCHEN
167
483
650
44
MIDAS
163
285
448
45
KUMON
160
1,124
1,284
46
SUPERCUTS
158
126
284
47
TIM HORTONS
155
92
247
48
AUNTIE ANNE'S
154
286
440
49
PLANET FITNESS
149
101
250
50
MIRACLE-EAR
146
30
176
Top 50 Brands by Percentage of Multi-Unit Franchisees
RANK
COMPANY
% MULTI-UNIT
FRANCHISEES
MULTI-UNIT
FRANCHISEES
SINGLE-UNIT
FRANCHISEES
TOTAL
FRANCHISEES
1
APPLEBEE'S
100.00%
34
0
34
1
PANCHEROS MEXICAN GRILL
100.00%
29
0
29
1
PANERA BREAD
100.00%
30
0
30
4
HISSHO SUSHI
97.94%
238
5
243
5
FIVE GUYS
97.62%
123
3
126
6
GATEWAY NEWSTANDS
97.37%
74
2
76
7
BOJANGLES'
94.94%
75
4
79
8
FIREHOUSE SUBS
94.60%
438
25
463
9
SAM'S HOT DOG STAND
92.86%
26
2
28
10
CAPTAIN D'S
89.39%
59
7
66
11
JACK IN THE BOX
88.78%
87
11
98
12
A ALL ANIMAL CONTROL
88.46%
23
3
26
13
HWY 55 BURGERS SHAKES & FRIES
88.37%
38
5
43
14
LITTLE CAESARS
87.75%
716
100
816
15
WORLD OF BEER
84.62%
22
4
26
16
ZAXBY'S
84.19%
181
34
215
17
FRESHII
83.87%
26
5
31
18
THE LITTLE GYM
83.66%
128
25
153
19
MIRACLE-EAR
82.95%
146
30
176
20
JIMMY'S PIZZA
82.76%
24
5
29
21
PALM BEACH TAN
82.35%
28
6
34
22
SWEET FACTORY
82.14%
23
5
28
23
GRANDY'S
81.82%
27
6
33
24
MCDONALD'S
81.23%
2,151
497
2,648
25
NEWK'S EXPRESS CAFE RESTAURANT
80.65%
25
6
31
26
RADISSON HOTELS
80.00%
64
16
80
27
PACIFIC PRIDE SERVICES
79.67%
243
62
305
28
SIMPLE SIMON'S PIZZA
79.07%
102
27
129
29
AARON'S
78.85%
82
22
104
30
COUNTRY INNS & SUITES BY CARLSON
78.45%
273
75
348
31
ZPIZZA
76.79%
43
13
56
32
JACKSON HEWITT TAX SERVICE
76.29%
444
138
582
33
DUTCH BROS. COFFEE
73.85%
48
17
65
34
SUN TAN CITY
72.50%
29
11
40
35
BARBERITOS
72.41%
21
8
29
36
HUNTINGTON LEARNING CENTER
72.19%
122
47
169
37
CARL'S JR.
72.12%
75
29
104
38
BETTER HOMES AND GARDENS REAL ESTATE
72.00%
36
14
50
39
PENN STATION
70.51%
55
23
78
40
MCALISTER'S DELI
69.57%
32
1
46
41
VALVOLINE INSTANT OIL CHANGE
69.49%
41
18
59
42
RALLY'S
68.75%
22
10
32
43
COST CUTTERS
68.49%
50
23
73
44
GODFATHER'S PIZZA
67.57%
125
60
185
45
PACLEASE
66.10%
39
20
59
46
DUNKIN' DONUTS
65.46%
885
467
1,352
47
ADAM & EVE
65.38%
17
9
26
48
GREAT CLIPS
63.98%
572
322
894
49
CHECKERS
63.92%
62
35
97
50
PET SUPPLIES PLUS
63.64%
28
16
44
Source: FRANdata
Brands with 25 or fewer franchisees were excluded.
Published: October 5th, 2016
Share this Feature
Recommended Reading:
Comments:
comments powered by

Disqus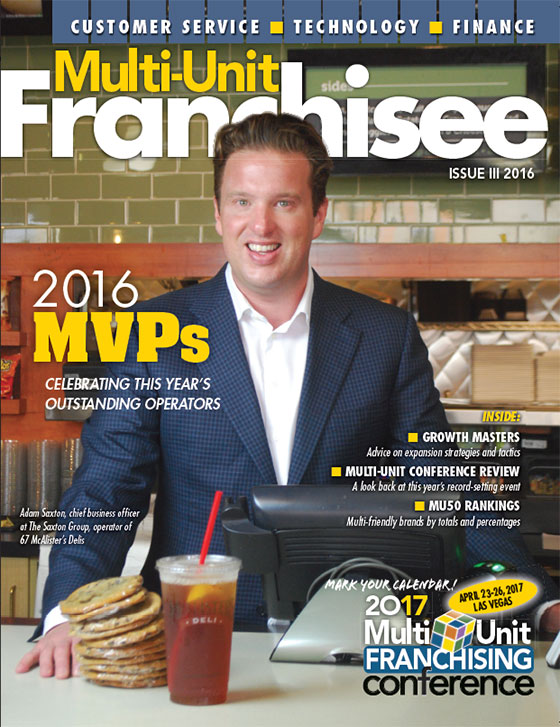 Multi-Unit Franchisee Magazine: Issue 3, 2016
Boring breakfast food? Never heard of it. Bring the savory flavors and colorful personality of the South to your neighborhood with the Biscuit Belly...
Cash Required:
$500,000
Daddy's Chicken Shack believes in simple, high-quality ingredients with a lot of love.