Togo's Is Back!: Refreshing the 50-Year-Old Sandwich Brand
After more than 50 years of perfecting our big, fresh, and meaty sandwiches, we decided it was time for a brand refresh to ensure that everything we do, from marketing to store design, would be in line with the uniqueness and high quality of a Togo's sandwich.
Some may have noticed that Togo's has been pretty quiet the last few years, but that's because we've been hard at work reimagining the company to focus on what fans love most about the brand. And now, we are thrilled to begin sharing our many exciting brand improvements with existing and new guests.
Togo's has launched its system-wide brand refresh, anchored by the company's new anthem, "True to the Sandwich," along with the addition of our newest signature sandwich, the Pretzelrami. After taking the time to ask fans why they choose Togo's over other sandwich concepts, it always came back to the sandwich, and the fact that there is nothing else like it. So our new commitment is to be relentlessly True to the Sandwich in everything we do, which means staying focused on what matters most to our guests, and that's bold flavors, premium ingredients, and generous portions.
Our guests have already noticed big changes at Togo's, including an updated logo that features our new tagline (True to the Sandwich). All employees are donning our new uniforms, the Pretzelrami is front and center on new menu boards, and the brand's redesigned, vibrant packaging is now being used in all locations. In addition, all stores will undergo a facelift that will be rolled out gradually at our more than 220 locations in the coming months, and our many restaurants in development will feature the new store design.
What our fans might be loving most about our recent changes is the permanent addition of our newest signature sandwich, the Pretzelrami. Featuring more than a quarter pound of our famous pastrami piled high on a soft pretzel roll, the Pretzelrami is toasted with two slices of white cheddar cheese aged for seven months, and finished off with tangy yellow mustard and crisp dill pickles. Our Pretzelrami takes our fan-favorite traditional pastrami sandwich to a whole new level of taste and quality, and further reflects the brand's promise to provide guests with the highest quality, generous portions, and an engaging dining experience they won't find anywhere else.
To celebrate Togo's being back and better than ever, we've launched a new marketing campaign developed by Siltanen & Partners of Los Angeles titled, "How Far Would You Go for a Togo?" The campaign illustrates the extreme and humorous lengths that people will go to get their favorite Togo's sandwich. To get our fans involved, we've been encouraging them to share their own stories on social media about how far they would go for a Togo.
While the response from our valued guests has been overwhelmingly positive, our franchise partners are even more excited about the brand's new direction and the customer feedback they've been receiving. Our franchisees bought into our storied culture, and we're proud that our refresh efforts help to tell that story better and enhance what makes Togo's stand out from other sandwich concepts.
The evolution of Togo's presents enormous opportunity for prospective franchisees to join the brand at a very exciting time of growth and innovation. With a focus on the western regions of the United States, Togo's is building a stronger national presence by entering new territories while infilling existing markets.
With more than 220 locations across five states, the company offers plenty of room for franchisees to grow in both existing and untapped markets, while introducing Togo's next-generation stores to new guests. There has never been a better time for potential franchisees looking to expand their portfolio and grow with a proven brand that has an extremely loyal following.
This brand refresh, years in the making, is designed to remind longtime guests of why they gravitate to Togo's when craving a sandwich, while making a strong introduction to new customers who have yet to experience their new favorite sandwich at Togo's. We're confident that guests will appreciate our fresh approach to the Togo's they've grown up with and have loved since that very first bite!
Glenn Lunde is president of Togo's Eateries.
Published: August 25th, 2018
Share this Feature
Recommended Reading:
Comments:
comments powered by

Disqus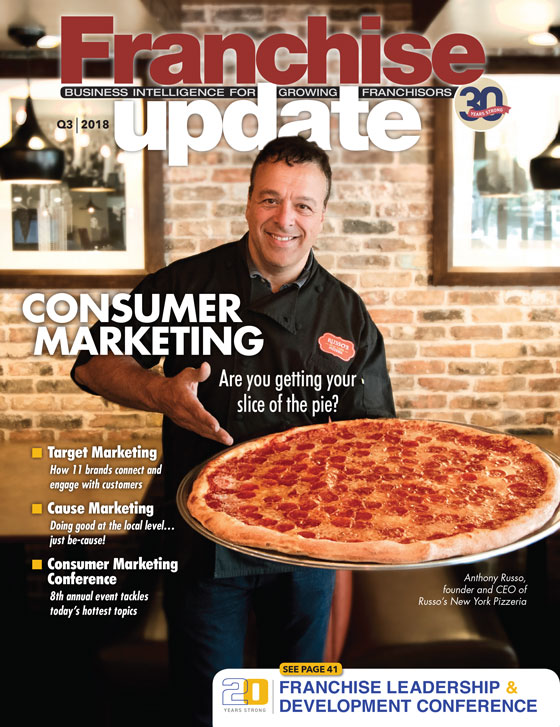 Franchise Update Magazine: Issue 3, 2018
Prisma has reinvented the marketing supply chain with an end-to-end solution that makes it easy to design, customize, order, download, print, kit,...
Slick Marketers is reinventing franchise marketing with a hyper-customized and ultra-localized marketing approach with measurable results and growth...