Tread Carefully. So many unknowns call for patience
I can summarize this article in one word: patience.
Most economic downturns reward early movers. This one makes early expansion and/or acquisition more difficult to get right. The reasons are many, but they all point toward a new type of economy functioning by modified sets of rules. Until those rules are understood, adding new units and acquiring units from others is much riskier than in past downturns. Pre-crisis unit demand, financials, and even operations do not make a good set of assumptions for predicting future performance of a unit. Consumer patterns have shifted, creating a new set of behaviors. If you guess wrong, you will be investing in a unit that won't perform to expectations.
Let's start with the biggest driver of economic activity: consumers. A majority of the more than 2,000 people surveyed by Jones Lang LaSalle said they want to continue working away from the office at least two days a week; only 26% want to do it full-time after the pandemic passes. Weekday consumer buying behavior will be altered long term. Further, we have forced online purchasing into everyday life.
Again, consumer buying behavior will be altered long term. On the retail side, where should you put a physical location and how should you configure it when you don't know how consumer patterns will play out yet? Will they return to pre-crisis behaviors? Perhaps partially, but it's very unlikely the post-crisis economy will look the same.
Let's turn to existing business resales. Many single-unit and smaller multi-unit operators depended heavily on the PPP program. More than 5 million loans worth more than $525 billion were extended. It bought time. Did it buy enough time? Since the program ended nearly 4 months ago, the need for pandemic recovery funds has increased.
According to a recent study published by the National Federation of Independent Business, about half (52%) of small-business owners anticipate needing additional financial support over the next 12 months, and 75% say they would apply or consider applying for a second PPP loan if it were made available to them. Only a little over 1% of PPP recipients have requested forgiveness so far, a barometer of difficulties they are experiencing as many are hoping for additional funding. Sure, some sectors gained in sales, but most didn't—and for those that did gain, the question is whether it is sustainable. Unit models are in a state of flux right now.
NEW MODELS CONTINUE TO APPEAR
By extension, what this tells me is that competition won't look the same a year from now. When we see disruption as we did in the Great Recession, new brands entered the market with different offerings. They went after your customers, more often seeking new consumer demand. New models emerged, such as the co-working style business model in hair care, where franchisees rent chairs to independent contractor stylists; and a flood of new fitness brands that more narrowly targeted consumers than the big box gyms.
Our own research for clients clearly shows this crisis will have even more dramatic changes to what you consider competition today. New entrants will come to market with offerings adjusted for a post-pandemic economy, often with a much bigger technology integration. Some franchise brands that were your previous competition will be internally focused for the next few years as they stabilize their systems and modify their offerings. All of this will take a few years to fully understand. It's not your typical recovery where returning to pre-crisis mode was expected.
INVESTMENT CAPITAL CHANGES
Lenders are telling us they clearly prefer to do "safe" deals in this environment. Into the third quarter, they were still focused on getting PPP money out the door under the umbrella of federal guarantees. Since then, they have returned to traditional credit risk assessments. Their underwriting requirements reflect a tightened credit box aimed at new money going into lower-risk deals, including raising the minimum Frandata FUND Score a franchise system must have for a deal to get done. This is predictable cyclical lender behavior.
Investment capital also is shifting. Private equity put a lot of money into food and fitness brands. Now there will be a disproportionate concentration in services, especially residential. We're seeing a lot of interest from our PE clients in brands focused on the home. They are building residential services platforms and beginning to acquire brands less developed than in the past.
With new platforms able to manage multiple small brands efficiently (at least, that's the theory), buyers are paying less attention to franchisor management. The thinking is that the platform management structure can fix any problems. That's likely to lead to a period of franchisor management instability you should factor into your brand due diligence.
CONCLUSION
All of this leads me to a single conclusion. This time around in the economic boom/bust cycle, going a bit more thoughtfully, doing more research on consumer behavior changes, more diligence on how a brand's offering is being adjusted and supported, and a more thorough assessment of how stable the franchise management team is will guide multi-unit growth plans to a better outcome.
Darrell Johnson is CEO of FRANdata, an independent research company supplying information and analysis for the franchising sector since 1989. He can be reached at 703-740-4700 or djohnson@frandata.com.
Published: June 5th, 2021
Share this Feature
Recommended Reading:
Comments:
comments powered by

Disqus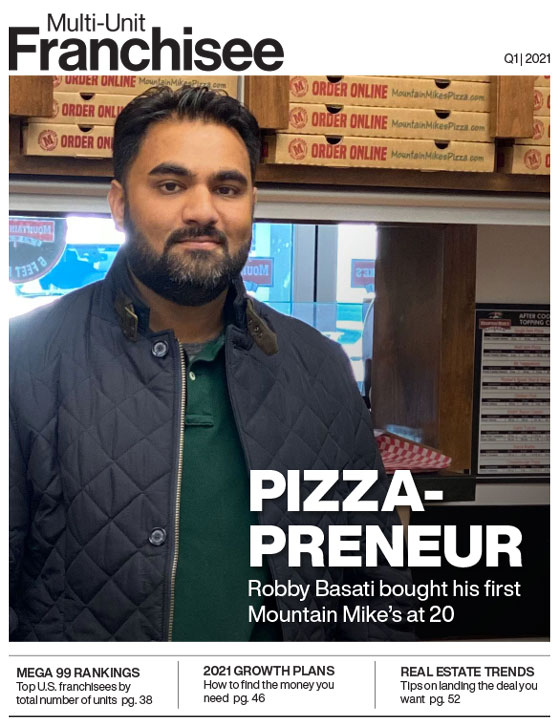 Multi-Unit Franchisee Magazine: Issue 1, 2021
MassageLuXe® is a fast-growing massage franchise providing massage services to clients, primarily through multi-unit area developers & single...
Cash Required:
$100,000
It's time for a fresh start. Join Kona Ice today! We're a low-investment, fast-growing business with over 1,500 franchises in the last 12 years. And...
Cash Required:
$20,000