Culture First, LunchboxWax: Truly Open to All Bodies
David Ogilvy, known as the "Father of Advertising" and someone I truly admire, defines a brand as "the intangible sum of a product's attributes." In my experience as the founder and CEO of LunchboxWax, the strongest brands do that, and also much more.
LunchboxWax is among 2018's Top 50 New Franchises, according to Entrepreneur magazine, but at the end of the day, we are in the business of ripping people's hair out. It made complete sense to me to create a playful, smart name that didn't take itself too seriously. Franchising was not on my radar when we opened our first salon in 2010. When we made the leap in 2013, I felt confident forging ahead with our creative name because it would help us stand out in this industry and among direct, wax-only competitors. Our name draws in prospective franchise owners who understand who we are as a culture-first business and seek to be a part of something that's unique in the industry.
LunchboxWax has multiple meanings. You can come in on your lunch hour and receive your speed wax, and still have time for lunch--hence, the lunchbox. The rest is up to individual interpretation. That's the beauty of it, though Brazilians and bikini waxes do make up 80 percent of our business.
Choosing a name
To me, a brand name is about more than selling a product. It's about communicating your larger look, feel, and organizational purpose to the world in a succinct, compelling way. To me, the best evoke emotions. If I need to purchase new towels, for instance, I'm far more likely to click through the Instagram image of a woman gingerly stepping out of her pool, wrapped in a perfectly white, ridiculously plush towel, than I am to research the longest-lasting towels online and make a purely logical decision. If the towel company is named something interesting, I'm even more likely to want to make a purchase.
Franchises shouldn't shy away from emotive brands. How do you want your employees to feel when they come to work each day? What about your clients or customers? Franchisees? Our name is playful and fun--two things I think are important to keep in mind whether you're waxing, or getting waxed.
A logo that differentiates
A logo should reflect who a company seeks to be in the world. As you think about the visual identity that will accompany your brand name, start from a place of clarity about your values and purpose as a business. What is the change you are making in the world?
LunchboxWax strives to empower employees and guests who comes in for services. We do that through a workplace culture that prizes authenticity and inner beauty, as well as self-care and lifelong learning in a spirit of kindness and curiosity. This helps us hire people who radiate our brand, which has a positive effect on our guests.
Waxing salons can feel intimidating to many people, especially those who are first-timers or who don't have the "perfect body" as dictated by the mainstream media. Many men, as well as those in the transgender community tell us they never felt comfortable in a waxing studio until they found us, which makes me very proud. LunchboxWax is truly open to all bodies, and that's a big reason I chose to place a heart on our logo, right in the center of the LunchboxWax logo. We are a heart-forward company that puts people first--whether they are part of our corporate team, franchisees, waxologists, or our guests.
Beyond the brand
A strong brand's purpose extends beyond its look and feel to encompass how it "walks the talk." LunchboxWax's community is dedicated to serving others. One of the ways we do this is through our annual Bare Your Heart campaign, which donates $1 per brow wax each October to the Susan G. Komen Foundation to prevent breast cancer. Giving back is at the heart of our work, starting with how we treat our internal team.
Our waxologists can earn up to $60,000 per year — some more, all the while improving business skills such as marketing and customer service that make them more valuable as employees or future entrepreneurs. It's intentional and very much "on brand" that our waxologists work 32-hour weeks so they are able to balance work and family obligations while still earning a great living and full-time health benefits.
Because of my personal background growing up with very little resources or a traditional educational path, I see great potential in these young people. My senior team and I mentor and lead programs to help foster their skills and self-confidence, adding marketable value to their resumés as they advance their careers. My goal is to show them, through their experience with LunchboxWax that, like me, they truly can accomplish anything, regardless of their personal upbringing, including growing into a new role with us, finding an opportunity better aligned to their passions, or starting their own business one day.
At LunchboxWax, we work on people in an intimate way, and that builds relationship. We best serve our values, our employees, and our guests when we are able to bring our authentic selves to work, and by allowing everyone we touch to also be their authentic self. That's central to our brand's purpose, and something we hold dear in the face of franchise growth.
We are on track to have 250 salons by 2022. To maintain our brand's identity, values, and purpose, our current challenge--one we fully embrace--is to keep LunchboxWax a culture-first company that proudly serves all bodies, genders, and people, even in the face of change.
Debi Lane is founder and CEO of LunchBoxWax.
Published: February 16th, 2019
Share this Feature
Recommended Reading:
Comments:
comments powered by

Disqus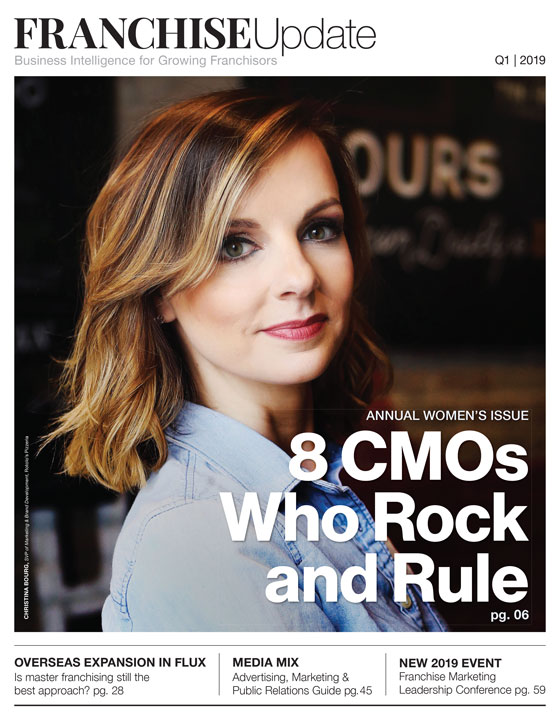 Franchise Update Magazine: Issue 1, 2019
June 18-20, 2024 Marketing-Operations-Technology. Be a part of this ground-breaking new space for ideas, inspiration and networking for Franchise...
UMI has over 23 years of experience supporting fast-growing multi-unit brands. From strategic planning to design, execution to analysis, UMI...