Greed Is Good - Not!: Strive for a Fair Balance in Transactions
Gordon Gekko, the main character in the 1987 blockbuster film Wall Street, quickly became a popular cultural icon of unrestrained greed. The "Greed is good" phrase comes from his address at a stockholder meeting:
"...greed--for lack of a better word--is good. Greed is right. Greed works. Greed clarifies, cuts through, and captures the essence of the evolutionary spirit. Greed, in all of its forms--greed for life, for money, for love, knowledge--has marked the upward surge of mankind..."
Is greed really good? Philosophically, that evolutionary spirit Gekko refers to is not greed, but rather the concept of self-interest. Enlightened self-interest contemplates helping others achieve their goals or providing benefits to society as a means to advancing one's own position. Greed, on the other hand, is simply the destructive addiction to accumulation. The short-term spoils brought on by greed are often fleeting, while the benefits from enlightened self-interest more often endure.

What does this have to do with the deal world? A lot, as it turns out. Greed often gets in the way of attaining the goal of consummating a transaction. Why? Because the greedy party will continue to push for more and more, until they become so unreasonable that the other party just walks away. The self-interested party, on the other hand, knows how to drive a good deal, but knows when to say when.
Negotiation as a sport. Most people in the business and deal world love to negotiate. In fact, we seem to be a universe of negotiators. But what happens when winning the negotiation becomes more important than achieving the original goal of closing the deal? At what point does it become too much?

There seems to be a disturbing trend gaining momentum whereby if you don't "get one over" on the other party, you haven't done a good deal. Has the notion of "win-win" become a thing of the past? A fair deal in which both parties compromise just does not seem to be good enough anymore for some participants. But if this mindset takes hold and becomes the new normal, how can anyone realistically expect to complete a transaction? This is a very dangerous path to go down in terms of transaction success, and in terms of the impact on the social fabric of our global business environment and how reasonable business people conduct themselves.
How did we get here? People have been negotiating since the beginning of time. But why has it become so contentious lately? It may be that the painful recession has left us with a void of optimism, and parties to a deal may try to overcompensate for the negative environment. Many buyers believe that any seller today must be desperate. The reality, though, is that many sellers are not desperate at all. The result is that fewer transactions are consummated, and more parties walk away from the table disappointed and regretful. In addition, some buyers who weathered the recession very well have allowed themselves to be charmed by the "golden rule"--the notion that since they have the gold, they make the rules. Once again, we see sellers exiting the negotiation process fairly quickly when golden-rulers are on the other side. Anecdotes of these "one-sided" deal negotiations make their way back to potential sellers, who want nothing to do with that process. This results in fewer viable businesses on the market and a potential backlog of transactions.
Greed puts the deal at risk. It is healthy to be aggressive--that's enlightened self-interest. But don't risk the deal with greed. Successful negotiations focus on achieving an objective, not on trying to take advantage of the other side, or scoring more negotiating points. The best dealmakers know when they've pushed enough. They have an innate sense of the other party's position and when they have reached the limit. And they remain focused on the ultimate goal. All too often, if negotiations get overly contentious, emotions take over and the deal becomes difficult, if not impossible, to resurrect.
Prioritize your focus. In addition to focusing on self-interest rather than greed, it is important to focus on the truly important deal issues, and not the trivial stuff. Some deal negotiations fail as parties focus on issues that are simply immaterial to a successful transaction. Successful negotiations center on the critical factors necessary to protect and ensure long-term success for both parties. Trivial issues can become a distraction, create unnecessary negotiations and deal fatigue, and may contribute to a failed deal process.
Conclusion. Success in transactions, as in business in general, is driven by a healthy dose of self-interest. But if you truly want success, check your greed at the door. You'll accomplish more of your goals, build goodwill, and create more value in the long run.
Dean Zuccarello, CEO and founder of The Cypress Group, has more than 25 years of financial and transactional experience in mergers, acquisitions, divestitures, strategic planning, and financing in the restaurant industry. The Cypress Group is a privately owned investment bank and advisory services firm focused exclusively on the multi-unit and franchise business for more than 17 years. Contact him at 303-680-4141 or dzuccarello@cypressgroup.biz.
Published: August 29th, 2011
Share this Feature
Recommended Reading:
Comments:
comments powered by

Disqus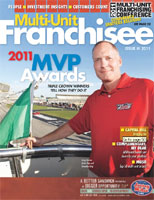 Multi-Unit Franchisee Magazine: Issue 3, 2011
Checkers Drive-In restaurant franchises are small but efficient making our restaurants easy to operate and typically reduced overhead costs.
Cash Required:
$250,000
It's time for a fresh start. Join Kona Ice today! We're a low-investment, fast-growing business with over 1,500 franchises in the last 12 years. And...
Cash Required:
$20,000