New Team! Michael Smith signs on for 30 Mountain Mike's
Name: Michael John Smith
Title: Officer/Marketing/Investor Relations
Company: Pelican Food Concepts
Units: 1 open with development agreement for 30 locations
Age: 55
Family: Married with 10 children
Years in franchising: 1
Years in current position: 1
Michael Smith, the former NBA and European professional basketball player and later television commentator, is now a multi-unit franchisee for Mountain Mike's Pizza. He made news earlier this year when he signed a 30-unit development agreement with the brand. The agreement with his franchise group, Pelican Food Concepts, gives his company exclusive development rights in Utah. They also acquired the single existing location in the state
Smith was a standout player at Brigham Young University in the 1980s. He was the Western Athletic Conference Player of the Year in 1988, leading the team with 679 points and 248 rebounds, and finished his collegiate career as BYU's all-time leader in rebounds (922) and second to only Danny Ainge in career points (2,319).
He was selected by the Boston Celtics in the first round of the 1989 NBA Draft. Smith played 2 years with the Celtics. During the 1990s, he played professionally overseas in Italy and Spain before being picked up by the Los Angeles Clippers for a season in 1995. But stage two of his career was about to begin.
Smith went on to spend nearly two decades as a broadcast basketball analyst and color commentator for teams like the Clippers and, ultimately, his hometown Utah Jazz. He even picked up an Emmy Award along the way!
"After 20 years of broadcasting NBA games, I decided I wanted to build a business and create opportunities on my own," he says. That decision led him to Pelican Food Concepts and Mountain Mike's Pizza.
The pizza segment is growing, demand is high, and Smith says now is the perfect time to bring more family-friendly pizza locations to the people of Utah. As an area developer, Smith and Pelican plan to own and operate many of the Mountain Mike's Pizza locations while building a team of talented franchise partners to open other locations throughout the state.
"We're building a solid team of talented and passionate franchisees who are aligned with our values," he says.
PERSONAL
First job: Professional basketball player.
Formative influences/events: A 6-foot-10 football quarterback isn't typical. But thanks to my high school coach who pushed me to believe that I was capable of anything I put my mind to, I led my team to a championship win, and that has stuck with me to this day.
Key accomplishments: #1 High School Athlete in the nation, 1983; Gold Medal, Team USA U20 World Championships; 1st round draft pick Boston Celtics; Emmy Award winning broadcaster.
Biggest current challenge: As a provider for my large family, sometimes it can be difficult to keep up with a world that's ever-changing at such a fast pace. I am always pushing myself and those around me to pursue every opportunity they can to grow, but it's important to prioritize because there are only so many hours in a day!
Next big goal: To continue growing Mountain Mike's Pizza beyond the initial 30-unit development deal in Utah.
First turning point in your career: After 20 years of broadcasting NBA games, I was not extended an offer to continue. This was a defining moment in my career because it made me realize that I wasn't comfortable leaving my destiny in someone else's hands. I wanted to build a business and create opportunities that I was in control of, which led me to my exciting venture with Pelican Food and Mountain Mike's.
Best business decision: Joining Pelican Food and partnering with Mountain Mike's. Mountain Mike's provides their franchisees with the freedom to run their business, but with the support and comfort of knowing they don't have to go about it alone. The franchisees are backed by decades of experience, big buying power, and a group of very supportive owners who are very much aligned with my values.
Hardest lesson learned: Sometimes, life is not fair. The hardest lesson to learn is that you can do everything right and still fail. With that being said, the important lesson from any obstacle is to stay focused on the goal, and do not let past failures get in your away of achieving that goal!
Work week: There is no such thing as a typical work week for me. I go wherever I need to be to further the success of our business and trusted partners.
Exercise/workout: There are two activities I do every day: lift and swim or yoga and cycle.
What's your passion in business? My main passion in business is having the opportunity to collaborate with talented, hardworking people who inspire me.
How do you balance life and work? I have a "work hard, play hard" mentality. But I firmly believe that you can have fun while working. It's all about finding ways to enjoy the process!
Guilty pleasure: My two guilty pleasures are golf and dark chocolate.
Favorite book: My favorite book of all time is The Count of Monte Cristo by Alexandre Dumas.
Favorite movie: I absolutely love movies, so this question is nearly impossible for me to answer. If I must choose, a few of my top picks would be "Shawshank Redemption," "The Fugitive," "Serendipity," "Field of Dreams," and "Notting Hill."
What do most people not know about you? That I love music. Along with enjoying listening to my favorite artists and hits on the radio, I also enjoy playing music, as well as singing.
Pet peeve: My biggest pet peeve is dishonesty. The truth is always the right choice.
What did you want to be when you grew up? I wanted to be a basketball player when I grew up, and I worked hard to make that dream my reality!
Last vacation: Punta Mita, Mexico.
Person I'd most like to have lunch with: Roger Federer (again). He is an amazing human being!
MANAGEMENT
Business philosophy: To empower people to be great by giving them the confidence and tools they need to be great. When it comes to my parenting skills, I teach my children ethical principles and let them govern themselves. The same principles translate into business. People will surprise you when they feel empowered and supported.
Management method or style: My management style is not cookie-cutter and I always try my best to lead by example. To be an effective leader, you must put in the time to know your employees and tailor your management style to each individual. But when it comes down to it, there are right and wrong ways to do something, and it's my job to make sure my employees understand the difference.
Greatest challenge: When it comes to leading employees, family, or even a basketball team, the greatest challenge is managing so many different personalities. Each person has different needs, wants, motivators, and communication styles. On the flip side, getting to know what makes people tick is fulfilling. I find great satisfaction in learning about people and their journeys. This process has made me a better communicator and has taught me patience, compassion, and the importance of connecting with others on a more personal level.
How do others describe you? As personable, likeable, outgoing, fun, and meticulous.
One thing I'm looking to do better: I am always working on being a better listener. It's something I've been focusing on for a while, and although I have come a long way there is always room for improvement when it comes to making sure others feel heard.
How close are you to operations? I am involved in all major decisions regarding our Utah franchises.
What are the two most important things you rely on from your franchisor? To deliver on consistency along with the best formulas and practices to follow, from recipes to operations. I also depend on them to have my best interest in mind and to support the growth and success of my business in every decision they make.
Fastest way into my doghouse: I rely on my team to uphold the high standards we set forth, and that means no cutting corners. The fastest way to get on my bad side is if you do not follow through with what you say you are going to do.
SPORTS & BUSINESS
What skills/experience from sports have carried over to operating a business? The skills that have moved with me from my career in sports to owning a business are discipline, people skills, and playing to people's strengths. Rome wasn't built in a day, nor was I able to become an NBA player overnight. Good things take time, especially when done the right way. Practice makes perfect and taking shortcuts won't do you any favors.
Which do you find more competitive, sports or business? I find business to be more competitive. I have always been good at sports, but if I had been in business for the length of time that I was in sports, I suppose it would be the opposite.
Why did you choose franchising as an investment option? Because it was a way for me to own my own business, but with built-in support and guidance every step of the way. At Mountain Mike's, I believe in the product we offer, the direction of the leadership team, and the year-after-year success speaks for itself!
How did you transition from sports to franchising? Life brings you opportunities when you are ready to make a change for yourself and your family. Becoming a franchise owner with Mountain Mike's was a serendipitous opportunity that I will be forever grateful for!
What was your greatest achievement in sports, and what has been your biggest accomplishment as a franchisee? My greatest achievement in sports was being a first-round draft pick in the NBA while taking 2 years off during college. I was serving a mission; therefore, I wasn't playing or training at that time, and I was still given the opportunity to be drafted. This was not a common occurrence back then in the sports industry. As for my biggest accomplishment in franchising, the best is yet to come. That will make for a great future conversation!
BOTTOM LINE
Vision meter: where do you want to be in 5 years? 10 years? In 5 years, we will have built a solid team of talented and passionate franchisees who are aligned with our values and family-forward culture. In 10 years, we will have at least 30 locations opened in Utah alone.
Published: September 23rd, 2021
Share this Feature
Recommended Reading:
Comments:
comments powered by

Disqus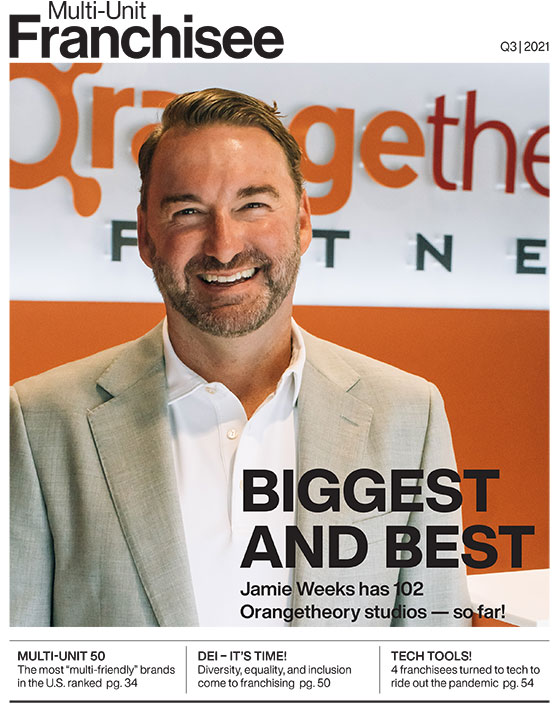 Multi-Unit Franchisee Magazine: Issue 3, 2021
Our first store opened in 1990 in California, growing quickly to a 5-store regional chain. PET DEPOT® started franchising locations in the USA in...
Cash Required:
$53,250
Founded in 2011 in Tokyo, RAKKAN Ramen specializes in authentic Japanese ramen made with a 100% plant-based broth. With a wide range of conventional...
Cash Required:
$200,000