The Wowi Factor: From Corporate Executive to Hawaiian Shirts
When Mitchell York first came across Maui Wowi Hawaiian Coffees & Smoothies as a possible investment, the corporate executive immediately passed on the brand, vowing he'd never wear a Hawaiian shirt.
Turns out the extraordinary laid-back vibe of Maui Wowi was just what York needed to fully depart from his corporate career in magazine publishing and other e-commerce ventures. York signed on as a franchisee in 2002. He even wrote a book on how the move changed his life.
Some 50 Hawaiian shirts later, York is the recipient of the 2017 MVP Innovation Award for expanding the ways Maui Wowi serves up fresh fruit smoothies and gourmet coffee, ultimately developing the Tiki Hut catering model the brand uses today. York admits he stumbled upon the catering idea after an event planner booked him for a college event.
"That was a big success and very profitable--and a lot easier than retail sales," he says. "So I started focusing on colleges and it snowballed. I now have over 150 regular college accounts and it grows all the time. A lot of things in business seem like great ideas, but happen accidentally."
York's stamp on the brand comes naturally. He grew up working weekends, summers, and holidays for his father's upscale catering company in Manhattan and credits his franchisor for being willing to listen to the idea designed to cut overhead and boost margins.
"You know the saying 'Necessity is the mother of invention?' Necessity is also the mother of innovation," says York. "I had made a substantial investment in the franchise and it wasn't doing for me what I wanted it to, so I had to find a way to mold it to my needs. I can't imagine too many other franchisors allowing me to do what I did in terms of specifying new equipment, new operating procedures, and more flexibility overall. I have shared my knowledge with dozens of other franchise owners on a one-to-one basis, and I helped train new franchise owners in some of what I have learned through catering Maui Wowi smoothies and coffee."
York says success in franchising is all up to the owner. "A lot of people think owning a franchise doesn't make you an entrepreneur. I couldn't disagree with that more," he says. "A franchise is no guarantee of success, even the most well-established ones. The franchisee has to think and act like an innovator and business owner no matter what the franchise is. That's one of the reasons franchises aren't for everyone. The people who think this is a 'set it and forget it' way to make a living are in for a lot of surprises, and not the good kind."
Name: Mitchell York
Title: Franchisee
No. of units: 3 Maui Wowi Hawaiian Coffees & Smoothies
Age: 60
Family: married, 3 children, 1 grandchild
Years in franchising: 15
Years in current position: 15
Personal
Formative influences/events:
My father owned an upscale catering company in Manhattan from 1954 to 1975, where I worked weekends, summers, and holidays.
Key accomplishments:
Creating the catering model for Maui Wowi; earning an MBA from Columbia, paid for by my employer at the time; leaving the corporate world after 24 years; wrote a book about franchising called Franchise: Freedom or Fantasy--How to Know If a Franchise Is Right for You After Your Corporate Career. I wrote the book because I hadn't really thought through my own decision very well. I was rebounding from a few really hard years at the end of my corporate career. I was really terrified to look for another corporate job, and I turned to franchising as sort of a last resort. It worked out well for me, but I knew lots of people who weren't suited for running their own businesses who got into franchising as a way of avoiding getting a job.
Work week:
Any 60 hours of my choice.
What are you reading?
With the Old Breed: At Peleliu and Okinawa by E.B. Sledge, a memoir of a World War II marine.
Best advice you ever got:
If you can't make the right decision, make the decision right. (Michael Haith, former CEO of Maui Wowi)
What's your passion in business?
Selling and increasing revenue year to year.
Management
Business philosophy:
It's only smoothies. While I'm very serious about the business, and we strive for excellence, out of nearly 500-plus catering jobs a year, a small number--maybe 1 percent--have problems. I tell my staff that we'll make it right, but remember, "It's only smoothies" (or coffee), not life and death.
Management method or style:
Benevolent dictator.
Greatest challenge:
"Just when I thought I was out, they pull me back in." Permanent delegation is very hard. In a small business the owner is never really out of it.
How do others describe you?
I don't know and I don't want to know.
How do you hire and fire, train and retain?
We look for people who can be independent and handle a lot of responsibility. Sometimes we push them beyond what they're ready for, but we rarely have to fire anyone.
Bottom Line
Annual revenue:
NA.
2017 goals:
Grow 15 percent a year.
Growth meter: How do you measure growth?
I look at three things most often: prior year's sales, new accounts opened, and in-bound lead flow. About 65 percent of our accounts are repeat clients, so we work hard to stay in contact throughout the year. We also pay a lot of attention to opening new accounts on a continual basis. Along those same lines, we track our lead flow to make sure our search engine optimization is working well.
Vision meter: Where do you want to be in 5 years? 10 years?
Spending more time with my wife, children, and granddaughter (and maybe other grandchildren). Continue to visit Paris once every 5 years.
What are you doing to take care of your employees?
Full-time employees are covered by excellent health insurance and get all the smoothies and coffee they want.
What kind of exit strategy do you have in place?
I hope to sell the business in the next 5 years.
Innovation Award
Why do you think you were recognized with this award?
Maui Wowi's business model 15 years ago was based on selling smoothies at public events--venues like stadiums and arenas, as well as fairs and festivals. I got my first location at Yankee Stadium. A few years later, I saw an opportunity to create a catering model. The franchisor was flexible enough to allow me to specify new equipment that would be more transportable. At their request, I wrote a catering operations manual and trained new franchisees. Today, almost all franchisees in the system derive significant revenue--and very high margins--from their catering operation.
How have you raised the bar in your own company?
Growing sales every year, adding new products (like coffee and espresso catering).
What innovations have you created and used to build your company?
I developed the campus activities market very early on because I believed college students were a prime market for our products. I now have 150-plus college accounts across the country. I established partnerships with our best operators in other regions so we can cooperate and jointly benefit from this market.
What core values do you think helped you win this award?
Fairness to employees and partners, courtesy to clients, and remembering that no one needs what we sell.
How important is community involvement to you and your company?
We cater numerous charity events for diseases and causes we feel strongly about.
What leadership qualities are most important to you and your team?
Everyone needs to be a leader. We are a small company. All our people represent me, and the brand, every day. I try to influence my team to do the right things and not take shortcuts.
Published: January 28th, 2018
Share this Feature
Recommended Reading:
Comments:
comments powered by

Disqus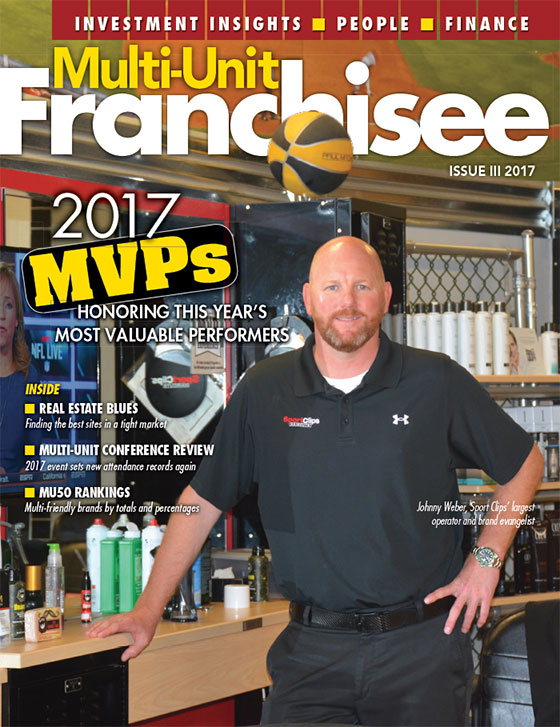 Multi-Unit Franchisee Magazine: Issue 3, 2017
Build a Future with the Computer Service Industry Pioneers. NerdsToGo is paving the way as innovators, entrepreneurs, franchisees, and successful...
Cash Required:
$70,000
Shakeaway is a unique global company with stores popping up all over the world! Get involved in this fun, fast growing and profitable franchise now...